Parenting isn't for the faint-hearted.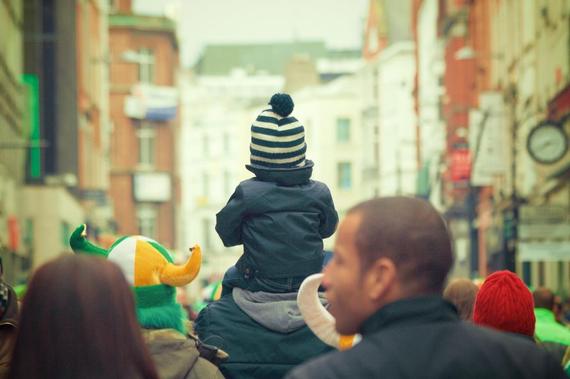 At one point, I was a youth pastor, professional sign language interpreter, wedding photographer, radio host, husband, and father. In that order. Long days and late nights were the norm. People wondered how I could keep so many plates spinning, and my wife constantly complained that I was MIA. In my religious fervor, I judged her lack of busyness.
I neglected the truth that my greatest calling was to love my neighbor and myself. I failed to see the great responsibility of cultivating a relationship with my wife and my children. I missed the part about resting. Every night, my wife would lay next to me, longing for intimacy, for deep conversation, for friendship with the one who had promised to cherish and respect her, but I was lost in connection on my iPhone, a million miles away, planning the next youth rally or night of worship.
I figured my wife must be so proud. Look at all I was doing for the church! Yet, in having no personal boundaries, I was building walls. I was keeping the people who loved me the most at a distance. I didn't know it was okay, and even appropriate, to tell others, "no". To schedule a day off. To turn off my phone. To spend my evening with the ones who longed for my affection and attention more than I could possibly understand.
A lack of self-care resulted in a suicide attempt, which changed my life. Since that time I've worked hard on my recovery journey. Here's 3 self-care tips which have transformed the way I parent:

1. Give yourself space to breathe and just be.
Since my suicide attempt, I've learned the importance of personal space. I had no idea what I was missing, but my family certainly did. Now, instead of making major decisions without considering the impact on my family, I have made my wife and children my number one priority. As a result, I have started respecting their schedules and helping my wife balance duties at home. I've learned how important it is to unplug, to not live so focused on the next activity, to give myself time to just be.
Now I give myself space to rest and breathe. I start and end each day at the kitchen table with my wife and kids. We are more connected as a family than ever because I learned the hard way I do not need to be the savior of the whole damn world. We have less money, and fewer social plans, but that doesn't matter to me any more.
What does matter? My family. My health. Knowing who I really am. Now that I no longer pretend to have either a cape or a cross on my back, I can live out this wonderfully unpredictable and imperfect life I have been given as a gift to myself and the world.

2. I am alive. I will not forget what a big deal that is.
Growing up, I heard people say, "The eyes are the window to the soul." Before my suicide attempt, my eyes weren't empty. They were just forgetful. I'd forgotten to look for the good things in life. But now, I am finding joy in the most mundane places: at the kitchen table with my wife, working through deep-seated fears; in every intentional moment I spend with my children, cultivating their innocence and self-worth; and even on the couch at the counselor's office. I am happy now. That did not seem possible before.
Remembering to look for good in people and situations is hard, but it helps. Celebrate the gracious people God brought alongside you in the journey. For me, the nurse who cared for me while I was in ICU sticks out as a real guardian angel. Plus there are friends I never expected to support me in my recovery, but do. Life sucks at times, but when we find things to celebrate, we shouldn't just gloss over them.
3. Today will not last forever. Hard days don't define me.
Hard days don't last forever. For me, sometimes hard days mean I take an extra five minutes on a lunch break to hide in the server room at work and take a few deep breaths. If necessary, I am also not afraid to take medicine my doctor has prescribed specifically for those moments, or even take a "mental health day." I'm not an advocate of hiding under the covers, but I also believe in knowing yourself well enough to acknowledge your limits. If the day is bad enough and you don't put your job in jeopardy, there is nothing wrong with saying, "I will try again tomorrow."