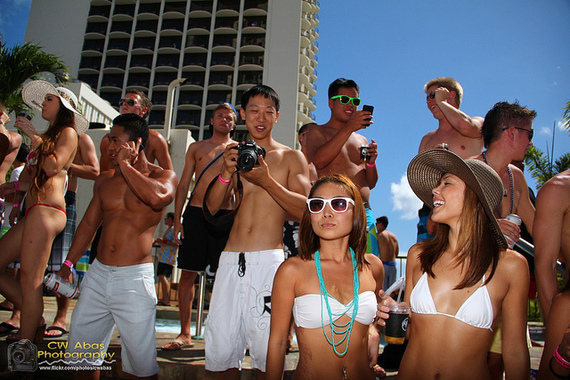 Spring breakers. Photo: CW Abas Photography via VisualHunt.com
It happens every spring. Thousands of college students flock to sunny beach destinations, for a hard-drinking, hard-partying vacation called Spring Break. If you want to some time in the sun this spring and want to avoid these rather lively gatherings -- or, alternately, if you want to join them -- then read on to find out how.
Spring Break is festive, to be sure. But -- depending on your personal preferences -- it may be the type of festivity that you'd rather avoid when you vacation. And since students' boundaries have expanded far beyond U.S. boundaries, into Mexico and the Caribbean, the concept of Spring Break is something you must take into consideration if you're planning your own spring getaway. (I never did the official Spring Break when I was in college since I considered myself too "alternative" -- and poor -- to join such activities, but I've witnessed the, er, liveliness after becoming a travel writer, as documented on my Latin America travel blog, LatinFlyer.com.)
Here's how to avoid Spring Break, and spring breakers, entirely when you plan your vacation -- or join them, depending on your preference.
1. Avoid the season completely: Late February through mid-April is peak season for Spring Break travel. You can stop reading right now if you're not going to travel to a beach destination during that time period.
2. Choose your destination carefully: Maybe this isn't the best time to go to the beach. Consider a relaxed vacation in a historic town in Mexico or Central America, or go further away to South America and discover something new, away from the crowds.
If a beach vacation in Mexico or the Caribbean is on your must-do travel wish list for this time of year, a bit of strategizing will assure that you have the experience you want, whether it's party-heavy or peaceful. According to Student City, a company that sells Spring Break vacation packages, the biggest Spring Break destinations in Latin America are Cancun, Mexico and Punta Cana, Dominican Republic. Cancun, in fact, is hosting Inception Music Festival -- billed as the world's largest Spring Break event -- from February 26 through April 4 at venues including The City, Dady'O, Palazzo and Mandala Beach (so either avoid those venues altogether, or buy an Inception Fest Platinum Pass from Student City if you want to join them).
3. Choose your hotel even more carefully: If you're going to a big Mexico beach destination, or to Punta Cana, Dominican Republic, during the peak Spring Break travel period, it's crucial to pick the right hotel. If you want to avoid spring breakers, consider staying at a smaller hotel, a more expensive property or a resort that's not all-inclusive -- all of these concepts are less popular with budget-conscious, party-oriented college students.
If you do want to join the party: The Krystal Cancun and Oasis Cancun are "headquarter hotels" for Student City's spring break packages, and the company also sells rooms at the Krystal Grand Punta Cancun, Aloft Cancun, Gran Caribe Real, Dos Playas, Imperial Las Perlas and Park Royal (likewise, if you're looking to avoid spring break partiers between February 26 and April 4, you should probably avoid those hotels.)
In Punta Cana, Student City books partiers into Be Live Grand Punta Cana and Catalonia Bavaro Beach Resort, while a website called Springbreakmexico.com sells rooms for spring break in Acapulco, at hotels including Calinda Beach, El Tropicano, El Cano and Hyatt Regency (all of which it bills as filled with "lots of students and good location") and Costa Club, Playa Suites and Bali Hai (which the site says have "lots of students but [are] not convenient to nightlife").
A company called Go Blue Tours sells spring break packages in Cancun, Punta Cana, Puerto Vallarta, Cabo San Lucas and Playa del Carmen, with optional party packages and excursions -- and like Student City, they sell Cancun hotels including Oasis (the "most popular option," according to the company) as well as Krystal Cancun, Gran Caribe Real and Aloft Cancun.