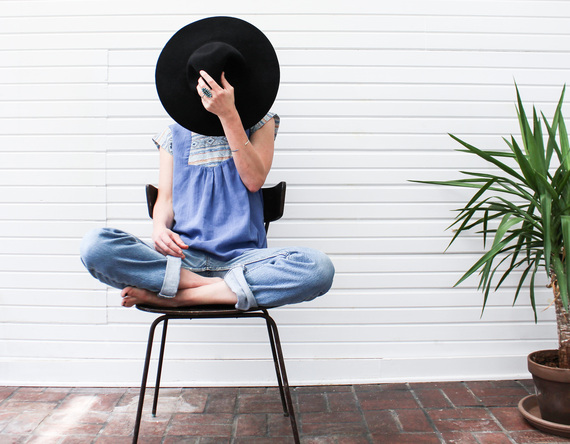 Recently, I was talking with a friend who is a fellow coach and entrepreneur about what I thought were the best ways to become visible if you are an HSP or introvert entrepreneur. After about 15 minutes, my friend responded with, "You should totally do a webinar about this topic."
But, I thought there are so many entrepreneurs and business coaches already talking about visibility and putting yourself out there, that most entrepreneurs know this already.
But, since I became curious, I wanted to try out my friend's theory.
I went in a couple of Facebook Groups and asked this following question:
If you are an HSP or introvert entrepreneur, what is your biggest struggle when building a business?
There are two BIG things I discovered through this question:
1. That I got over 30 comments within a couple hours which helped me understand that this is a very loaded question for many entrepreneurs.
2. Eighty percent of everybody who responded, said their biggest struggle was being visible and putting themselves out there.
That my mind was blown is definitely an understatement. What I have seen, there are three ways you can be visible and put yourself out there:

- Through Writing
- Through Audio
- Through Video

Now let's dive a bit deeper into these three ways.
Writing: Writing is a great way for you to share your insight, wisdom and point of view on your own blog. However, if you really want to reach a bigger audience and make a bigger impact along the way, writing on other people's blogs and websites is a great option. Great websites to write guest article are Huffington Post, Mind Body Green, and Tiny Buddha.
Audio: Podcasting is a great way to share your message if you like to talk or if you love having deep and meaningful conversations + it is a great networking tool if you are going to have an interview based show. If you reach out to someone you admire in your industry and you ask them for a 15 minutes to ask them a couple of questions, to "pick their brain" it is not likely they are going to say yes. However, if you ask to interview them on a podcast, that is a whole new ball game and they are likely to say yes because it is an opportunity for them to get exposure to a new audience. Another thing why podcasting is a great networking tool is that for the next 30-60 minutes you have their undivided attention, it is a great foundation to continue to build a relationship with them. If you want to take it up another notch, you can also be featured on other people's podcast to widen your audience and reach more people.

Video: There are two big platforms that you can use to connect with your audience through video; YouTube and Periscope. We all have heard that YouTube is the second largest search engine, and this is one of the main reason why it is still valid to use YouTube to share your message and build a community around your topic and business. If you haven't been living under a rock in last 6 months, you have probably heard of Periscope. Periscope is a live streaming app that allows you to interact with you audience live. It is a great opportunity to build instant rapport and build a relationship with your audience. Another great feature with Periscope is that even if your videos are only available for 24 hours, you can upload them on YouTube where they will reach a bigger audience.

Bonus Tip

Speaking: This is the one that sounds most scary to most introverted and sensitive entrepreneurs and it is not something you start off within the beginning of your business. However, it is worth considering when you are ready to up-level in your business. Please don't think that speaking is not for you just because you are an introvert or sensitive. Two speakers that I absolutely adore are Elizabeth Gilbert and Brené Brown. They are true storytellers and their authenticity and vulnerability truly does shine through in a magnetic and powerful way.

Here is the secret to making this work. You choose one platform, not all three or four of them. If you do want to do all of them, then say hello to overwhelm.
Choose the one that you enjoy doing most and that energizes you. Because it is not about doing it once and leave it at that. This is something you need to do on a consistent basis, and if you are doing something weekly or daily, you might just as well have fun while you are doing it.
Which of these resonates most with you and which will you implement in your own business?
Nina Andrijanic is the founder of EQ Nina, she is a Emotional Intelligence Business Coach and the creator of the Thriving HSP Podcast. Nina helps HSP, introvert and empath entrepreneurs build a life and business on their own terms. Nina does this by helping these amazing heart centred entrepreneurs become visible in their business through SHINE - 3-Day Visibility Challenge so that they can share their message in an authentic and true way with the world.
Calling all HuffPost superfans!
Sign up for membership to become a founding member and help shape HuffPost's next chapter