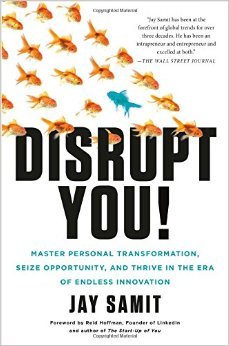 What do all entrepreneurs have in common? They've failed dozens--if not hundreds--of times, but they're not failures.
What sets them apart from the rest? They don't give up.
"Failing is trying something you learn doesn't work. Failure is throwing in the towel and giving up."
-Jay Samit
This past week, we had the pleasure of speaking with serial entrepreneur and the godfather of digital media, Jay Samit. Now CEO of SeaChange International, Jay helped grow pre-IPO companies such as Linkedin and eBay, was the first person to bring video to the PC, and was called upon by the president of the United States to put a computer and Internet in every classroom in America.
Jay accurately predicts the future by aligning himself with people actively creating it. A true change-maker, he understands the importance of adaptability and speed.
In his new book Disrupt You! Jay provides actionable steps to mastering personal transformation, seizing opportunity, and thriving in an era of endless innovation.
In our interview, we discussed why it's important for entrepreneurs to adopt a disruptor's mindset. Here are three big takeaways from our conversation to help you become a disruptor today:
The days of getting a job right out of college and remaining loyal to a company for 40 years are long behind us. Today's world is constantly evolving and it appears that those people who can change the quickest are the ones who will thrive.
The average worker in 2012 would stay at a job for 4.4 years, according to the Future Workplace "Multiple Generations @ Work" survey. Millennials are expected to work for 15 to 20 different companies in their lifetime.
What does this mean for today's workforce? Your job or industry is going to be disrupted, you'll change fields, and you can no longer depend on only one skillset.
Jay questions, "Would you go to a 50-year-old doctor who hasn't learned anything new since he graduated medical school in 1988?"
It doesn't matter the profession. "Lifelong learning is no longer a luxury but a necessity for employment," Jay says.
Think, Dream, Act Like a Winner
You've probably heard that Michael Jordan used visual techniques to help him become one of the world's best basketball players. "I visualized where I wanted to be, what kind of player I wanted to become. I knew exactly where I wanted to go, and I focused on getting there," recalls Jordan.
For an athlete, physical practice is the most essential element for success, but visualization exercises can turn a good player into a great player.
Visualization isn't only for athletes though; the same idea can be applied to any profession. As Henry Ford once said, "If you think you can or you think you can't, you're right."
The first step to doing anything is believing you can. The issue is that because many of our personal beliefs have been ingrained since childhood, people often view them as cold hard truths, rather than as something malleable.
Jay explains that we need to think of ourselves like an adaptable, successful company. We too have a research and development center, a marketing and sales center, a distribution center and so on. All of these parts make up our internal value chains and, in turn, define our identities.
In order to change yourself, you only need to disrupt the link in your internal value chain that's holding you back. Using this foundation, change becomes attainable and not as difficult as most of us perceive it to be.
Once you've disrupted that link in your internal value chain, visualizing the solution is the next step. Instead of working forwards toward a goal, like Michael Jordan, "first visualize the solution and then work backward to determine what you will have to do or build to get to that solution," says Jay.
See Obstacles as Opportunities
Once you've disrupted your internal value chain, the next step to becoming a disruptor is to view obstacles as opportunities.
Jay suggests trying this exercise: Write down three problems you face each day for a month. By the end of the month you'll have a list of 90 problems. Then tackle the problem that the most people face. The more people you can help, the more money you can make.
"The bigger the obstacle, the greater your potential for success."
-Jay Samit
When Richard Branson missed his flight, he didn't sit back and complain. He figured out how many other travelers were stranded and how much it would cost to charter a plane. Then he wrote on a blackboard Virgin Airways $39 and everyone got where they needed to go. The best part? He and his girlfriend flew for free.
That type of thinking is core to the mindset of the disruptor.
Jay says, "There are two types of people in this world: those who look for opportunity and those who make it happen."
Calling all HuffPost superfans!
Sign up for membership to become a founding member and help shape HuffPost's next chapter