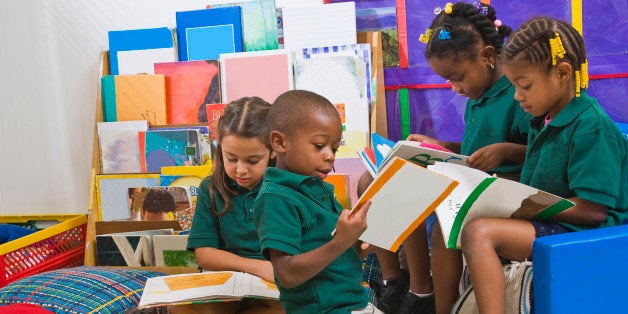 I've loved reading for as long as I can remember, and I couldn't wait to introduce my daughter, Rachel, to books. I had visions of us, snuggled on the couch, passing novels back and forth and reading from our favorite passages. Alas, it was not to be.
It started well enough. Her nursery bookshelf was fully stocked and from the moment we brought her home, we read to her. She enjoyed story time, but it became apparent as she grew older that reading did not come easily to her. When she did eventually learn to read, she would only do so when forced due to homework. Almost nothing could entice her to read simply for the pleasure of it.
The year she turned thirteen, all of that changed. Now she reads close to eight hours a day. How did we get there? Below are three strategies that I believe significantly helped her fall in love with reading.
Reading to a toddler is a no-brainer. Reading to a teen? Why not! Since Rachel loved stories, but not reading, we reintroduced the bedtime story. I would read to her for thirty minutes before bed, then when I would get tired, I'd pass it over to her to read a few pages. We used an E-reader, which helped because we could change the font size, and she wasn't intimidated by the thickness of the book. Yes, I did 95% of the reading, but she loved the books and wanted more. I have friends who continued to read to their sons until they graduated high-school. In addition to passing along a love of stories, it's a great way to bond with your kids.
Admit it, you've met those moms. You know, the ones who can't wait to give you their chapter books because their four-year old just finished and is SO beyond that now? Forget them and their prodigies. The goal is to get your child to love reading; so let them read what they love. Graphic novels, picture books, magazines, whatever strikes their fancy, should be a YES. While Rachel's friends were reading The Hunger Games and Rick Riordan, she was enjoying her Star Wars Magazine and Bad Kitty. Who cares if her friends were reading more mature books? She was reading! Don't worry about what your child should be reading and give them what they want to read.
While the other two strategies helped, when my daughter found fanfiction things really took off. I mentioned earlier that she enjoyed Star Wars. As she was looking for information about a character one day, she stumbled across www.FanFiction.net. Fanfiction is fiction about characters from a published work, written by people who are "fans" instead of the original creator. (Shades of Grey started as Twilight fanfiction, but don't worry. You can filter the stories by age appropriateness.) Fanfiction websites contains thousands of stories about Star Wars characters, characters that my daughter knew and loved. Because she was already invested in Padme and Anakin through the movies, it was an easy leap to enjoy reading about them. And it hasn't stopped with Star Wars. She's read fanfiction based on Once Upon A Time, How to Train Your Dragon, and even Pride and Prejudice! That was a year ago, and now I struggle to get her to stop reading.
Imagine life if you had to read primarily what other people said were important books, and not what you wanted. It would defeat the whole purpose of reading for enjoyment! Read to your child continually, give them free reign to choose their own books, and introduce them to fanfiction. The love of books is contagious. Pass it on!
Related