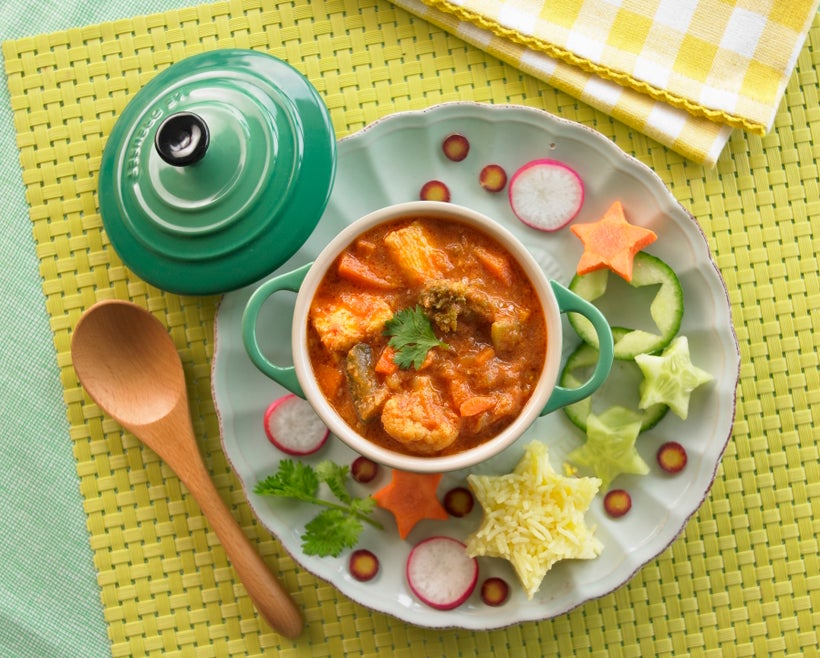 While Sheryl Sandberg promotes #banbossy, I was thinking of embarking on a #banbland campaign. Especially when it comes to kids, I think we as parents are doing them a massive disservice by not spicing up their foods. And to clarify, spicing doesn't refer to spicy! I'm not asking you to set their tongues on fire, but rather to delicately flavor their food with the powerful spices that nature has so kindly given us.
Trust me when I say that those veggies limply hanging around in your fridge drawers are literally begging to be flavored with spices.
Powerful and flavorful spices such as cumin and turmeric can transform something bland and boring into something delicious, colorful and divine. Think of spices as healthier cousins of butter. Just like butter, spices add flavor, richness and oomph but without the fat and with medicinal benefits!
Those unassuming and slightly dull-looking cumin seeds lying around in your spice drawer can, in fact, turn green beans into something quite special. I'm convinced that if we treat all our lovely vegetables with some spice or the other, our kids will be much happier eating them. Because I've said this before, and I'll say it again… kids crave flavor!
So which spices should we befriend in this land of bland vegetables?
First, let's take a look at the humble cumin seed: To look at, they aren't much—no real taste or smell. But drop these babies into some hot ghee, wait for the sizzle and voilà! You have the most beautiful, delicious, crunchy, aromatic spice that also promotes digestion. Add cumin seeds (browned in ghee) to cooked and seasoned potatoes, beans, cauliflower or just about any sautéed veg for a family-friendly winner.
Turmeric: Simply sprinkle ¼–½ teaspoon of turmeric powder, along with salt, onto veggies that have been sautéed in organic butter or ghee and mix well. Yes, this spice will turn your veggies a bright yellow, but the taste is mild and more importantly, the medicinal benefits are incredible. A powerful anti-inflammatory and immunity builder, turmeric should be a mom's best friend.
Mustard seeds: Typically used in regional Indian cooking (more so in the west and south of India), this mood-lifting spice is usually combined with curry leaves and ginger. Start by heating a teaspoon of ghee, add in ½ teaspoon mustard seeds, wait for the sizzle and pop; then add in the optional curry leaves, finely chopped or grated ginger and your veggies, sauté and salt to taste. Delicious!
Ground cumin and coriander: A generous pinch of both these spices (they generally work well together) sprinkled over sautéed veggies should nicely do the trick! My son prefers sautéed baby potatoes seasoned with salt, ground cumin and coriander to mashed potatoes any day! Did you know that most commercially produced large bags of coriander actually taste like sawdust? I recommend buying organic and in smaller quantities, or even better, buy whole coriander seeds and dry-roast in a saucepan over medium heat, then freshly grind in a small coffee grinder or spice grinder.
Feeling inspired and ready to ban bland? Go ahead and have some fun with your kids in the kitchen! Introduce your kids to the magic of spices and don't be afraid to make a mess. Get out those spices and expose little ones to the colors and flavors, textures and smells. Let them touch, sniff and ask lots of questions. Get them involved in sprinkling spices over their food. Your vegetables will thank you, your kids' tummies will love you and you'll feel like a culinary genius in the kitchen! Who doesn't want that?
Getting kids into the kitchen and more involved in the cooking process naturally increases their desire to want to eat the food they've made. Even the simple act of letting your child grate his or her own cheese over some steamed and seasoned broccoli creates more appeal and excitement. My new book The Magic Spicebox has lots of great kid-friendly recipes and stories about spices that will get your little ones (and you) in the mood.
3. Stop Tricking Them!
It's important to let kids be kids and let vegetables be vegetables. Sneaking broccoli puree into a brownie may seem clever at first, but this doesn't teach children to love the broccoli; rather, it perpetuates a notion that a brownie can be good for you! From the second they start eating, the goal should be to get your kids to love vegetables for what they really are. We want children to love the color, taste, look, flavor, texture… everything! Let's stop disguising vegetables and teach our children to embrace them!
Perseverance is key, and while there comes a natural age (usually around three or four) when children will start rejecting vegetables or become pickier eaters, it's important not to give up! He's not into zucchini right now, no problem! Must be a texture thing; why not try raw carrots instead? While tempting to just give up, please don't give up; force yourself to serve veggies at every single meal. 
We also need to recognize that not every child will enjoy chomping on a giant hunk of vegetable, so go ahead and chop up those veggies into tiny bits. You can add these chopped veggies into foods like soups, stews, rice, noodles, burger mixes, et cetera, wherever and whenever possible; this is something I do all the time! But there is no pretending these veggies aren't there, and in fact, it's important to acknowledge their presence and even praise them ("Hey, look: these itty-bitty carrots are going to make your eyes super shiny!") We're just making vegetables easier to eat! And eat you will…
Namita is passionate about introducing spices to kids and their little palates! Her new book for children, The Magic Spicebox, published by Scholastic, just launched in India and Singapore. The Magic Spicebox features spice stories delightfully paired with kid-friendly recipes: https://www.facebook.com/themagicspicebox/
A version of this article originally appeared in Sassy Mama
Calling all HuffPost superfans!
Sign up for membership to become a founding member and help shape HuffPost's next chapter
This post was published on the now-closed HuffPost Contributor platform. Contributors control their own work and posted freely to our site. If you need to flag this entry as abusive,
send us an email
.