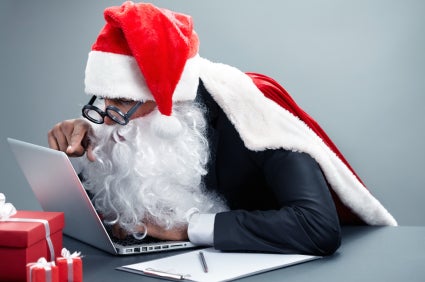 With just over a week until Thanksgiving, and 5 weeks until Christmas, the holiday season is about to kick off really fast, and it's time to start thinking about those New Year's Resolutions. Better health, better time management, and even a better job are things that you have already added to your list of things to begin in January 2017. Why are you waiting until January 1st to begin all of that, especially your job search?
I'm going to be completely candid with you. Job searching in of itself is extremely daunting and can sometimes appear beyond frustrating. Automated rejection letters, no calls for interviews, and applying to a black hole of job boards are the top list of complaints I hear from job seekers on a daily basis. But, what if I told you there's a great time to job search and it's the last 6 weeks of the calendar year, right now?
Less competition and higher networking opportunities? Can that be true?
A lot of job seekers have this preconceived notion that companies are too busy to interview candidates during the holiday season because hiring managers are swooned by the holiday spirit and highly distracted by vacations, shopping for gifts, and of course, the holiday parties. However, contrary to popular belief, the holidays are actually the best time to job search, according to Forbes.
Attend More Holiday Events & Social Gatherings
In the digital age, it is not just about submitting applications online anymore and waiting for a hiring manager to get back to you. Networking is a huge driving force in the job search process, with more than 70% of jobs today being obtained through effective and active networking. Reaching out to former colleagues, connections, and attending in-person events are what truly helps you in the job search.
The holidays are the perfect time to attend more networking events and ramp up your interviewing skills. The holidays make it easy to pound the pavement through positive and easy face-to-face social networking. So, why would you give up on those opportunities during a time when there's an overabundance of extremely fun, social events?
There is no time like the present moment to drop your former colleagues and networking connections a line wishing them a happy holiday season and open the door to further inquiries about positions within their companies, along with great cocktail soirees they are going to. Perhaps they need an extra date?
Update Your Resume & LinkedIn Profile ASAP
Before you begin booking dates to holiday parties, make sure to update your resume to reflect your recent achievements and accolades. Consider reviewing your past performance evaluations while also comparing them to this year's. Don't forget to list projects you have led, skills you have acquired, and results you've achieved for your organization. (Read: The Top 4 Things Holding Your Resume Back From Being Effective)
Make sure your LinkedIn profile has a customized URL, a compelling headline, a branded summary that chronicles your career story and best accolades, and details your career progression. I always recommend discussing your resume and LinkedIn profile with a professional resume writer to ensure that it's eye-grabbing and will meet the 5-7 second test. Connect with new professionals on LinkedIn, join groups, reach out to recruiters (make sure to flip that recruiter switch on), and polish your profile to enhance a more sophisticated you.
Order Personalized Business Cards & Have Them On Deck
Don't make the mistake of attending a networking event or leaving your house without personalized business cards. Hate standing in those long lines at the retail stores? Kill time by striking up a conversation with the people around you and be open about your job search. Make sure your business cards include your name, a professional email address, your cell phone number, and your customized LinkedIn URL. Don't forget to give yourself a unique branding statement to allure the reader's attention such as: Chief Expert Marketer or Business Development Enthusiast.
While the majority of job seekers are waiting until January 1 to begin their job search, reaching into your own resources and networking during the last 6 weeks of the calendar year can prove to have a huge payoff. Coasting into the New Year with one of your resolutions already completed will certainly keep you ahead of the competition in the job search game.
Support HuffPost
The Stakes Have Never Been Higher
Related
Popular in the Community