I don't know about you, but I love watching Beyonce #werk. And while I do admire her fancy blinged out clothing and pop lock and drop it dance moves, it's her killer marketing tactics that make me stop and take note.
First, let me say that Queen Bey is no stranger to dropping products that make us all want to whip out our wallets and hand her our hard earned cash. The Boss Worthy part? Beyonce will move in silence and drop all of this hotness while we are sleeping and then sit back and act like she didn't do a dog-gone thing.
Remember in December of 2013 when Mrs. Carter dropped her "Visual Album" with no notification, making us all wonder what in the heck do we do with our 24 hours each day?
Yes! Beyonce and her creative marketing team of geniuses are slaying the game indeed and taking over 2016 like Juvenile took over the 99' and the 2000!
Entrepreneurs, take note!
Here are 3 ways you can get in formation with Queen Bey and #slay in 2016 too!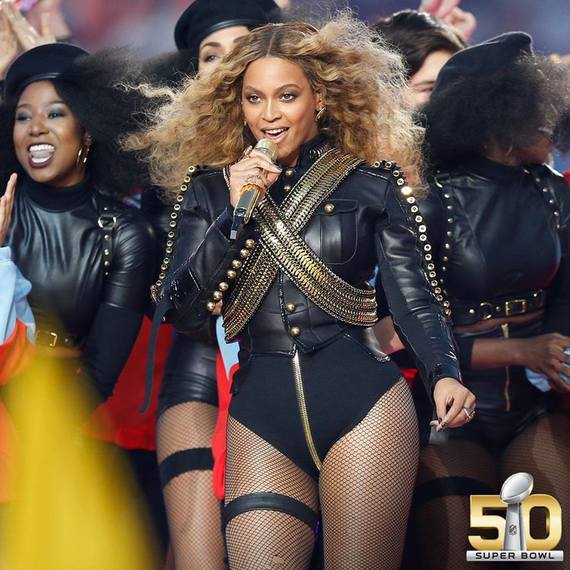 Photo Courtesy Of The NFL Official Facebook Page

1. Move In Silence
Have you noticed that Beyonce will drop a bomb of awesomeness on the world, and then sit back like nothing ever happened? This is brilliant for entrepreneurs to learn. She doesn't sit around and talk about what she plans to do. She doesn't even discuss it after it's done. She just does it. And she does it well. Those who want to be a part of what she is offering will be there. And those who aren't interested... well she's still getting paid. She doesn't let the naysayers keep her from moving in her craft and creating epic ish.
What does this mean for entrepreneurs? Simple. Stop talking about it and be about it. Stop talking about what you plan to do, and just do it. Create epic content that's drenched in value, drop it to your ideal audience and sit back and watch them swarm around it like honey bees. And for those who doubt you, in the words of Queen Bey, "always stay gracious, best revenge is your paper".
2. Only Work For Free With A Plan & Purpose
According to Forbes, the Superbowl performers do not get paid for performing during halftime. The halftime show does cover production costs which can range from $600k into the millions. What they do provide however, is a major platform for artists to market themselves and their products. Some artists album sales have soared over 80% more after performing at a Superbowl Halftime Show.
In Beyonce's case, on Saturday she released "Formation" for FREE, then on Sunday she performed for FREE in front of millions of viewers and right after, she announced her upcoming Formation Tour which will likely sell out in every city during the pre-sales on February 9th! Talk about the most brilliant funnel and upsell ever!
So what does this mean for entrepreneurs? Don't be afraid to give out value or work for free AS LONG AS YOU HAVE A PLAN AND PURPOSE. And that plan should always be to bring in income and increase your client base on the back end.
3.Create Valuable Content
So, let's talk "Formation". Queen Bey didn't beat around the bush with this content and the issues surrounding the black community. She used her platform to shed light on Hurricane Katrina, and the #blacklivesmatter movement. She unapologetically owned her blackness, expressed her views around controversial issues that effect us everyday. In the song, she told her story of where her family originated, how much she loved her daughters afro, and her husbands Jackson 5 nose, further connecting with her southern roots and audience.
Beyonce encourages women to come together and own their power. She encourages us all to stand up for what we believe in. She encourages us to chase our dreams, get that paper, stop focusing on what others think...and change the world. So as you can see, Beyonce didn't just drop a song. She created a movement. A movement that requires us all to take action.
What does that mean for entrepreneurs? When you are launching a business, course, book, program etc...make sure that you're launching something of meaning to your ideal audience that requires them to take action and be in a better place today than yesterday. Your goal should be to create more than a business. You should be creating a movement.
While I'm not a member of the "Bey Hive" I do respect creativity and boss moves when I see them. And as an entrepreneur I am always studying ways to perfect my craft and share them with other boss chicks like myself.
How can you use Beyonce's marketing tactics to channel your inner Queen Bey and #slay in your business in 2016?
Calling all HuffPost superfans!
Sign up for membership to become a founding member and help shape HuffPost's next chapter