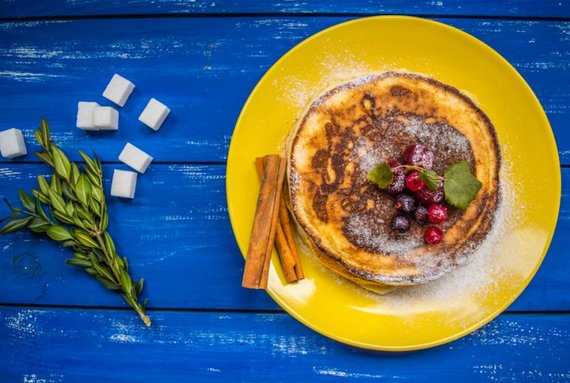 You've hosted brunch and your friends have all left, satisfyingly stuffed full of pancakes, fruit, cocktails, and eggs. But you didn't quite manage to eat all the pancakes, and now you can't decide what you should do with them. It's too heartbreaking to throw them in the trash. You could freeze them and warm them up for a weekday breakfast, but they're always slightly disappointing when you do that. Want to know the best option? Transform them into one of these fantastic dishes that really make the most of that stack of leftover soft, fluffy pancakes.

Tear the pancakes in half, scatter them with blueberries, and pour over a rich, creamy mixture which turns into a heavenly custard when baked. This dish could be enjoyed as brunch or as dessert, but it will definitely be enjoyed, whenever you have it. If you don't have as many pancakes leftover as the recipe wants, just reduce the quantities accordingly and make it in a smaller baking dish.
Whether you made crêpes or pancakes for breakfast, they can both definitely be transformed into a beautiful layer cake. Simply layer the pancakes up with a rich vanilla pastry cream spread on top of each and every pancake. No one would ever guess that this striking layer cake was made of unwanted leftovers.
We love making French toast with bread, challah, brioche, croissants... It's really no surprise that pancakes are our new favorite French toast base. Toss your leftover pancakes in a light batter, fry, and dust with cinnamon sugar for a fabulous pancake-based breakfast. Serve with fresh fruit and a drizzle of maple syrup, and you'll be amazed at what those pancakes -- which were almost thrown out -- have become.