"Today, we see Tarot as a sort of path, a way to personal growth through understanding of ourselves and life." Rachel Pollack
The 78 cards that make the Tarot come with many stories of magic & mystery. Like the fact the deck is numerological set at 7. The 78th card represents us as the '0' Fool, a new beginning & way is set before us. Like the seasons, months of the the year & zodiac cycle, Tarot's wisdom is constantly evolving to those willing to look beyond the fortune telling and delve into its alchemy.
Right now, we are in a time or "season" of the Hermit tarot card. This time of "back to school", regaining structure & schedule, a time to begin a new cycle of learning. The Hermit represents learning more about the Self in relation to the world. This card also signifies transformation because it is seen as both a symbol and mentor. "When the student is ready the teacher will appear." is what the Hermit represents.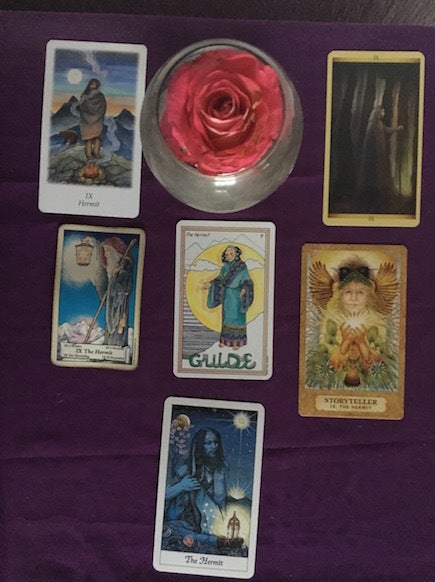 The numerological significance of this card with the year 2016 is presented by the no. 9. (2+0+1+6=9) so it's fair to say this year has been about learning more about Who & What you really are. What I mean that is your purpose & passion for being here has been a HUGE realization for everyone. There have been many deaths as well, again indicating a time of ending, finishing & tying up lose ends. Have you felt the energy to be MORE of who you are?
Our inner and outer worlds are in transition now which demonstrates the significance & importance of our upcoming expansion. This is showing up in the outer world as the US having issues of racism making headlines, and more instances of uprisings against old paradigms & ways of being. If we can look beyond what is happening on the outside and align with our Soul on the inside, we can experience a renewed sense of peace & prosperity. I say this with my mantra in mind, "do what you love, the blessings will follow." Again the Hermit card, urges us to lean into ourselves a little bit during this month.
Using Tarot as a Spiritual Healing Tool enhances your intuition, provides insight and creates clear intentions. Allowing Tarot to provide its wisdom, symbology & spiritual guidance is an amazing gift we have at the tips of our fingers. I lovingly call it the "Pocket Bible".
This week is an action packed as the Moon grows full and dances with the Sun in a Pisces Lunar Eclipse, (9/16/16) ushering in a season of new beginnings. The Fall equinox (9/22/16) the following week is the signal of harvest. A time of balancing of karma. "You reap what you sow." An example of how the mysteries of fate will have a hand at what's to come. Using the "Me, Myself & I" Spread to represent Mind, Body & Spirit, I selected 3 Tarot Cards to demonstrate the shifts ahead this week. I chose the Cosmic Tarot by Norbert Losche for this Reading for it's vibrant & vivid displays of Tarot depiction. I love it's planetary element & ease of understanding.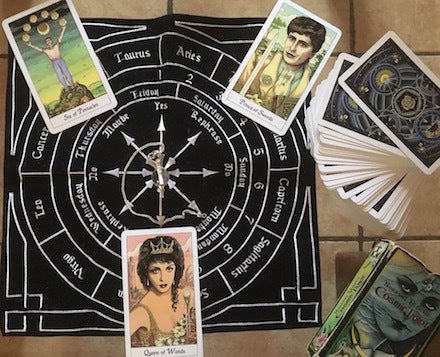 We must begin from the middle, Mind, as it indicates our inner wisdom. Much like the Hermit, this card position comes from intuitive guidance, representing what I call the "SoulSelf". The SoulSelf is where the Self (outer) integrates with the Soul (inner). 6 of Pentacles in this position is about trust. Pentacles speak of the physical world as shiny gold coins with stars inside which is how we see ourselves. What we value in both worlds comes together here, as worthiness. Sharing your purpose & passion is what life is about.
This card tells me, "To give and receive are one in Truth."
The receptive nature of Spirit is the 2nd card, the card pulled, Prince/Knight of Swords, is about clarity. Focus is needed to manifest because it comes from within. A seed, a dream imagined or visioned, an innate knowing of what is possible. This is what is meant by Divine Guidance. Be mindful at this time energy, staying aware now is crucial as theory are signs, synchronicity & numbers everywhere as reminders to keep the balance.
This cards tells me, "Thoughts increase by being given away."
Openheartedness is the Queen of Wands, 3rd card, as a physical manifestation. (Body) In this position it represents the giving power to your passions. It means a more expressive time is at hand. Creative expression comes from desire to bring out the best you have to give. This insight provides the bridge between the physical and spiritual worlds within us. Learning to listen with love is an important part of this card.
This card tells me, "To heal is to make happy."
In summary, the upcoming week will be filled with opportunities to share what you have with the world with confidence & grace. Allow yourself space to understand and use the guidance given you to make simple life changes, like adopting mantras as prayer practice. "What is for you, will find you." Since we are in the middle of Mercury Retrograde, reflecting, releasing & revising are KEY to capturing its lessons.
"This Card Tells Me" reference quotes are from A Course in Miracles which aligns with the Tarot's ancient wisdom.
"As we consult the Tarot we are attempting to better comprehend both ourselves and the forces that are at work within our psyche & outer lives." Annie Lionnet
3 Ways You Can Use Tarot to Heal Your Life
Using Tarot to heal your life is about being open & aware of it's deeper understanding. It's mysterious beginnings add to its appeal because its accuracy awakes our intuitive sense. It's predictive nature comes from crystal clear intentions and trusting it's divine guidance. The idea of trusting what the cards speak of calls for listening to their wisdom.
It's easy to speak of the inner guru, but if you've ever felt guided to not do something or your gut told you not to do something & you lived to regret it, then that is what we are talking about here. Your guru wants the best things in life to happen to you but if you are not aware of its subtle signs & signals, you may miss life changing experiences. The number one way to increase your intuition is to simply ask. I love incantations or mantras in pull your attention & direct your energy.
"I am open to receive Divine guidance. Please & Thank you __________ " (Ask the Angels, a passed on loved one or Spirit Guide) Then begin to notice if you see symbols, signs or synchronicity occurring in your life all of a sudden. Jackpot! You've connected to your inner guru. Be mindful not to expect this overnight yet speak with authority that you will receive the guidance that you seek.
What do you want? Most people are lost in the see of "I Don't Know" and that can be a restrictive and I unhappy place. Being disappointed with life comes from expecting another to know what you need, yet if you don't know how can someone else. Getting clear comes from knowing what you want to experience and feel. The clearer you get the stronger your inner guru becomes. The listening will come from within, the "signs" will begin to occur that support your vision. Allow yourself to stay open yet not expecting. Continue to repeat the mantra above of create your own. Listen with your heart not your ears. Speak your clear intentions out loud, give them your blessing.
Provide spiritual guidance & support
It may seem hard to believe, but once you begin shuffling & getting used to your Tarot deck it can become your "pocket Bible". The deep and rich spiritual connotations of Tarot provide life affirming guidance and pathways. One the elements that make Tarot so mysterious is ownership. Once you've identified you are ready to have a deck, one is made available, try it if you don't currently have a deck. Your energy request will vibrate out into the Universe. Remember this is about personal power not force, allow your imagination to bubble up with excitement as get to "vision" the deck that will find you. Seeing it in your mind connects you to feeling of receiving it.
One of the reasons I refer to the Tarot as the "pocket bible" is because I have used the same deck I began reading cards in a coffee shop in Chicago and since then I've been voted #3 Psychic in the World, became an Amazon International Bestselling Author & much more. The guidance of Tarot cards have provided me with the inspiration needed to get here, so I know its wisdom, its lessons & its magic. And now you can too!
"To know Tarot is to study spirituality, esoteric wisdom, numerology, astrology & yourself. Every time you shuffle the deck, your magic within them comes alive." Tonya Melendez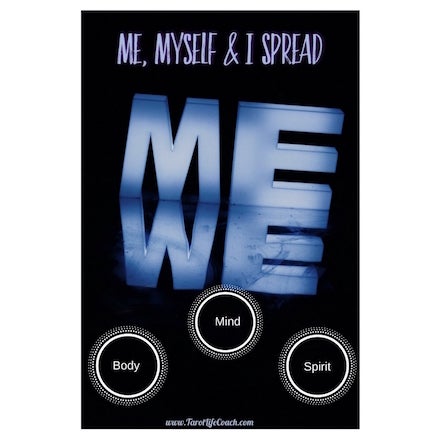 Related
Popular in the Community