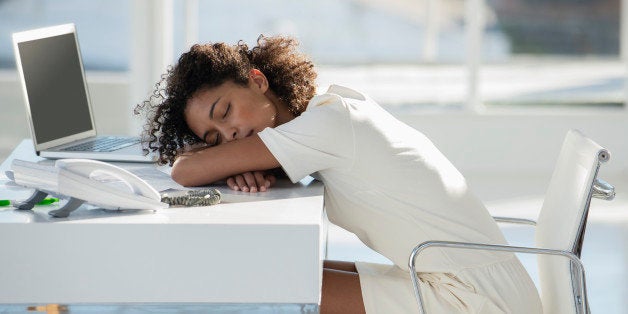 Maybe you've tried sneaky office yoga, and were thinking, I don't need a stretch break, I need a nap! Lucky for you I've compiled this list of easy ways to sneak some z's at work, or at least feel like you have!
Nap Room, Please
Be open with your boss about the benefits of taking a midday snooze. Is it possible to repurpose an empty conference room or game room as a nap room during designated times of the day? Or might your boss let you meditate in the room for a few minutes? Yoga nidra, or yogic nap, is a restful way of scanning through your body while sitting or laying down comfortably.

Restorative or Yin Yoga
Yin yoga and restorative yoga are making huge waves, as people are seeking rest and mindfulness with yoga rather than fitness. In these styles of yoga, you will rest in a pose for 3-15 minutes--and you're allowed to fall asleep. Try it alone, or contact a yoga teacher or company in your area and see if you can arrange an in-office session.
Sleep is an integral part of overall wellness. Would coming to work an hour or more later make you a more productive person? Talk about this with your team. Many new companies are starting their days at 10 a.m. or later. Is your office ready to let go of traditional work hours for wellness? Are you ready to make some changes in your life to catch more z's?