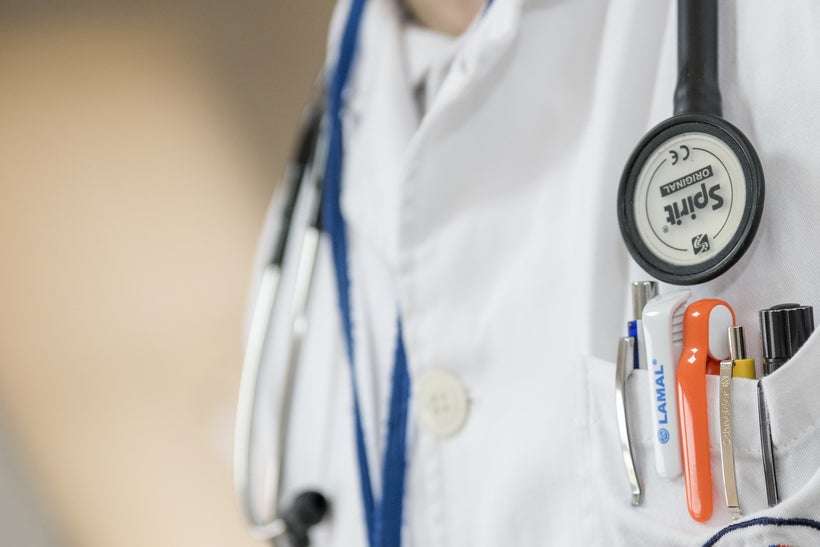 This can't be good. My blood pressure literally rose as I walked into the doctor's waiting room, densely packed with fidgeting humans. I approached the receptionist and greeted her while fishing around for my insurance card and copay. This wasn't my first time at this office, and in my opinion, the staff hasn't been friendly or polite toward me, but subspecialists are hard to find, so I put up with it. When she finally looked up from her screen after what felt like an eternity, she said, "Yes?" I had just hoped she would smile and say hi.
In full disclosure, my doctor-husband accompanied me on this particular visit, but he was incognito in street clothes, and already in a chair engrossed in his emails. But soon enough he started to complain about the rudeness and packed waiting room, and I secretly enjoyed that he was experiencing life on this side of the examination table. After 45 minutes of waiting, my husband tentatively approached the receptionist's desk to inquire how late the doctor was running. We had another appointment and were considering rescheduling for another time. "As you can see the waiting room is packed and the doctor is at least an hour and a half behind. You're not the only one here," she replied.
My husband was stunned, and I secretly chuckled.
I'm imploring all health professionals out there to consider implementing these simple changes that might enhance patient experience:
1. Love thy neighbor as thyself. Good manners and common courtesy go a long way in making patients (and humans in general) feel comfortable and validated. Let's just be nice to one another. On most occasions, we visit the doctor's office when our health and emotional well being are already compromised. How about a little compassion? I want to be greeted and treated the way the receptionist, nurse or doctor would want to be treated. The end.
2. Make like Apple and send us an App. Common courtesy would dictate that upon arrival, we'd be told if the doctor was running extremely late. Give us the option to decide if to reschedule or wait it out. Better yet, develop a simple app for this purpose. Many restaurants have developed a no-wait or get-in-line sort of app that allows diners to check in ahead. What if patients had the choice of opting in to an app that not only checked us in, but alerted us as to unusually high wait times? Surely if a doctor is running an hour late, there's no need for me to show up 15 minutes early and just take up space in the waiting room? Decreasing wait times by implementing a simple text alert system could potentially save both staff and patients a ton of aggravation. If it works for restaurants that deal with unpredictable length of dining times, surely we can figure this out for patients.
3. Make our waiting time bearable. Even the most impatient patient (who me?) begrudgingly understands that some waiting time is inevitable, but why not make that portion of the show more pleasant? I've noticed that some of my doctors now sport flat screens in the waiting room, and I appreciate the gesture. Recently, I overheard one patient complain about being held captive to a certain news network, while another complained about being forced to watch a food show as she fasted; you just can't please all the people all the time. Heck, I'd appreciate a variety of magazines that are less than three years old. And can someone please discard the torn and dirty ones? And finally, once we make our way back to the inner chamber of endless wait, please don't give us paper togas. They're bad for the environment, and they can affect our self image. Personally, I'd love a cloth gown and a heated blanket, and while we're at it, WiFi – but here we go with my demands, again…
Carving out time for doctor visits can be annoying, but it's unavoidable. When you gotta go, you gotta go. But there are some simple changes that could not only enhance patient experience, but might also benefit health care providers. 
And yes, as patients, we have to take responsibility for our own behavior and treat all staff with respect and gratitude. A little kindness goes a long way, and that goes for everyone.
P.S. To the person who's been on his phone for the last 30 minutes talking politics while sitting next to me in the waiting room: my next story is about you.
Calling all HuffPost superfans!
Sign up for membership to become a founding member and help shape HuffPost's next chapter
This post was published on the now-closed HuffPost Contributor platform. Contributors control their own work and posted freely to our site. If you need to flag this entry as abusive,
send us an email
.