 Shrimp boats are used to collect oil with booms in the waters of Chandeleur Sound, La., Wednesday, May 5, 2010. (AP Photo/Eric Gay)
Later that month, officials reported they had dug up a 165 foot by 65 foot slab of oil and wet sand near a Louisiana beach. The 40,000 pound tar mat -- recovered in chunks about 90 miles south of New Orleans at the edge of Barataria Bay -- is only a fraction of the nearly 3 million pounds of waste BP has recovered in Louisiana in 2013, reports CNN.

In this May 22, 2010 file photo, nesting pelicans are seen landing as oil washes ashore on Cat Island in Barataria Bay, in Plaquemines Parish, La. (AP Photo/Gerald Herbert, file)


In this two picture combo, nesting terns and pelicans are seen on Cat Island on May 22, 2010, left, as oil from the Deepwater Horizon oil spill impacts the shore of an island in Barataria Bay, just inside the the coast of Louisiana. The second photo taken on April 8, 2011 near the same location, shows the shoreline heavily eroded, and the lush marsh grass and mangrove trees mostly dead or dying. (AP Photo/Gerald Herbert) Pelicans are seen amongst dead mangrove on Cat Island in Barataria Bay in Plaquemines Parish, La., Wednesday, April 11, 2012. (AP Photo/Gerald Herbert)
Herbert returned to Cat Island in 2012, writing, "The island had eroded and was much smaller. What was once mangrove so thick only a bird could enter was now black stumps sticking out of the sand." He added, "There were fewer pelicans, and they were nesting on bare earth, exposed to the next storm surge." Dead mangrove, formerly dense, green and a nesting sight for brown pelicans, egrets and roaseate spoon bill, which was directly impacted by oil from the nation's worst offshore oil spill, is seen as it erodes into Barataria Bay at Cat Island and Bay Jimmy in Plaquemines Parish, La., Thursday, April 18, 2013. (AP Photo/Gerald Herbert)
"BP is more concerned about keeping its bottom line than it is about keeping its word," Mississippi Attorney General Jim Hood wrote in a recent Times-Picayune op-ed. He said BP is just having "buyer's remorse," and stressed he "[has] faith that fairness will win out in the end." A tar ball is seen on a shoreline in Bay Jimmy in Plaquemines Parish, La., Thursday, April 18, 2013. (AP Photo/Gerald Herbert)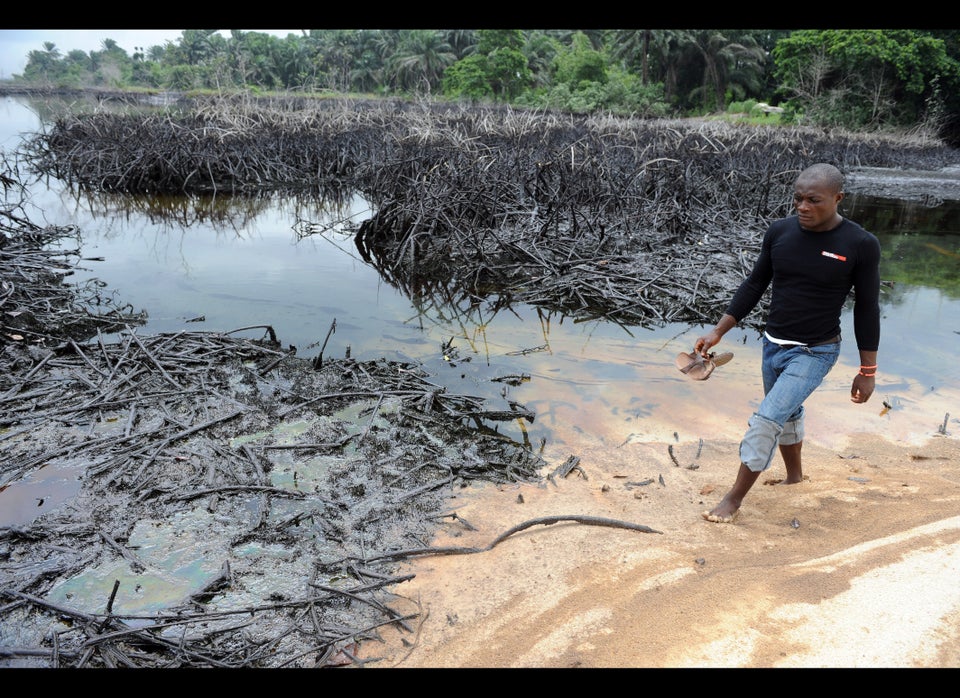 Oil Spills Since The Gulf Disaster
Popular in the Community