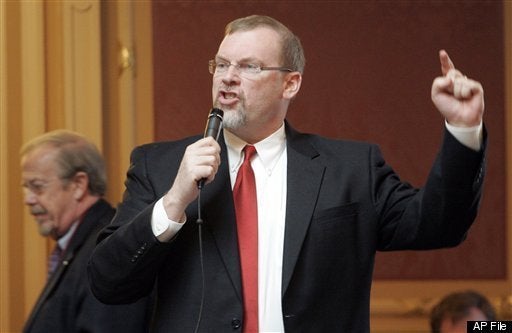 WASHINGTON -- The GOP "budget cut" numbers are getting squishier by the minute. At least it seemed that way in the hallways of the Capitol on a ceremonial first day of swearing-ins, family photo ops and back-slapping goodwill.
Republicans campaigned coast to coast on, among other things, a promise to cut $100 billion out of the federal budget.
But now they are talking about cuts as slim as $30 billion, blaming the change on the fine print that no one read -- or if they read, did not understand.
It turns out the $100-billion figure meant $100 billion from a budget that President Barack Obama proposed, which was never passed. And now that the fiscal year is nearly half over, well, there's just no way ...
Even some Tea Party types who are sticking to the original goal concede that it'll be hard to reach as long as the GOP exempts -- as it plans to -- funding for defense, homeland security, veterans and entitlements. "I still think it's realistic," freshman Rep. Morgan Griffith (R-Va.) said of the $100-billion target, "but the trick will be how we get from here to there."
But at least Griffith, a former leader of the Virginia legislature, expressed a determination to give it a go. He's a solid, earnest fellow from the mountains, and when you make a promise there, you try to keep it if you can.
A lot of other Republicans are more "realistic." Rep. Peter King (N.Y.), who's been in Congress since 1993 and now chairs the Homeland Security Committee, told me that $100 billion is of course unrealistic and the cuts will be $50 billion, tops. Rep. Darrell Issa (Calif.), the new chair of Oversight and Government Reform, told me to forget this year's number and explained that his goal is to cut $200 billion over two years. Rep. Ron Paul (Texas), the incoming chair of Financial Services' domestic monetary policy subcommittee, said that all of these numbers are chicken feed and a waste of time.
And over in the Senate, a top GOP aide told me that the real bottom line is a max of $30 billion for the rest of this fiscal year.
All these numbers can expand or contract depending on the baseline used. The cuts may sound bigger or smaller, for example, depending on whether you use the numbers the Democrats were talking about or the figures in President Obama's original 2010-'11 budget.
As for health-care reform, some Republicans are eager to focus on repealing and dismantling it. "My people are scared of Obamacare," said Griffith. "They want me to do what I can to get rid of it, and I'll have credibility with them to the extent that I do."
But King said the GOP had to be careful. "We'll vote to repeal and then move on," he said. "Then the experts on the committees will figure out what else we should vote on later. In the meantime, we have to focus on other issues."

Popular in the Community