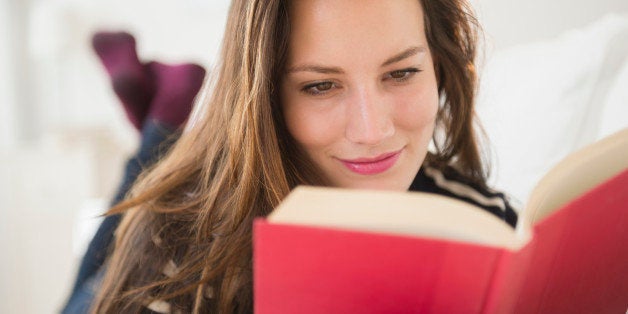 The best books aren't static stories, but living entities with meanings that change and grow along with you. That's why we strongly recommend rereading the classics that were assigned to you in high school; you may find that they're nothing like they were before.
Still, some books are best experienced at a certain age, like, say, "Catcher in the Rye." If you pick it up for the first time when you're far beyond puberty, you'll likely wonder what all the hype is about. Likewise, there are certain books you should read in your 20s, due to the age of the characters or the intended audience -- books like Donna Tartt's "The Secret History" or Christopher Hitchens' "Letters to a Young Contrarian."
There are also fantastic classics that may not have been assigned to you in school but that you should pick up ASAP simply because you're missing out -- books like Doris Lessing's "The Golden Notebook" or "A Collection of Essays" by George Orwell.
Check out the 30 books we think you should read before you're 30:

"The Dream of a Common Language," by Adrienne Rich
Pivotal to the feminist movement, Rich's poetry collection is one of three books Cheryl Strayed brought with her on the trek she chronicles in her book, "Wild." A wise choice -- the "Power" section of the book will inspire you to achieve great things.
"Even Cowgirls Get the Blues," by Tom Robbins
All of Robbins' books are great reads for 20-somethings, as the author tends to serve up prettily packaged life advice with a lot of moxie. Writes Robbins in "Even Cowgirls," "There are many things worth living for, a few things worth dying for, and nothing worth killing for."
"The Sun Also Rises," by Ernest Hemingway
Not only can you get your literary passport stamped twice with Hemingway's romp through Paris and Pamplona, but you can enjoy an immersive mood piece about the highs and lows of drunken, rambling youth.
"The Secret History," by Donna Tartt
Tartt's contemporary Greek tragedy about an unraveling clan of Classics majors is enchanting but may seem a little overwrought once your college days are decades behind you.
"Anna Karenina," by Leo Tolstoy
As we revealed on Tolstoy's birthday, this book is a classic for a reason: There's much to be learned from Anna's mistakes, but also the successes of her peers, such as Levin, who, as he gets older, embraces simple living.
"A Collection of Essays," by George Orwell
You ripped through "Animal Farm" and "1984" in high school. Now it's time to take some of Orwell's insight straight, sans pig metaphors. He discusses British Imperialism, but it's not all political: "Such, Such Were the Joys," an essay about prep school, is particularly delightful.
"Hamlet," by William Shakespeare
We strongly advise against entering your 30s without having read (and we mean really read and fully ingested) one of Shakespeare's tragedies. If you have to pick just one, pick "Hamlet." Perhaps it'll help you with that pesky indecision you're likely experiencing if you're a 20-something.
"The Amazing Adventures of Kavalier & Clay," by Michael Chabon
Chabon's answer to what happens when childhood dreams meet the sometimes grim realities of adulthood centers around a Jewish refugee. It captures the heartbreak that can come with discovering your sexuality and chasing your dreams.
"Hateship Friendship Courtship Loveship Marriage," by Alice Munro
Munro writes short stories about small worlds, often centered around Canadian women like herself. She reminds us that quiet foibles and triumphs can be as beautiful and significant as sweeping, epic tales -- an important insight to keep in mind as you leave your more self-centered, dramatized youth behind.
"Native Son," by Richard Wright
Wright's book is literary naturalism at its finest, creating empathy for the impoverished and downtrodden -- an important lesson to learn if you haven't already.
"Demon-Haunted World," by Carl Sagan
Sagan's shtick is science for dummies, and this book is no exception. In fact, it may be the best introduction to the author, as it details the scientific method for laypeople and defends skeptical thinking -- a great means of stepping out of the psychobabble our 20s can be characterized by.
"Infinite Jest" by David Foster Wallace
It may be a doozy to lug around, but you won't regret it. DFW's contemporary classic is available on audiobook now, too, so there really is no excuse. Besides, if you can tackle this, you can tackle anything.
"The Unbearable Lightness of Being," by Milan Kundera
Kundera offers keen insight into gender dynamics and the universal struggle to achieve both independence and meaningful relationships -- sounds familiar, right, 20-somethings?
"Song of Solomon," by Toni Morrison
Aside from being the favorite author of some of America's most successful people (including Obama!), Morrison writes glittering prose and remarkably moving stories. Who knows what you can accomplish with this book under your belt!
"Critique of Pure Reason," by Immanuel Kant
After spending some time with Sagan, you may find Kant's argument against only thinking analytically rather refreshing. Your feelings and intuitions do matter (and in your 20s, you have a lot of them). He's a fan of a metaphysical understanding of the world and has some pretty good points to back it up.
"Siddhartha," by Hermann Hesse
Your 20s are the perfect time to read this novel about self-discovery. The title literally translates to "he who has found meaning (of existence)."
"The Brief, Wondrous Life of Oscar Wao," by Junot Díaz
Díaz's moving story about the beauty and power of optimism amid inherited cultural setbacks will make you cry, but it will likely also embolden you.
"You Shall Know Our Velocity," by Dave Eggers
It's a toss-up between "A Heartbreaking Work of Staggering Genius," and Egger's second book (his first novel). "Velocity" follows two young men on a philanthropic journey, running into unforeseen obstacles that stand in the way of their youthful idealism.
"How Should a Person Be?" by Sheila Heti
Heti blends fiction and memoir in her story about friendship, art, sex and love in the Internet era. The New York Times called it, "part literary novel, part self-help manual."

"Leaves of Grass," by Walt Whitman
Whitman is large, he contains multitudes. And so do you! "Song of Myself," his transcendentalist, free-verse poem that starts off this book, is an especially inspiring ode to "living amongst the animals." This notion will never be more appealing than it is in your 20s.

"Enormous Changes at the Last Minute," by Grace Paley
Like Alice Munro, Grace Paley is a master of the short story. Her stories are widely anthologized and offer a helpfully no-nonsense, if sometimes cynical, look at relationships.

"Portrait of a Lady," by Henry James
Protagonist Isabel Archer's transition from a wide-eyed and fiercely independent girl to a resigned woman stuck in a miserable marriage can serve as more than a warning sign. Her charming insights, along with the optimism of her cousin Ralph, make for an incredible read.
"Slouching Towards Bethlehem," by Joan Didion
Joan Didion's nonfiction legacy all began with this collection of heartbreaking essays surrounding the naiveté of California's flower children. If the topic doesn't intrigue you, her stellar writing will.
"Letters to a Young Contrarian," by Christopher Hitchens
Hitchens' collection explains the importance of debate and the nature of humor, and was inspired by his own students and neatly summarizes the great contrarian's ideologies.
"A People's History of the United States," by Howard Zinn
If you missed Zinn's National Book Award nominee in high school, it's not too late to plunge into his portrayal of the political counterculture. Writes Zinn, "My hero is not Theodore Roosevelt, who loved war and congratulated a general after a massacre of Filipino villagers at the turn of the century, but Mark Twain, who denounced the massacre and satirized imperialism."
"The Golden Notebook," by Doris Lessing
Protagonist Anna attempts to tie her four journals, each focusing on a different theme of her life (The Cold War, women's liberation in England, etc.), together into one, cohesive story. You may find yourself doing this in your 30s as well.
"Giovanni's Room," by James Baldwin
Baldwin was one of the first writers to approach homosexual relationships in a nuanced way, making this an important read now more than ever. While attempting to make a choice regarding his sexuality, protagonist David feels deeply alienated -- a feeling that may be most relatable to young readers.
"Autobiography of Malcolm X," as told to Alex Haley
Malcolm X's story is sadly overlooked on many high school required reading lists, but the book's focus on overcoming setbacks, spiritual conversion and impassioned activism make it an ideal read if you're under 30.
"A Room of One's Own," by Virginia Woolf
Woolf argues that your own personal space is necessary for the peace of mind needed to create good art. Whether or not you agree with her, this long essay explores not just the importance of financial freedom, but women's emotional freedom, too.
"Birds of America," by Lorrie Moore
Moore's book achieved a rare honor among short story collections: It made its way to the New York Times bestseller list. A much-deserved honor: She limns the lives of Americans of all ages with simple humor.
Support HuffPost
The Stakes Have Never Been Higher
Related
Popular in the Community