Let's face it. We all could benefit from a little more organization on our homes. I often have friends and family comment on how my house always seems so organized and clean. As cliche as it sounds, it's because everything has a place. I'm not going to sugarcoat this. It definitely takes work to organize your home in the first place, but once you have put the effort into making a spot for everything, it doesn't take any more work to throw your junk in a messy drawer than it does to put it in its proper place. And what more reason to spring clean than spring coming!
However, it can seem pretty overwhelming. Where do you even start?! I created this organizational chart that leaves you only one month away from a clutter free home! Why even bother decluttering your home?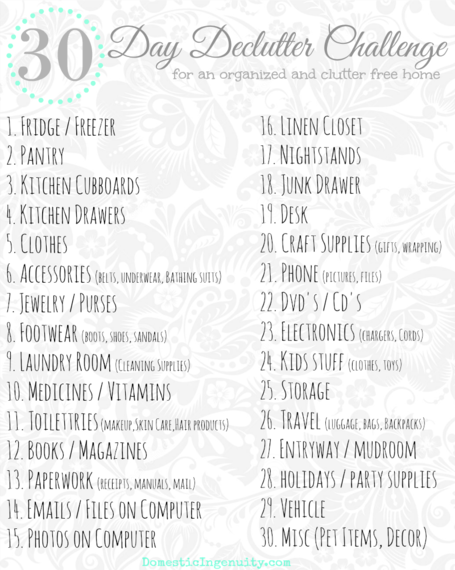 An organized, clean and clutter-free home reduced stress and allows things to run more efficiently which in turn saves you time. Think about how good it feels cleaning out your closet of unworn and unloved items? Or how much nicer it is to sit in a clean vacuumed car as opposed to a moving trash bin? That's because the space we live in directly effects our energy. Clutter in your physical surroundings also clutters your mentality. The Zen of organizing philosophy refers to the creation of a calm, peace filled and joyous environment.
But this is where things can change person to person. Some people love organizing (sweet words to my soul) and some people despise it. For me I find it relaxing to organize when other aspects of my life feel a little crazy. Maybe it's human nature to want a sense of control when things seem chaotic. So when I have a stressful day, I grab the vacuum. When I'm feeling anxious about an upcoming event, bring on the toilet brush. If i'm in a cranky mood, just let me scrub my floors. But that's just me. And if you hate it, that's okay too, because this challenge only takes a small part of your day for 30 days. You can do that. Organization is a skill that everyone can learn.
And with so many stores that thrive on donations, you are not only doing yourself a favor but you are benefiting others. There is no reason we can't part with some of our unneeded materialistic items to help a women's shelter, thrift store, non profit organization, consignment stores... the list goes on. It's a win win for everyone. Happy cleaning!
For every minute spent organizing, an hour is earned. -- Benjamin Franklin