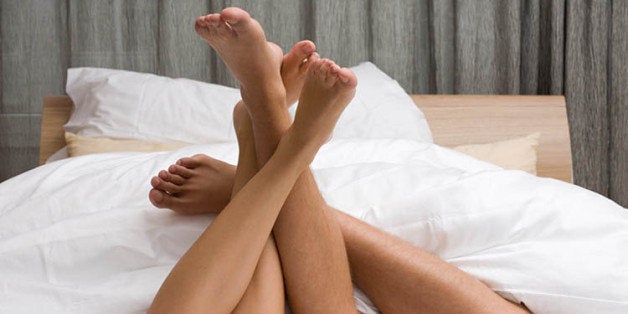 This is a modern dating experiment. One girl. Five dating sites. Hundreds of chats. Thirty days. Thirty dates. Eighteen guys. (?) boyfriend. To start at the beginning, click here -- or jump right in at date twenty below.
Date 20/30: Tinder Oliver*
3rd date with Tinder Oliver! Our first was a (few) lovely round(s) of drinks at Chateau and the second an Arctic Monkeys concert at the Wiltern. That was almost two weeks ago. We attempted to calendar a dinner in the middle, but our schedules refused to match up. Distance slash enchantment? Here's hoping.
This third date was to involve both dinner and a haunted house.
TO: Before the day gets away from me, am thinking we will do dinner downtown tmrw if that works. I have a hodgepodge of friends going to the spookhouse who may also join beforehand to eat.
I meet TO at his place downtown and we walk to meet his crew at the newly opened Peking Tavern. Dinner is delish, friends are welcoming, drinks are plentiful. Enchantment indeed.
We Uber over to Echo Park for the "spookhouse," but find we have about 20 minutes to kill. We also find that they don't serve liquor at their "bar." None of us are trying to remember our death by fright, so we hit up a Mexican restaurant down the street for tequila shots. And then we hit up the liquor store next door for portable flasks of vodka, because apparently none of us are trying to remember anything. I, personally, am attempting to self-medicate my severe case of nerves slash social anxiety. Third date. Meeting friends. Trying too hard to be cool. You know, the usual.
The haunted house is tons of fun. It's wonderful to have a hand to hold through the dark, winding hallways and someone to laugh at me when I get dragged up onstage to the guillotine. Look how good I am at couple-y things!!
Post scare-fest, TO and I separate from the group to get some late night grub. Lord knows my over-intoxicated liver could stand to see a few nutrients float by. We have another one of our slightly too deep and one hundred percent too personal chats over food I probably couldn't taste at Pacific Dining Car before stealing the rose from our table and heading back to TO's for a decently PG sleepover. (You're welcome, Mom.) Notably, the first sleepover of this experiment -- though, possibly only notable to my super classy guy friends who can't believe that I've, "like, gotten, like, twenty different dudes to take [me] out and, like, pay for sh*t without putting out. What a bunch of suckers." Like I said, supes classy. And it's only been 13 different guys thus far. Ahem.
One home-cooked breakfast, a mini Ryan Adams tutorial, and an awkwardly lengthy parking lot makeout sesh (sorry, parking attendants) later, I'm heading home -- secretly super happy I haven't heard back from Tinder Lucas about our possible second date tonight.
TO: You left a sweater here lovely. Just so you aren't worried you lost it. Will bring it next time I see you.
REAL LIFE. REAL NEWS. REAL VOICES.
Help us tell more of the stories that matter from voices that too often remain unheard.