This is a modern dating experiment. One girl. Five dating sites. Hundreds of chats. Thirty days. Thirty dates. Eighteen guys. (?) boyfriend. To start at the beginning, click here -- or jump right in at date three below.
Date 3/30: Tinder, Oliver*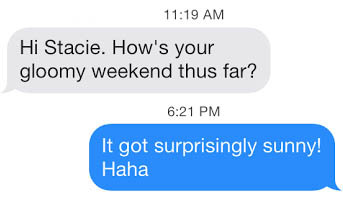 Another standard Tinder convo:
Weather? Him: Gloomy/Her: Sunny
Occupation? Him: Finance/Her: Creative
Mutual Friends? A few - we had even met through one of them just a year earlier. Only one of us happened to remember said meeting. Hint: It wasn't Her.
Apartment Location? Him: Downtown/Her: Beverly Hills
They say opposites attract, right? Two days of polite Tinder-chatting with Tinder Oliver had me prepped and ready to break one of my cardinal rules of dating and meet a PE guy for drinks. (My three years in New York left more than a few fiscal scars, if you know what I mean.)
We agree upon Chateau Marmont at 9 p.m. I'm coming straight from a tutoring sesh. My tutee and her family have known the terminally single me for eight years, and were quite excited to hear about my date/the project in general. Even their 16-year-old-son touted the normality of online dating in encouragement of my efforts. I get it guys; I'm getting old. Your pity-laden support is more than appreciated.
I'm hiking up the drive to Chateau at 8:47 p.m., when Tinder Oliver texts that he's running late. Great, we haven't even met and the man's already stealing my lines.
TO: I'm running ten min behind. Also you know to go to Chateau hotel restaurant versus Bar Marmont downstairs, ya?
Uh, yes. I gathered as much, thanks.
I go to give Tinder Oliver's name to the hostess, only to realize I don't know his last name. Right. About that. I'm just gonna go... check my hair. And possibly do a quick little search for my dignity while I'm at it.
I kill some time in the bathroom before kicking back in the lower lounge area. Nap time, anyone?
Fifteen minutes pass. Where the F is this dude? This must be what it feels like to date me.
TO: "Did I lose you? The hostess said you were here a few min before me and have disappeared! Very mysterious..."
Very mysterious indeed. There's no way I'm heading out to the dining room by myself, as I have no idea what TO looks like in non-photo form, so I head back to the hostess stand, asking her to point me toward the correct table -- really nailing home the fact that I've never met this man before. Just in case there were any questions on that front. (There weren't.)
Things get a lot less uncomfortable when we get around to the actual date part. TO
comes across both well-mannered and confident. Two of my favorite traits! We talk for hours, covering everything from our overlapping party years of yore to the magical melancholy of Joan Didion. He does seem to be more of a serious human being than myself, but not to the point of buzzkill.
Coincidentally, a former colleague of Tinder Oliver's is seated directly behind us with his appropriately blonde wife. They pop over at the end of their meal to say hello -- and to let us know that we "look well together." Wingmen never say die.
Four hours, four cocktails, and an order of chilled beets with chevre, citrus, and hazelnuts later, Tinder Oliver gives me a ride home. (I had cabbed there due to issues with my Prius's tire.) The goodbye starts as a somewhat awkward hug/cheek-ish kiss before he pulls me back in for a "real kiss." Heyo.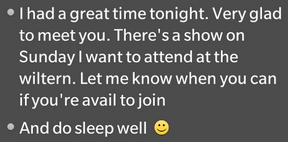 I did. I also took a moment to make a sotally tober video journal:
Next up: A Friday night double-header of men from Match and OkCupid, wherein I am reminded that dating in LA is logistically the worst thing ever.
Calling all HuffPost superfans!
Sign up for membership to become a founding member and help shape HuffPost's next chapter