Verizon Media may receive a share from purchases made via links on this page. Prices and product availability are subject to change.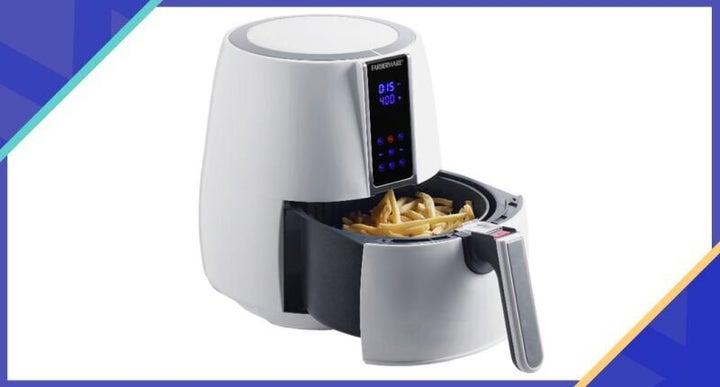 There's no need to hold off till Black Friday to score great deals. We've teamed up with Walmart.com to get you first dibs on the very best holiday savings early. Every day in November, we'll have new deals for you. Whether you're in need of, say, a new tablet, a great kitchen gadget to make healthy-meal prep easier, or goodies for the family, Walmart.com has you covered.
Holiday time can be hard on the waistline—and the cholesterol. But with the right helper in the kitchen, you can make scrumptious dishes that only taste indulgent. What sort of helper are we referring to? A top-notch air fryer, of course.
The Farberware 3.2-Quart Air Fryer—now a shockingly low $39—allows you to make the foods you love, guilt-free—and with less time and effort than ever before. With little to no oil, the machine cooks and crisps everything from chicken wings to roasted veggies, using rapidly circulating hot air. Cook time is up to 30 percent faster than with traditional methods. The 3.2-quart basket is ample enough for a crowd (it can hold up to two pounds of vegetables). Cleaning is a breeze, thanks to the removable non-stick basket. The Farberware 3.2-Quart Air Fryer even comes with recipes—25 of them—for everything from French fries to pork chops to dessert(!).
"This was my first air fryer purchase," shared one enthusiastic reviewer, "and I just have to say I love, love, love it! The first thing I cooked in it was hamburgers ... I was able to cook 2 good sized burgers at once, 6 mins on each side, and they turned out beautiful. There was plenty of cooking space and clean up was so easy. I was so impressed."
Other Walmart deals right now:
Have an aspiring DJ in the house? Make his or her dreams come true with this DJ controller, bundled to include state-of-the-art Serato DJ Pro software—the most popular DJ software in the world. It's everything needed to command a party. Bonus: The Starlight Bundle includes a free month of POOL Audio Gold, the industry's top music and video service. It's a creative, supportive gift that keeps on giving. Was $130, now $100.
When slime meets makeup, kids have fun. This unique kit encourages mixing, messing, and makeovers. It contains more than 35 different elements, including eyeshadows, lip glosses, highlighters—and plenty of slime. There are even two surprise scents. Wild and wacky, for hours of enjoyment with friends. Was $70, now $59.
Go big and stay home! This hexagon-shaped trampoline—more than 50 percent off—is a nice safe height for little ones, and is sure to make your yard the place to be. With a padded spring cover and rust-resistant steel frame, it's built to stand up to boundless bouncing. Ages three to 10. Was $235, now $116.
This spunky tablet is mighty cute — and mighty powerful, breezing through apps like the included WPS Office. Detach the keyboard and it's a standalone tablet. It operates on Android Marshmallow with a 1.3GHz quad-core processor, so it's compact but powerful. And just look at that price—more than half off. Was $180, now $88.
This story was originally published on Yahoo Lifestyle. This article was paid for by Walmart and created by Yahoo Lifestyle's commerce team. The Yahoo Lifestyle and HuffPost editorial staffs did not participate in the creation of this content. Prices and product availability are subject to change.