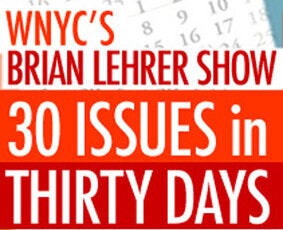 OffTheBus is collaborating with Brian Lehrer and WNYC Radio on their "30 Issues In 30 Days." Here's a brief project intro from none other than the host, Brian Lehrer:
"The Brian Lehrer Show on WNYC Radio is using the wisdom of crowds to help produce some great election coverage. In our series "30 Issues In 30 Days," we'll go beyond the horse race to dig deep into an issue that really matters every day for 30 straight days, beginning in September. The goal is to clarify the positions of Obama and McCain and debate who's got it right. In conjunction with Huffington Post's OffTheBus and Instapundit.com, we're inviting you to help determine which issues to discuss, with what guests, and the questions to be explored. Currently, people are nominating issues during the "30 Issues Brainstorm." Soon, you'll vote for and rank your favorites from the list, which will help craft the series. ~~ Brian Lehrer"
Later we'll announce the role you -- OffTheBus members -- will play. But first things first, ... stake out your issues.
Related
Popular in the Community