by Cooper Harris – entrepreneur, technologist, and CEO of Klickly.com

Every year on Christmas Eve, I find myself guiltily rushing around trying to find open stores to fulfill my deficit of family Christmas gifts. According to the International Council of Shopping Centers, a huge number of you readers are like me too! Apparently, 76% of adult shoppers say they plan to make holiday purchases right up until Christmas (though not sure if this includes the 2-3 short hours pre-December 25th).
But great news – since I have the immense pleasure of working with some of the best, fastest-growing E-Commerce brands in the US – this year, I am coming to the rescue of all last-minute shoppers out there (including myself). In this article, we feature 30 amazing stores, each with fantastic gift options for basically everyone in your life.
So go ahead and use the stores below to assist in those last-minute Holiday shopping decisions. But act fast, because shipping windows are closing over the next 6 days … and the Walmart parking lot at 12am on 12/25 isn't a good look.
(As always, we write about brands we like; we don't receive any compensation for purchases below)
#1. Jewelry: From a bold statement piece (Adeline Jewelry), to stunning accent studs (Joodle), to delicate princess-like jewels (Tippy Taste), match the twinkle in your partner's eye to the twinkle of gold or silver.
#2. Kids: Whether for a crying newborn or your terrible-twos niece, these adorable gifts will bring a smile to their face ... almost like a box of puppies (only much more appreciated by parentals).
#3. Body Care: Fact: day spas are one of the greatest gifts bestowed to this world. Another fact: these beauty-enhancing gifts are just as good (if not better) since they combine the comfort of your own home with the luxury of a Mediterranean Spa.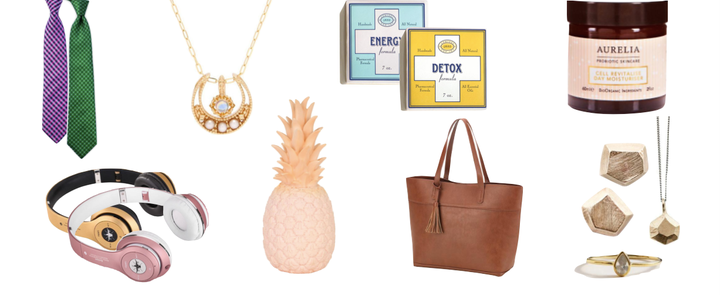 #4. Women's fashion: From charitable t-shirts (Sevenly) to meaningful messaging (Soul Honey), these unique apparel stores have everything, even some fab California-inspired Malibu faux-fur coats (12th Tribe).
#5. Men's fashion: Expressing individuality via clothing has come a long way since Roman togas. Now, with options ranging from cool hipster ties to patterned oxford shirts to shirts depicting Van Gogh being photobombed by a cat (kudos, RipNDip), there's no excuse not to be the center of attention (and envy).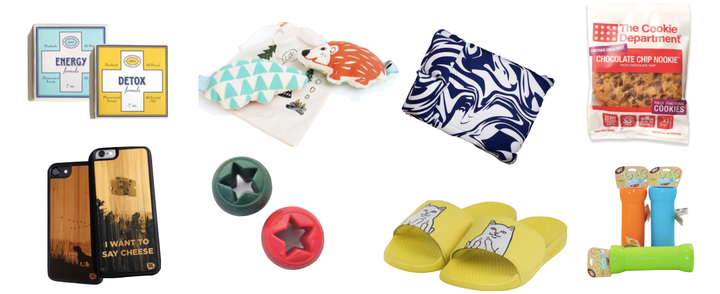 #6. Accessories: Ohhh accessories, the gift that keeps on giving. For your monogrammed-everything sorority sister (Sweet Southern Sparkle), or the Sith-fighting rebel in your family (Nerd Federation), these brands have you – and your appliances – covered.
#7. Everything-Else-You-Could-Possibly-Need. These brands are in a category of their own, both literally and figuratively: You have your standard Shower-beer-holder (30Watt), a throw with a skateboarding sunglass-wearin' dog (Aelfie), beautiful guitars for the rocker of any genre (Adirondack Guitars), headphones in every color (Gripped Fitness), a jolly alien pet toy (True Drool), and a cookie with 40mg of caffeine (thank you, Cookie Department). These stores are worth checking out! #punintended
With these great gift options in your back pocket, here's hoping we've helped you stop procrastinating and buy your loved ones presents that'll make you their favorite relative/friend. Not that it's a competition … (but if it were, you'd be winning).
Popular in the Community