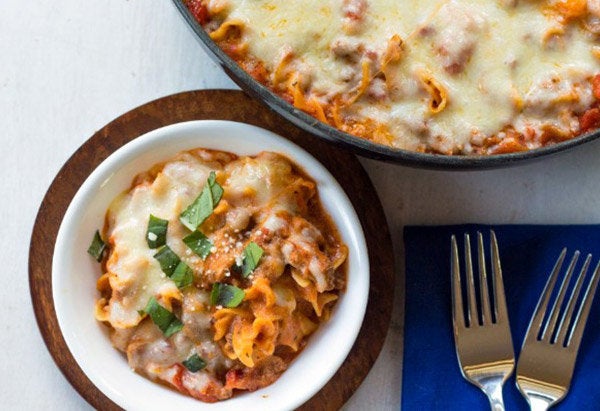 Sunday: The One Casserole You Never Thought You'd Make on the Stove
This smart recipe manages to deliver cheesy, Sunday Supper-worthy lasagna (yes, lasagna!) without having you even turn on the oven. You start by sautéing ground beef, then you add canned tomatoes and seasonings; once that's all bubbling away, you toss in wide egg noodles (which are almost like mini lasagna sheets). The pasta cooks in the sauce, as you stir in ricotta and shredded mozzarella ― and the cheeses melt within minutes.
Get the recipe: Easy One-Skillet Lasagna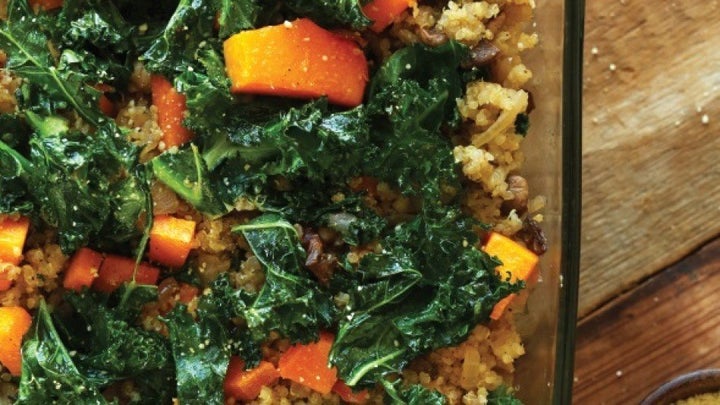 Monday: The Meatless Meal You'll Feel Great About Eating
This simple quinoa bake is packed with vibrant produce yet delivers a warm, comfort-food vibe. You cook quinoa in vegetable broth to give the seeds rich flavor, and the dish gets a subtly sweet, earthy taste from roasted butternut squash and mushrooms. Dark green kale brings even more nutrition and a burst of color.
Get the recipe: Butternut Squash, Kale and Quinoa Bake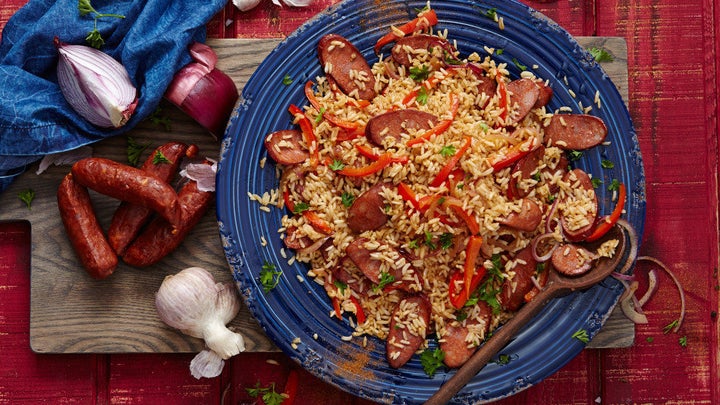 Tuesday: A Speedy Riff on Paella
Chorizo is the surprise ingredient that gives this low-effort meal deep, smoky flavor. The recipe has you remove the sausage from the casing and brown it, then cook onion, garlic and red bell pepper in the fat. Add rice, sherry and chicken broth, simmer until cooked and you'll be wowed by how tasty a tricked-out bowl of rice can taste.
Get the recipe: Chorizo Rice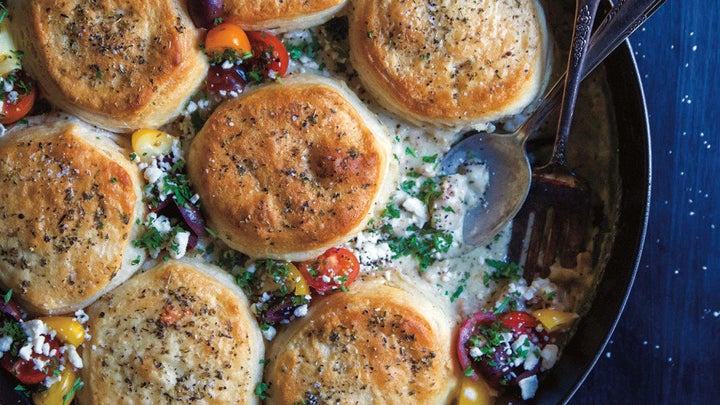 Wednesday: A Midweek Reinvention of an American Standard
Here's a brightened up version of good, old-fashioned stick-to-your-ribs biscuits and gravy. It starts with browning breakfast pork sausages; next, add flour, oregano, garlic, cumin and milk to make a gravy. Then come the biscuits, which you brush with melted butter that you've stirred a bit of dried oregano into. Bake until the rounds are fluffy and then scatter halved grape tomatoes and kalamata olives, crumbled feta and chopped fresh mint over the top before digging in.
Get the recipe: One-Pot Greek Biscuits & Gravy Cobbler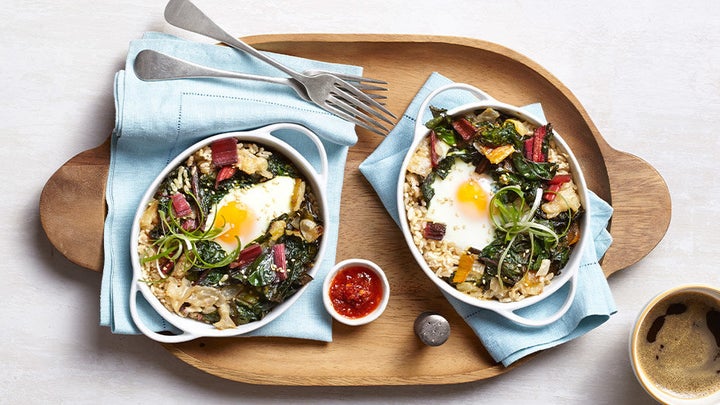 Thursday: An Alternative to Takeout
Almost-Friday fatigue can make ordering in a tempting option. Instead, consider this rice dish, which has many of the elements you find in Asian cuisine, in a simple and speedy casserole. It begins with a layer of cooked brown rice. Next comes a tasty combination of sautéed Swiss chard, onion and ginger mixed with coconut milk, soy sauce and a dash of sesame oil. On top of that, you crack eggs and bake just until the whites are set; when they come out of the oven, the bright yellow yolks look stunning against the greens.
Get the recipe: Sesame Baked Eggs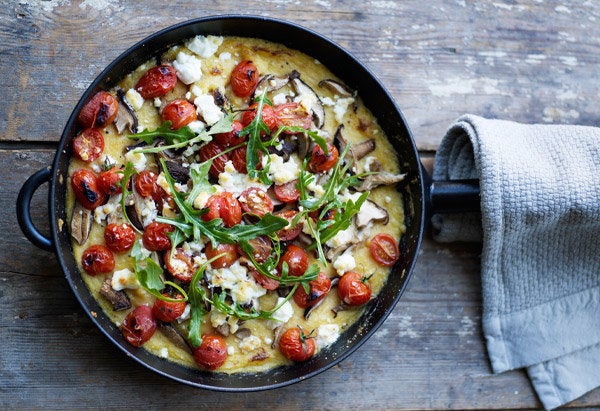 Friday: A Skillet Twist on Deep-Dish Pizza
Ground polenta ― aka corn grits ― is an underutilized secret weapon for busy cooks. Long a staple in southern Italy and the American South, it's cheap and wildly versatile, and the uncooked version will keep in the pantry or refrigerator in an airtight container for up to a year. In this flavorful recipe, you cook the grain until it thickens into a soft cake, and then top it with thinly sliced mushrooms, cherry tomatoes and crumbled feta. Under the broiler, the tomato skins burst, the mushroom wilts and the cheese melts; the results are savory and tangy.
Get the recipe: Polenta Bake with Tomato, Feta and Mushrooms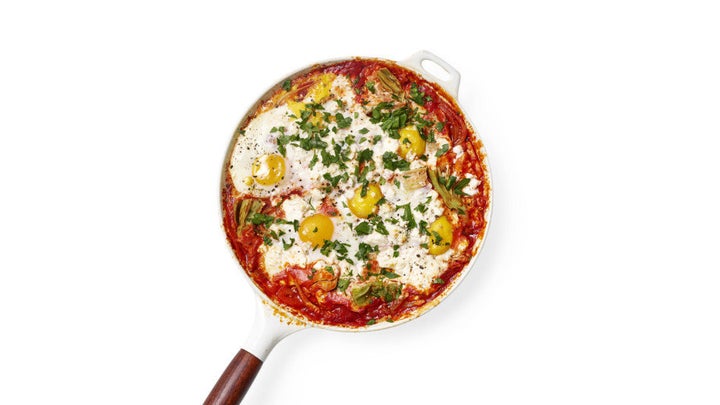 Saturday: The Anytime Egg Dish
Depending on how your Saturday goes, you can serve this beautiful shakshuka for breakfast, brunch or dinner. What makes it breakfast- or brunch-worthy is the 6 to 8 large eggs that get baked in the bright red marinara sauce. The addition of jarred artichoke hearts gives the dish a refined touch that make it suitable for a laid-back supper, alongside a salad and a loaf of bread.
Get the recipe: Artichoke Shakshuka
Related
Popular in the Community