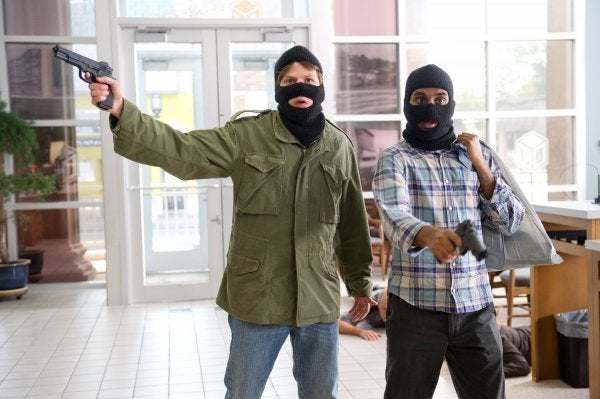 Jesse Eisenberg is doing his best not to get typecast.
The "Social Network" star, who has played awkward nerds in that Facebook film, "The Squid and the Whale," "Adventureland" and "Zombieland," is swinging from geek billionaire to violent, sex-crazed pizza delivery guy.
Eisenberg stars in "30 Minutes or Less," a new comedy from Ruben Fleischer, who directed him in "Zombieland." He plays best buds with "Parks and Recreation" star Aziz Ansari, a teacher whose twin sister with whom he once had more than best buddy relations with. The reveal of the relations threatens to blow up their friendship, but when Eisenberg has an actual bomb strapped to his chest, there's a lot more at stake than ego.
Eisenberg and Ansari get forced to rob a bank by Danny McBride ("PIneapple Express" and "Eastbound and Down") and comedian Nick Swardson, who wear gorilla masks and say very, very foul things.
It may be back to awkward for Eisenberg soon, though; he was just cast in Woody Allen's new film, to be filmed in Rome. He'll co-star with Alec Baldwin, Penelope Cruz and Ellen Page.
WATCH
:
Popular in the Community