Gratitude is an attitude to be chosen any moment of any day, yet it's on Thanksgiving that we tend to talk about and focus on it more.
Today and every day, we can give thanks to our equine friends. No other species of animal has been with us throughout history the way the horse has been.
From the early days of war to current times of pleasure riding, the horse has partnered with us in any activity we can imagine. They have willingly carried us, both physically and emotionally, through tumultuous times and peaks of joy.
Their selfless service is something we can learn from, be in awe of, and give gratitude for as we recognize that horses are truly here to teach us about relationship.
The best relationships are the ones where giving and receiving are in flow and both individuals feel seen, valued, respected, heard, and loved.
As you look into the eyes of the next horse you see, please express your gratitude for their service as....
5. Companions and Best Friends
6. Representation of Wildness (i.e. Wild Mustangs)
7. Hospital Visitors (i.e. Mini Therapy Horses)
8. Dance Partners (i.e. Dressage and Liberty)
11. Fellow Gymnasts (i.e Vaulting)
12. Mindfulness/Meditation Gurus
14. Yoga Partners (i.e. Yoga on Horseback)
15. Fantasy & Myth Icons (i.e. the Unicorn and Pegasus)
17. Blank Canvases for Art (i.e. Painting on Ponies)
19. Beer Supporters (i.e. Budweiser Clydesdales)
20. Cart and Carriage Pullers
23. Luggage Carriers & Transporters
24. Hip-openers + Oxytocin Releasers
29. Reasons to Get Outside in Nature
30. Reasons to Get Up in the Morning
As you tune into all of your senses and feel this gratitude fully in your body, give thanks for how you love their smell, the sound of their whinnies and neighs, the feel of their warm breath, the touch of their fuzzy fur, and their look of love.
As they give us their kind embrace, remind us to breathe, and envelop us in a horse hug, sink deep into your heart and know that it's safe to reside and express from that place.
Connect your heart to the horse's heart and come fully into the present moment, knowing the truth that there is much to be grateful for and you are deeply loved by the horse.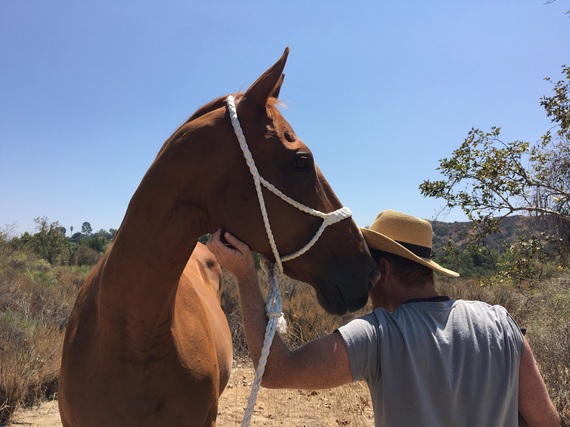 - Kate Neligan - Equine-Assisted Life Coach
(Photo credit: Adam Schomer)
Calling all HuffPost superfans!
Sign up for membership to become a founding member and help shape HuffPost's next chapter