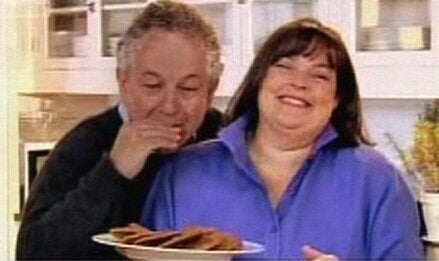 Liz Lemon, Tina Fey's character on NBC's 30 Rock, revealed her infatuation with Ina Garten of the Food Network to boss Jack Donaghy (Alec Baldwin) on last night's episode:
Liz Lemon: I'm like that woman on the Food Network whose husband only comes home on the weekends, and spends the rest of the time eating and drinking with her gay friends.

Jack Donaghy: Her name is Barefoot Contessa, Lemon, and you will never be like her, starting with the 'barefoot' part.
The joke continued a moment later with Liz Lemon watching TV with boyfriend Carol, a pilot played by Matt Damon, who she sees only sporadically, a Jeffrey Garten (Ina's husband who's home only on the weekends) to Liz's Ina.
After flipping on an episode of Ina Garten's show with Carol, who admits his own love for the Barefoot Contessa, Liz Lemon proclaims:
"Me too! This is one of the three things in the world I like. Ina Garten, sweater weather and .. [in tandem with Damon], when muppets present at award shows!"
Watch the two minutes of priceless Ina Garten references on last night's 30 Rock:
Related