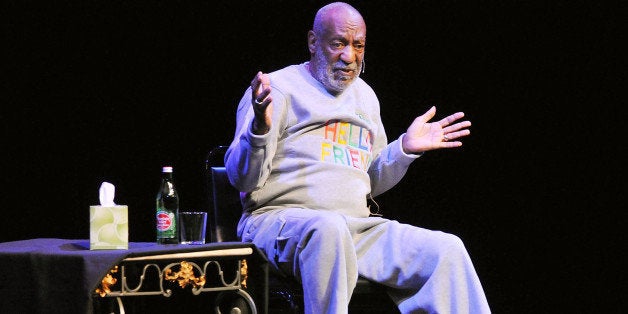 Crushable's Jenni Maier stumbled upon this little-known fact when she was watching the 2009 episode "The Bubble" from the show's third season. As a side plot of the episode, Tracy Jordan (played by Tracy Morgan) quits "TGS" (the fictional show on NBC that Jordan works on) and Jack Donaghy (played by Alec Baldwin) goes to great lengths to get him back. One of Donaghy's efforts includes hiring a Bill Cosby impersonator to convince Jordan to come back to the show.
You can watch the clip here on Tumblr.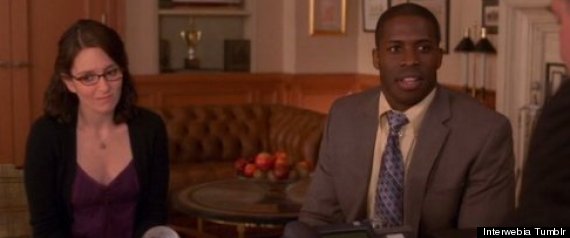 Liz Lemon (Tina Fey) and "Rick," the Cosby impersonator, sit down with Donaghy before calling Jordan in the episode.
Maier transcribed the dialogue between "Rick," the Cosby impersonator, and Jordan in the scene:
Jack Donaghy: I've arranged for one of Tracy's childhood idols to reach out to him.

Tracy Jordan: Hello?

Jack Donaghy: Tracy, this is Jack, I have someone here who wants to speak with you.

Rick: Tracy, this is Bill Cosby.

Liz Lemon: [whispering] Really? This is your strategy?

Jack Donaghy: [whispering and smiling] I heard him do this at a party!

Rick: I want you to come back to the TGS for the people who like the jokes and the things.

Tracy Jordan: Bill Cosby, you got a lotta nerve gettin' on the phone wit' me after what you did to my Aunt Paulette!

Rick: I think you're confusing me with someone else.

Tracy Jordan: 1971. Cincinnati. She was a cocktail waitress with the droopy eye!

Rick: I'm the guy with the pudding.

Tracy Jordan: Don't try to tell me what to do! Dr. Heathcliff Huxtable, wit' yo' light-ass kids! Jack! Why would you make me talk to this man?
Jezebel's Rebecca Rose also pointed out that the sole writer credited for the episode in question was Tina Fey, the creator of "30 Rock." Though, as Maier notes, comedian Hannibal Buress -- who called out Cosby in a stand up routine in October -- also used to be a writer for the show. She goes on to guess at the motivations behind the men and women in the "30 Rock" writers room choosing to write such a subtle (yet pointed) jab at Cosby:
What seems more likely than a coincidence is that the 30 Rock writers felt frustrated that this man continually got away with his alleged sexual assaults because he was a famous TV dad. So they found a way to call him out within their show without any repercussions from the media. Because you have to keep in mind that until Hannibal Buress (a former 30 Rock writer, but not for this particular episode) spoke out against Cosby in October, it wasn't part of the mainstream conversation. And it definitely wasn't an accusation that you could just toss around without receiving major backlash.
The Huffington Post reached out to NBC for comment, but had not received a response at the time of publication.
UPDATE: 12/3/14 4:20 p.m. -- NBC told The Huffington Post they will not comment on the story at this time.
UPDATE: 12/4/14 1:15 p.m. -- Redditor user "Pardeoin" pointed out that Tina Fey actually voiced her opinions about Cosby and the sexual assault allegations against him before the 2009 "30 Rock" episode.
In a 2005 SNL "Weekend Update" episode, Fey and co-anchor at the time Amy Poehler reported on Tamara Green's allegations against Cosby. (The episode aired shortly after Green went on the "Today Show.") Fey and Poehler deliver one sharp joke after another at Cosby's expense. At the end of the sketch, SNL's resident Cosby impersonator and cast member Kenan Thompson came out to politely decline impersonating Cosby because, as he says in the clip, "Kenan Thompson loves to work." Check out the sketch below:

Calling all HuffPost superfans!
Sign up for membership to become a founding member and help shape HuffPost's next chapter
BEFORE YOU GO
PHOTO GALLERY
#YesAllWomen Stories