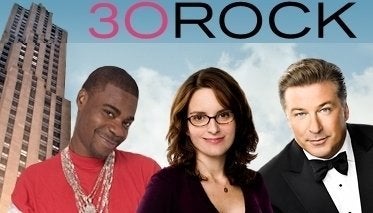 Well, we know there's one place in New York that's not on strike: The Upright Citizens Brigade theater. Last night the theater once again stood in for 30 Rock (the building) as it hosted "30 Rock" (the show) in "30 Rock — On Strike!", the first live, staged version of NBC's Emmy-winning television show, now suspended indefinitely due to the writer's strike.
"Thanks to our friends at the UCB for having us here tonight, and thanks to our friends at NBC for letting us be here tonight," said star and creator Tina Fey, who came out to huge applause from the the standing-room only audience, packed to overflowing (even more than for the SNL show), with people sitting cross-legged on the floor at the edge of the stage and crowding into corners. The show, a benefit for the show's strike-stricken PAs, consisted of a staged reading of an as yet-unaired episode. Said Fey: "If you paid more than $20 on Craigslist you are a sucker, because it's going to be on TV for free in a few weeks."
The show featured virtually the entire cast — yes, including Alec Baldwin — who each came out to huge applause as the "30 Rock" theme played, including Fey, Tracy Morgan, Jane Krakowski, Judah Friedlander, Jon Lutz, Lonny Ross, Scott Adsit, plus Jack McBrayer wearing his "Kenneth The Page" outfit, complete with Peacock pin, as the audience applauded wildly. Standing in for Edie Falco in the role of Democratic congresswoman Celeste "C.C." Cunningham, whose character has a multi-episode arc as Jack's paramour, was SNL longtime co-head writer Paula Pell who, along 30 Rock castmember and SNL writer Lutz, were the only two-fers on the stage (with the exception of Keith Powell, who plays the character "Toofer") (explained in the pilot ep: because he's from Harvard and because he's black). Alas no doubt for many of the gents in the audience, the fetching Katrina Bowden was not present to play the scantily-clothed young assistant Cerie.
Since Fey requested that people in the audience keep a lid on the details of the episode ("our show is kind of like 'Heroes'"), we're going to honor her request and not reveal any plot points. We can, however, share the following:
The cast members sat on chairs lining the left and right sides of the stage, along with some "30 Rock" writers and guests filling in with bit parts. We can say that one played a hairdresser, but unfortunately it wasn't Richard Esposito, Alec Baldwin's hairstylist from whom he has sadly been parted since the strike began.
There was a live band playing music in the background, underscoring scenes, plus a guy reading stage directions. There were some costumes (Friedlander started out in a foam trucker hat which read "SHOWER SCENE" but we're not sure that was a costume). Honestly, after about 30 seconds you stopped noticing the scripts, the theater, or the fact that this wasn't on set. Seeing it on TV will look utterly familiar.
At one point, as Baldwin held Pell from behind in an embrace, Pell moved his hand to her breast. Where it remained.
Related point: Baldwin often looked like he was about to crack up, or just cracked up.
Other related point: It looked like Baldwin was having a pretty great reunion with his castmates. Scott Adsit in particular looked like he was having a blast.
McBrayer and Lutz provided the "commercial" breaks in the form of improvised commercials based on shouted-out suggestions from the audience. The first one was "beer" (McBrayer, as child fishing: "Fishing makes me think of mortality." Lutz urging him to have a beer: "It makes me forget about your mom." McBrayer: "I guess this beer is pretty wonderful." Lutz: "It's beer!" Fin.)
Pointed out by HuffPo video maven Patrick Waldo, who had a primo front-row seat in the center bank: "I was disappointed to see Sue Galloway and Anthony Atamanuik (Huffington Poster!) in the audience, and not sitting in the background on stage with pencils and paper in front of them (they are UCB performers who play writers on the show, but have yet to get a line). "
There may have been more onstage humping.
Next Lutz/McBrayer commercial topic: Tampons. We won't elaborate, but it began with the two simulating playing basketball and ended with McBrayer reminding the audience that tampons were to be purchased at an actual store.
More from Patrick on McBrayer and Lutz: " It was fun to see them have the spotlight at their own theater, with all these big names around them."
What's that, Patrick? There was more in the email I asked you to send about whatever you could remember from the show? Oh, great! "I appreciated seeing UCB performers like Pete Holmes (host of Gutbucket, and also from Best Week Ever), Ari Voukydis, and Brian Berrebi waiting in line like normal folk so that they could get a seat. They probably got in line around 6 or a little later, so they waited a good hour and a half before we were even let in." (Patrick was #5 in line, though by the time the show started he was irritated at a few people who cut in front, making him #12. Side note: Brian Berrebi is in those T-Mobile commercials about your fave five, as the not-uptight one. He's the one who has his buddy's girlfriend in his fave five/who is best friends with his uncle/often lying on a couch).
Also during commercial breaks: Raffle! Tickets were $10 each and the jar was pretty darn low, so the chances of winning a "Sheinhardt Wig Company" t-shirt signed by the cast were pretty good. Someone in the audience was wearing a "Me Want Food!" t-shirt which was pretty funny. Alas, not for sale.
God bless the stalwarts of the standby line: Just like at the SNL show, the hopefuls in the standby line held on, despite being told point-blank that they were not going to get in so they should probably just leave. They stayed.
Missing in action: The celebs! Though Amy Poehler was (of course) in attendance, we (Patrick and those we knew in the aud) did not see any of the usuals, i.e. Will Arnett (30 Rock guest star), John Krasinski (SNL after-party frequenter and a guest-monologist at the UCB Sunday-night show this week), or any other SNLers. Many faces familiar to UCB-goers were there, though, along with a few older folks who seemed like parents of writers and/or performers.
"30 Rock" has no laugh track, so it was interesting to hear an audience respond to its laugh lines, which are often subtle but usually pack the episodes. There was only one line that seemed like it might not make it to air, and that was one wherein the demure Ms. Fey dropped an F-bomb, for which the audience just loved her more.
Can't say anything about plot but we can say that it was very plot-heavy - lots of moments for almost everyone in the cast, with at least three good subplots and assorted fun extra characters. No Rachel Dratch or Chris Parnell that we could see though, alas.
As they left the stage, Tracy Morgan half-hugged, half-backslapped Alec Baldwin. Aw.
On a more serious note: Fey said she was "very optimistic" about the talks resuming between the two sides of the strike on Monday, saying "We hope the strike will be over and we can all get back to work."
And then it was over! According to Fey, "21 minutes and 31 seconds of '30 Rock,'" for which the audience seemed only too pleased to have paid $20 (or more on Craigslist), as everyone surged to their feet for a standing O. That's it for us, but watch for it for the next few epidsodes — yes, Gawker, it was funny.
p.s. Randomly heard from a guy in line, who we think/assume is a UCB performer, fretting about having only 3 more exposures on his camera, whose friend assured him he'd be able to have another chance to get a pic of Tina: "Why would I want a picture of Tina Fey? I want a picture of me." Dude, you were okay, but Tina Fey is way hotter.
Related coverage from Best Week Ever here.
Pics taken from NBC.com, where lots of "30 Rock" content is available for free! Including full episodes, ready to be watched online! Wow! Thanks, writers!

Related
Popular in the Community