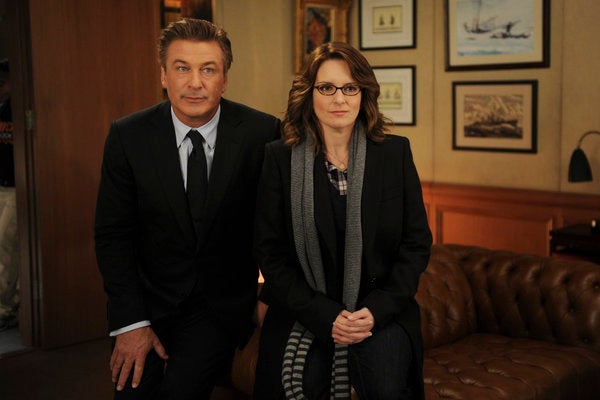 NBC's "30 Rock" first went live during Season 5, performing two episodes, one for the East Coast and one for the West Coast on Thurs., Oct. 14, 2010. The episode had a 3.1 rating in the 18-49 demographic and a total of 6.7 million viewers, one of the show's highest. So far this season, "30 Rock" has been pulling in around 4 million viewers so perhaps a live show, which Baldwin said will air on April 26, is just what the show needs to get a ratings boost.
Most of "30 Rock's" main cast have live performance background. Both Tina Fey (Liz) and Tracy Morgan (Tracy) appeared on "Saturday Night Live" for years, Baldwin (Jack) has hosted "SNL" 16 times and Jane Krakowski (Jenna) is a Broadway veteran.
"30 Rock's" last live show included guest appearances by Jon Hamm, Matt Damon, Bill Hader and Julia Louis-Dreyfus. Louis-Dreyfus appeared as Fey's character Liz Lemon. "Tina was in like every scene, and we had to figure out how to get her from set to set," "30 Rock" director Beth McCarthy-Miller told The Hollywood Reporter. "Using Julia Louis-Dreyfus to play Liz Lemon in flashback scenes was the most genius idea in the world. She was so perfect."
"We did a stage version of our show at Upright Citizens Brigade during the [2007] writers' strike," she said. "That was what made us think that it would be fun to do. And how far we've come: NBC at the time was furious that we did it. Now we're going to do it on TV. It will be exciting for us to do it for a live audience and see if we get live laughter."
No word on plot details or if any famous faces will be dropping by for the April 26 live episode.
Related
Popular in the Community