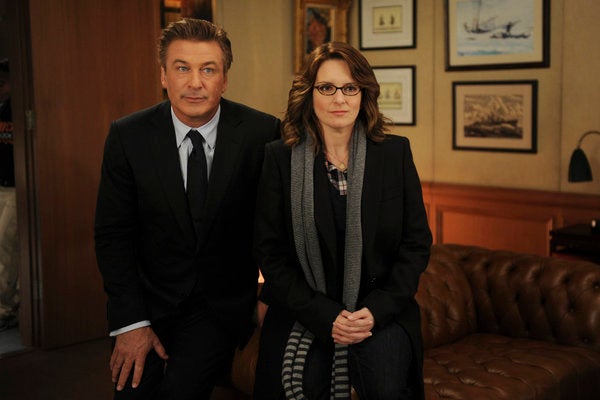 "30 Rock" is not having an easy time in the 8 p.m. timeslot on Thursday. With stiff competition -- Fox's "American Idol" and CBS's new ratings juggernaut "The Big Bang Theory" -- "30 Rock" has hit a series low in the Nielsen ratings.
According to The Hollywood Reporter, the Thurs., Feb. 2 episode pulled in a 1.3 rating in the coveted 18-49 demographic, a series low for the comedy now in its sixth season. Last week the show had a 1.6 rating at 8 p.m. In terms of total viewers, early reports have "30 Rock" coming in at 3.2 million viewers. However, there have been reports of somewhat widespread DVR malfunction, causing "30 Rock" not to record in some markets. Season 6 kicked off in January with 4.5 million viewers, down from its Season 5 debut, which notched 5.9 million at 8:30 p.m.
The disappointing numbers put "30 Rock" in the same ratings neighborhood as "Community," which NBC decided to shelve for midseason. "Community's" last episode in the "Community" Thursday timeslot (Thurs., Dec. 8) brought in 3.6 million viewers. "Community's" lowest ratings during its current third season were 3.4 million viewers, according to TV By the Numbers. It seems the 8 p.m. timeslot on NBC's Thursday nights is not kind to any show.
On Sat., Jan. 28, "30 Rock" star Alec Baldwin tweeted about attending the SAG Awards the following day. In the tweet, Baldwin took a jab at the timeslot.
"Community" star Yvette Nicole Brown tweeted back at Baldwin, poking fun at the issue.
Related
Popular in the Community