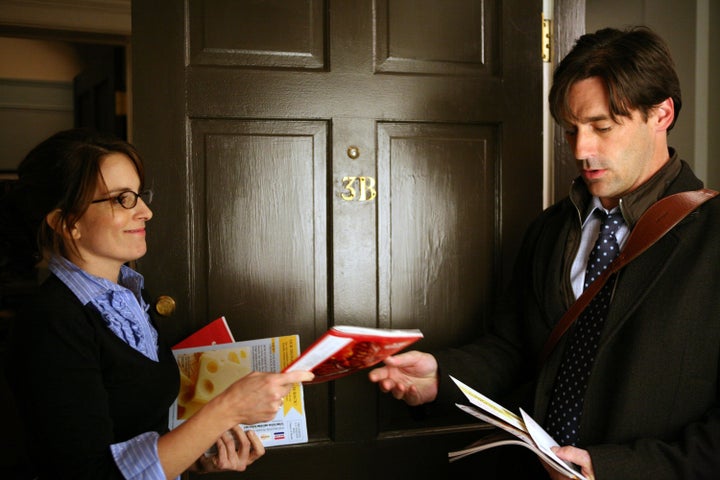 In an interview with Vulture, Hamm spoke about the upcoming end to "Mad Men" -- Season 7 could be the last -- and how the "30 Rock" series finale affected him after appearing in multiple episodes as a love interest for "30 Rock" creator Tina Fey's character Liz Lemon.
"I was talking a lot with Jack McBrayer, Tina [Fey], Robert Carlock, people on '30 Rock,' and they were like blind-sided and devastated by how emotional they all were at the end," Hamm said. "I have a special relationship with that show, so I watched the finale and even I was, like, crying."

The finale of "30 Rock" aired in January 2013 and featured the end of "TGS with Tracy Jordan," the fake sketch comedy show that was at the center of the NBC comedy, and showed its employees moving on to other projects and new life chapters.
"I'm totally crying at the end of that show. I was like, 'Oh my God, "30 Rock." You got me,'" Hamm said. "And Tracy Morgan! 'I'm going out for cigarettes ...' and I was like, 'All right, I did not just cry because of something Tracy Morgan said, non-ironically.' It was amazing, and it really was because that little fucked-up family had invested all that time in that show and it really showed. I feel like we have a very similar situation in our little family as well, and when the time comes I'm sure we'll all be an absolute mess."
"Mad Men" airs on Sundays at 9 p.m. ET on AMC.
REAL LIFE. REAL NEWS. REAL VOICES.
Help us tell more of the stories that matter from voices that too often remain unheard.
BEFORE YOU GO