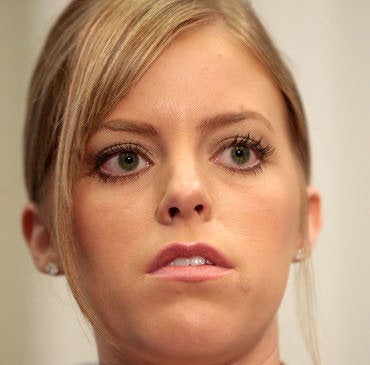 Trish Kinney described the amendment in these august pages (with a painful video):
Senator Al Franken got my attention and the attention of a lot of other people who care about sexual abuse and violence, with the passing of his Senate Amendment 2566. The Amendment to the Defense Appropriations Bill provides for the withholding of federal funds from contractors who continue to apply binding arbitration clauses in employment contracts. It was such a clause that prevented Ms. Jamie Leigh Jones from having her day in court after she was allegedly gang raped and locked in a shipping container in Iraq for two days while employed by a subsidiary of Halliburton.
I am very grateful that the amendment passed with strong support, but what about those 30 male, Republican Senators who voted against it? My first thought was: don't they have daughters? Or sisters? Or nieces? Or aunts? Or female friends?
Fortunately, I'm not the only one. Bless, Google. Someone else had already asked the question and compiled the list below under the name LeisureGuy.
Alexander (R-TN) - two daughters
Barrasso (R-WY) - two daughters
Bond (R-MO) - no daughter
Brownback (R-KS) - three daughters
Bunning (R-KY) - five daughters
Burr (R-NC) - no daughter
Chambliss (R-GA) - one daughter
Coburn (R-OK) - three daughters
Cochran (R-MS) - ?
Corker (R-TN) - two daughters
Cornyn (R-TX) - two daughters
Crapo (R-ID) - three daughters
DeMint (R-SC) - ? (four children)
Ensign (R-NV) - one daughter
Enzi (R-WY) - two daughters
Graham (R-SC) - none (adopted his sister)
Gregg (R-NH) - two daughters
Inhofe (R-OK) - 4 children, at least one daughter
Isakson (R-GA) - one daughter
Johanns (R-NE) - one daughter
Kyl (R-AZ) - one daughter
McCain (R-AZ) - two daughters, one adopted
McConnell (R-KY) - three daughters
Risch (R-ID) - no daughters
Roberts (R-KS) - two daughters
Sessions (R-AL) - two daughters
Shelby (R-AL) - one daughter
Thune (R-SD) - two daughters
Vitter (R-LA) - three daughters
Wicker (R-MS) - two daughters
Of the 30, only six have either no daughter or children of unspecified gender. But even if nary a one had a daughter, I can faithfully assure you that they each had or have a mother.
How would those men feel as fathers if their daughters were not offered the fullness of the law to redress a heinous crime like rape?
How would they feel as sons if the woman in question was their own mother?
Or, are Republican Senators so programmed to vote yes on behalf of any and all corporate entities that they didn't even read the bill?
Here's my spiritual take: these men are so blinded by the power of the conditioning that they've received that they can't, or won't see the women for the corporations. Dear ones, the patriarchy, in case you hadn't noticed, is systematically dissolving right before our eyes. Let's bless it, and get on with the healing and growth our planet and our country need.
Embarrassed? Hell yes, they're embarrassed. Thirty Senators, it turns out, can be and are wrong.
Hats off to junior Senator Al Franken for making a big difference as soon as he was seated!