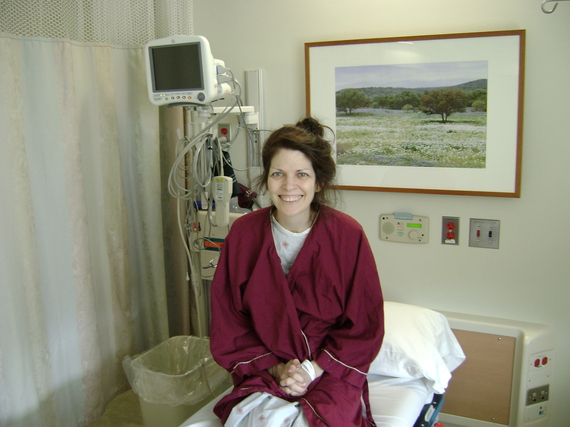 I took this photo the first day my wife Briggs began treatment. She had stage IV rectal cancer but was so full of happiness and trust that they were going to help her live. She was there to get her port put in for chemotherapy. Because of an error during the surgery, she had to spend that night and the next in the hospital. It wasn't long before she began making notes for a book to help other patients and caregivers. I ended up writing it in her memory, incorporating a lot of her notes. It was our last collaboration.
I didn't want Briggs to be solely identified with cancer. It would have been even more unfair. I made it also about Briggs herself and our different kind of love story, during and before the cancer, titling it Briggs: Love, Cancer, and the Medical Profession. Briggs was a costume designer when we met, later becoming a writer-producer as well. Back then, in New York, she was designing the costumes for a play a friend of mine was directing. I wrote in the prologue, "When I first heard Briggs's voice on the phone, I actually looked at the receiver as I was listening. I thought it was like nothing I'd ever heard before. Weeks later, after our first encounter in person, lasting barely a minute, I walked away thinking I'd never met anyone remotely like her."
Within weeks after that, we were inseparable. We wrote together, bicycled, ice skated, played tennis, did everything together, also living in Beverly Hills, Las Vegas, and Tokyo. Our travels were rarely short of adventures. The first, not long after we met, took us through Egypt, India, Pakistan, and Nepal for 4.5 months. I once told someone that about the biggest philosophical disagreement we had on how to live life was that Briggs liked blue cheese and I didn't. And, love's guarantor, we liked each other to the core; and when one of us was in distress, the other felt it to the core.
I remember so clearly the day we got the news. Briggs was on the phone and I asked her anxiously, "Is it cancer?" She whispered to me, "He thinks so." I'd written articles on nutrition in the past, so I was used to researching. I immediately began hundreds upon hundreds of hours of reading and detailed research and emailing pre-eminent doctors in a range of specialties. Briggs's primary tumor was inoperable and I soon realized we needed something more than the standard options. Cancer disguises itself from the immune system. Immunotherapy either actively alerts the immune system to its presence or passively does such things as block the disguise. I found an immunotherapeutic vaccine, an active immunotherapy, that had a high response rate and had brought complete remissions in patients with stage IV colorectal cancer. But the biotech company that had developed it had just sold the rights to a major pharmaceutical company. Then began a year-long battle to try to get access to it.
I started a petition. Susan Sarandon, Alan Rickman, and Jimmy Smits were among those who signed. I tried all sorts of routes. Briggs had met the executive chairman of Google, Eric Schmidt, a few times in Manhattan and said he was a nice guy. I had put up a video about the petition. Everyone who met Briggs usually remembered her. I asked Eric if he would arrange for it to be featured on YouTube, which Google had bought. Within hours, he'd not only arranged for it to be featured but also had two senior execs at YouTube contact me. At another point, I called around the U.S. to 48 hospitals to find a leftover supply of the vaccine from the previous trial. A sympathetic director of oncology at the pharmaceutical company had said he'd try to help facilitate it for Briggs if I could locate it. Probably the worst of those calls was to a major hospital in upper Manhattan, the most likely source. The nurse who'd been in charge of the trial wouldn't tell me if there was any left. I said, "My wife is dying." She said, "Yes, I understand that."
Then I heard from the Entertainment Industry Foundation and Stand Up to Cancer that they were going to Katie Couric to arrange a personal appeal from her to the CEO of the pharmaceutical company. When I told Briggs, she leaned forward a little from her pillow with a hopeful look in her wondrous big blue eyes and said, "You mean, they're really going to let me have it?" Just four days later, I lost her to complications brought on in what was meant to be a short emergency hospital stay.
After losing Briggs, I changed the petition to call for the primary direction of cancer research, funding, and treatment to be reoriented to immunotherapy. Twenty-five stars of film, media, and tennis have now signed, including Bradley Cooper, Scarlett Johansson, Naomi Watts, Penelope Cruz, Meredith Vieira, Billie Jean King, Chris Evert, and documentarian Ken Burns. Six eminent professors of oncology have also added their names to the call. They and the other stars are mentioned in the petition itself: The Petition for Briggs for Cancer Immunotherapy for All.
Immunotherapy dates back to the 1890s. The first immunotherapeutic vaccine was used to cure hundreds of cases of terminal sarcoma and other cancers at the hospitals that would become New York-Presbyterian and Memorial Sloan-Kettering. It was discovered by a premier surgeon, Dr. William Coley, and John D. Rockefeller Jr. made his first donation to cancer research for its development. It came to be actively shunted to one side in favor of radiation. The drugs that have been given priority for so long, extending patients' lives in terms of months, have also been making billions of dollars, while the drugs to manage the side effects of those drugs and chemotherapy have been making billions more. Immunotherapy has slowly been becoming an irresistible force, but its development has been left to the universities and smaller drug and biotech companies.
Immunotherapy is a potential cure in all solid-tumor cancers. For example, the vice chair of neurosurgery at UCLA, Dr. Linda Liau, has been able to bring complete remissions in grade IV brain cancer since 2003, with patients disease-free at over 10 years. A related immunotherapeutic vaccine is in beginning trials in a range of solid-tumor cancers at MD Anderson Cancer Center. Immunotherapy's also been successfully used in both adult and childhood leukemia. In 2012, at the Children's Hospital of Philadelphia, a 6-year-old girl's leukemia had resisted all other treatment, and her condition was considered terminal. In the experimental vaccine that was used, because immune cells were reengineered, her condition had to be managed, but she was disease-free within three weeks. It was later reported on 60 Minutes.
Stand Up to Cancer has a dream team in immunology, funded in part by Facebook co-founder Sean Parker. Most major universities are now doing (underfunded) research. A number of companies are currently in a race to develop one passive immunotherapy that several university professors had a hand in. But access to it was refused despite two recent petitions on Change.org drawing 475,000 and 525,000 signatures. The 25-year-old woman and a father of three have since passed away. His wife recently worked with the Goldwater Institute to get Right-to-Try legislation passed in Colorado. That immunotherapy has worked in advanced melanoma. In June, the Mayo Clinic announced results of an analytical study they had conducted on it. They said it heralded a change in their ability to treat the most aggressive/lethal form of breast cancer, triple negative, with special application to the BRCA1 gene, which Angelina Jolie inherited from her mother and grandmother, who both died young. The Mayo brothers had been supporters of Dr. Coley and immunotherapy a century ago.
While side effects were mild in Dr. Coley's treatment, and tend to be mild in immunotherapies now emerging, depending on the type of immunotherapy, phase of the trial, and patient, side effects should of course always be a concern. But immunotherapeutic vaccines in particular usually have none of the serious side effects of chemotherapy and radiation, nor the secondary cancers such as Good Morning America host Robin Roberts had. There's also mounting evidence that they may prevent recurrence because of immune-system memory.
The American Cancer Society's estimates for 2014 are 1,665,000 new diagnoses and 585,000 deaths, both higher than in 2013. One in three women can now expect to be diagnosed within their lifetimes, and 1 in two men. Cancer has overtaken heart disease as the world's No. 1 killer. Worldwide, over 900 people an hour die of it. Federal budget cuts have severely limited childhood cancer research. In a survey conducted by the American Society of Clinical Oncology, 75 percent of respondents, most at academic institutions, reported that current funding for cancer in general is affecting their ability to conduct research. Young researchers are leaving the field. Over one-third of respondents have had to lay off or reduce the number of skilled lab or clinical staff. And yet this is now the very time when the fight can be won.
Months after I lost Briggs, when I was reading through her notes for the book, this one broke my heart (what little there was left to break): "I didn't think one person had this many tears." She suffered excruciating harm from her treatment and it only drove her further toward death. It's time for governments, cancer organizations, and the cancer industry to devote their resources primarily to immunotherapy and give it urgent priority. I hope you'll join the 30 stars and professors and me in calling for this new era, so long in the making, to begin in earnest, by signing the petition in memory of my darling, ever-in-my-heart Briggs: The Petition for Briggs for Cancer Immunotherapy for All.