Though it's taken three decades, Jimmy Somerville is finally ready to realize his musical dreams. As he celebrates the 30th anniversary of massive breakthrough "Smalltown Boy," The Bronski Beat's seemingly autobiographical tale of a young gay man escaping an oppressive hometown, the singer prepares to unveil an upcoming disco album.
"Sometimes I just have to pinch myself and think, "I've done it! I've done it!'" he enthused, "It's a real leap of faith, really. I've spent all these years thinking I could never do such a thing."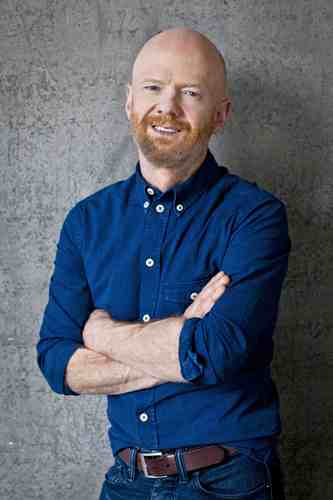 As Somerville indicates, it's been a long and winding road -- which started rather unexpectedly when he landed in London at the tender age of 18. What followed was a time of self-discovery and expression, an opportunity to combine his passion for music and perspective as an openly gay man during a time when being such was still taboo.
"We talk about the youth explosion of the '60s, but that is really nothing compared to what happened in the '80s," recalls Somerville. "That whole sexual revolution involving music and politics and art and fashion and creativity, it was all firing out of London like a massive cannonball."
Leading the musical charge, in many respects, was The Bronski Beat. Fronted by the openly-gay Somerville, the act achieved international success with the 1984 global smash "Smalltown Boy."
In his trademark falsetto, Somerville delivered a near-legendary performance which, by every account, traces his own escape from native Scotland into the United Kingdom's club scene. Generations later, its themes of closed minds, bullying and isolation endure, especially for many within the LGBT community.
"It was all a bit bonkers, to say the least," joked Somerville of the song's initial success during a recent telephone interview.
"I was motivated by a passion and a real heartfelt anger and frustration about discrimination," he said, reflecting back on the song's impetus, "And the fact that, because of who I was, especially at that time, I could suffer at the hands of legislation, as people all over the world were."
(And often still do, it should be noted.)
In the post-Bronski Beat era, Somerville experienced even greater success with The Communards. After landing the United Kingdom's biggest hit of 1986 -- a cover of Harold Melvin and The Blue Notes' classic "Don't Leave Me This Way" inspired by Thelma Houston's disco rendering -- the vocalist flew solo.
Though he's released a solid body of work since, most recently a three EP set in 2012, it's been a roller coaster, Somerville admitted. Plagued by personal demons, including a deep-rooted lack of self-confidence, the singer says he's often questioned his own talents and worth.
"I was someone who loved and craved attention, but when I got it, I couldn't cope with it," Somerville said, describing the person he was at his career's onset -- and sometimes remains to this day.
"That played itself out in very, quite self-destructive ways, a lot of self-sabotage, a lot of dark stuff, but there were also moments of light," he said. "There were moments of passion and joy, but -- at the same time -- it would always go backward and forward, dark to light."
"There was always something internal stopping me moving forward, to believe and have faith in what I could do and what I could achieve," Somerville continued. "There was always a voice saying, 'Why are you doing this? This is shit. You can't do this. You're not very good. Why do you keep trying? What are you doing?' That was a recurring theme."
Though he is able to laugh about it now -- and did during this conversation -- Somerville said the voices didn't truly quiet until he started work on his upcoming project. Led by the infectious "Travesty," a full-fledged disco album is expected in 2015.
"One of my saving graces, and what stopped me from becoming an even darker person, is sometimes in certain songs I found a real emotional connection to expression I couldn't quite understand," he revealed, "But I knew it was something I was trying to express...I did that on this album."
More than just a "disco-inspired" release, Somerville has painstakingly assembled musicians to provide the intricate nuances of the music he grew up loving. Complete with live instrumentation ("Horns!" he cooed) and his patented vocals, which seem utterly at home on first single "Travesty," the star says this release means more to him than any in years.
"It's the first time I've had absolute faith and belief," he says of the record, "I've been telling myself that not everyone's going to like it, and not everyone's going to love it, but that's ok. I'm doing it because I wanted to do it...That's what makes it so special."
Popular in the Community