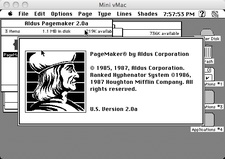 image courtesy Jeff Cohen
Thirty years ago this month, the Aldus Corporation introduced PageMaker for the Macintosh, ushering in the era of "Desktop Publishing".
It was THE killer app that gave Apple a beachhead in corporate marketing departments and advertising agencies (and according to Guy Kawasaki, saved the Mac).
Together, PageMaker and the Mac—coupled with the Apple LaserWriter—led to the disruption of three huge industries: advertising, marketing, and publishing.
By allowing entrepreneurs and marketers to set type and prepare their own ads, brochures, and newsletters, eliminating the costs and delays involved in hiring graphic designers and typesetters, PageMaker introduced the do-it-yourself age of marketing, paving the way for today's Internet, where everyone can be a publisher.
Today, for a 30-year perspective, I'm talking with Roger C. Parker. He played a pivotal role in the desktop publishing revolution and as you will see, about 25 years ahead of the content marketing boom.
John Fox: How did you get involved with Aldus PageMaker in 1985?
Roger Parker: My early adoption and advocacy of Aldus PageMaker was fueled by the frustrations with the costs and delays involved with traditional typesetting. At the time, typesetters had a monopoly on setting type. If you were an advertising agency, the weak link was turning copy (i.e., typewritten words) into formatted text.
Advertising agencies were held hostage by typesetters. They either put up with the costs and delays of sending type out to be set, or they leased a typesetting machine. These were even more expensive and frustrating than sending type to outside vendors. The machines were buggy, expensive, and required a dedicated employee.
PageMaker changed all of that. Although the word "disruption" wasn't in common use at the time, I gravitated to PageMaker like a thirsty man to a Coke machine.
What was your role in the desktop publishing revolution?
As I saw what others were producing with Aldus PageMaker on the Macintosh, (followed quickly by the Windows version), I saw an emerging problem that could undermine PageMaker's success.
The problem concerned the quality of the ads, brochures, newsletters, and training materials produced with Aldus PageMaker, and other early desktop publishing newcomers.
In many cases, the quality of early desktop published documents was pretty low. The first generation documents reflected by problems like the "ransom note school of design," which referred to using too many different typefaces and type sizes on each page.
The problem was that the individuals and departments turning to PageMaker had no previous design or typesetting experience. Inadvertently, businesses were shooting themselves in the foot by delegating design and typesetting responsibilities to individuals who had never been exposed to the fundamentals of readable design.
It was like surgery tools, like scalpels and anesthesia were being sold as do-it-yourself surgery kits!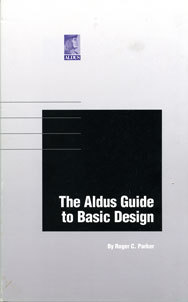 Early Content Marketing: Hundreds of thousands got their first design education through The Aldus Guide to Basic Design
I approached the Aldus Corporation with the idea of a simple premium book intended to introduce non-designers to the fundamentals of attractive, easy-to-read design and page layout. I modeled the book on Strunk and White's classic Elements of Style.
It would describe the "must know" elements of design on a one-idea-per-page basis.
Aldus would publish it as a premium book--i.e., they would give it away for free to PageMaker users as a software registration premium. It would also be distributed at demonstrations, training sessions, and as a way of tracking advertising and public relations efforts.
It would be a small, slim, readable, "friendly" book. However, it would have what's called a "perfect binding," which means a squared off spine with the title printed on the outside edge. This would ensure that the book would be valued as a "real" book and would be noticeable when placed in a bookshelf.
To anchor my offer, I made Aldus an "offer they couldn't refuse." I submitted a very reasonable quote and offered to write the book on a work-for-hire basis. This meant they didn't have to pay me royalties, regardless of the number of copies they printed.
How did you expect to benefit from the project?
I was confident that once the Aldus Guide to Basic Design was distributed to PageMaker users and key influencers in the desktop publishing field, I would be able to write an advanced version of the book for a trade publisher.
My planned worked. In fact, it worked far better than I had hoped. It was a true "career pivot" in my life.
Within a week after Aldus began distributing the
Aldus Guide to Basic Design
, I received a telephone call from a trade publisher asking me if "I might be interested in writing a larger version of the Aldus Guide for trade distribution."
Looking Good in Print was an immediate success; it was praised in the NY Times ("The one to buy when you're buying only one!"), and soon translated into numerous foreign languages. It was the first of a series of books addressing graphic design, presentations, software productivity, and Internet marketing.
As an aside, for 2 years, Looking Good in Print was the Boston Public Library's most stolen nonfiction book--a dubious distinction, but a distinction, nevertheless.
I was also approached by a seminar training firm for two years of graphic design seminars around the country and throughout Australia.
I'm still writing and publishing, going back to my original origins in content marketing with a continuing series of guest posts on the Content Marketing Institute blog.
John Fox is the Founder and President of Venture Marketing. He writes about issues especially important to B2B businesses leaders.
© 2015 John Fox. All Rights Reserved.
Calling all HuffPost superfans!
Sign up for membership to become a founding member and help shape HuffPost's next chapter