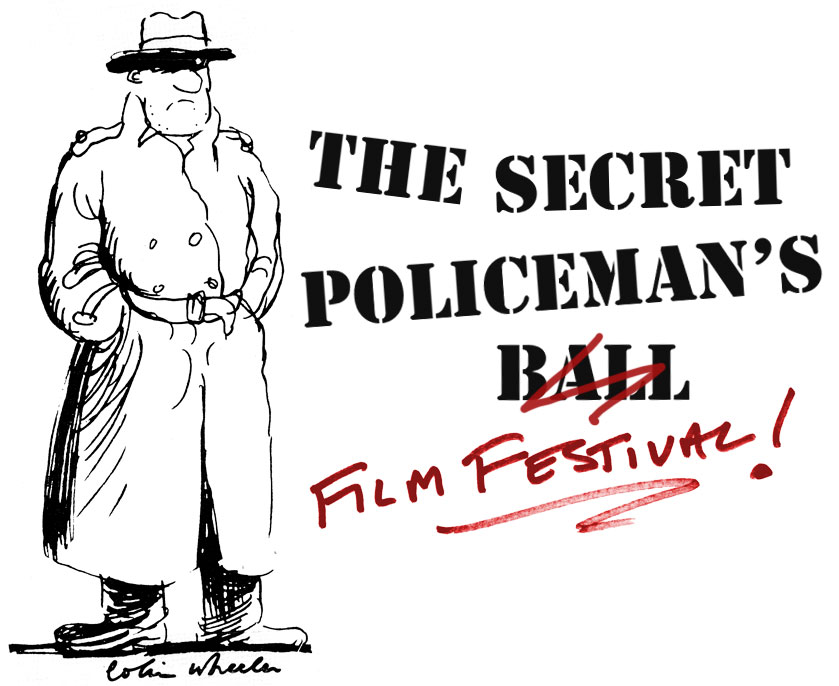 Beyond a brain-melting display of world-class comedians and musicians, the Secret Policeman's Film Festival provides insight into the creative process. Take as Exhibit A the film Pleasure at Her Majesty's. This film -- which received its US premiere at the festival -- documents the 1976 benefit show that led three years later to 1979's inaugural Secret Policeman's Ball.
Towering (though not faulty) Python John Cleese assembled a terrific group of the creme-de-la-creme of British comedic talent, stage-directed by Beyond the Fringe's Jonathan Miller, with Fringe cohorts Peter Cook and Alan Bennett, the Pythons, Barry "Dame Edna" Humphries, Eleanor Bron (remember The Beatles' Help!?) In addition to highlights of the three sold-out, London performances, we get to see the only known footage of the Pythons rehearsing, plus backstage banter, thanks to the roving cameras of director Roger Graef.
For performers and appreciators of comedy, there is a priceless backstage discussion between Cleese and Cook about a wonderfully silly sketch involving a witness in a criminal trial. However, the witness is most probably dead -- or as Cleese puts it -- "not at all well." These two gurus of goofiness debate whether yes or no questions should be consistently posed of the unseen character in a casket and their seriousness about deriving laughter is a marvelous moment and insight into the creative process.
Secret Policeman's Ball co-creator/producer Martin Lewis, as usual, had terrific inside stories to share with the crowd prior to the screening. He recalled scoring a major casting coup in securing the agreement of David Bowie, a huge Python fan, to give a musical performance at the 1981 Ball -- conditioned only on him being allowed a small walk-on role in a Python skit. Cleese, notoriously not a rock aficionado -- and oblivious to Bowie's then recent thespian triumph as the Elephant Man on Broadway -- had this imperious reply for the astounded Lewis: "He's a pop singer. I'm not having him in a sketch. Tell him he can bring his banjo and do a song..." Bowie did neither.
In conversation with Lewis, Python associate Neil Innes, shared stories of roller-skating onto stage in one Python skit billed as "the skating vicar" despite a total lack of experience or ability in skating. He also recalled rock legend Eric Clapton making caustic backstage mentions of Innes' glittering, lurex overalls at the 1981 show.
"With talent like mine," Innes defended himself, "you need trousers like these."
And with a talent list like this Festival, you need five weeks of screenings in L.A. and New York to present all the films...
MORE ON HUFFINGTON POST ABOUT THE FILM FESTIVAL
OFFICIAL FESTIVAL WEBSITE
Popular in the Community