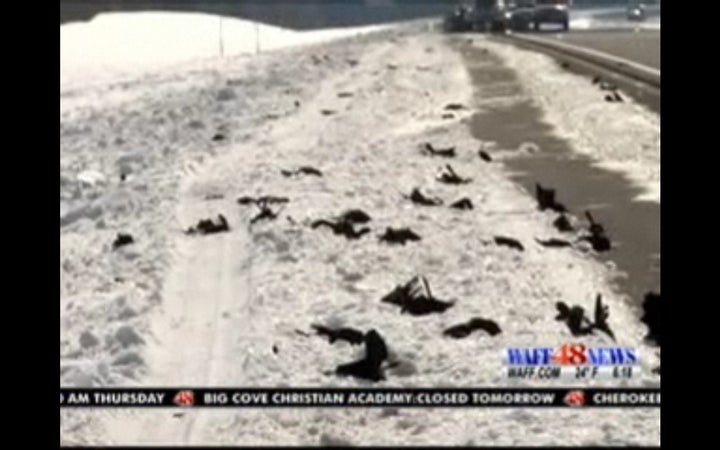 An estimated 300 dead birds have been found on the side of the I-65 highway in Alabama, WAFF News reports. According to wildlife biologist Bill Gates, the birds are grackles, a common black bird, one of the same species reported in the past weeks to have been found dead in mass quantities in other nearby states like Arkansas, Louisiana and Kentucky.
Gates told WAFF that the feathers scattered across the location suggest trauma, and he believes a semi-truck or other vehicle may be responsible for their death. Samples are being sent to the National Wildlife Health Center in Madison, Wisconsin to run a series of tests to determine what caused the mass bird deaths, as disease or poisoning could also be to blame.
Various reasons have been given by officials for the numerous incidents, which they say are unrelated. Fireworks are said to be the likely cause of many of the bird deaths in the U.S., with unusually cold weather also pinned as a possible suspect. Officials in Italy believe the hundreds of birds found dead there died from indigestion due to overeating. Many of the fish kills and the thousands of dead crabs have been suspected to be caused by cold temperatures as well.
WATCH WAFF's report on the dead birds found in Alabama:
Related
Popular in the Community