Groupies, behold: This man's grouper catch is one for the record books.
Houston man Cullen Greer, 28, caught a 6-foot, 297-pound Warsaw grouper last month off the coast of Louisiana, according to KETK. It's being dubbed the largest grouper hauled in with a hand crank in state history.
Greer was on an overnight fishing trip with colleagues when a 30-minute battle began with what he first thought was a snag.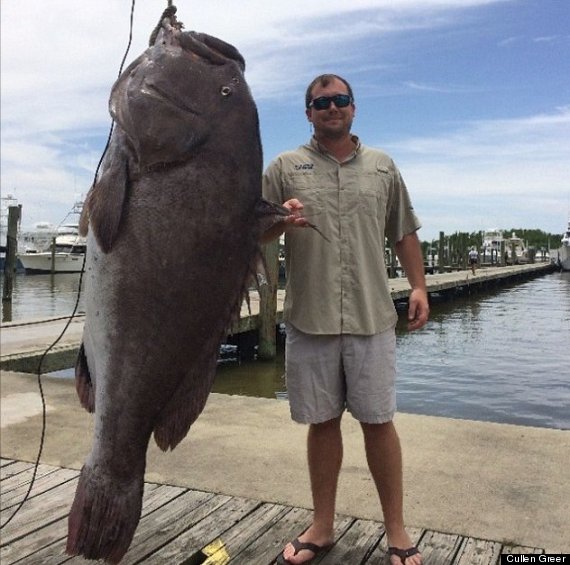 "I told the captain, 'I think I'm stuck,'" he told My Fox Tampa. "He put a couple of cranks on it and said, 'Yeah, that's a fish.'"
Indeed it was. In fact, it was one of the biggest groupers ever caught. KETK reports that in 2008, a 359.1-pounder was crowned the biggest grouper haul of all time.
Greer was fishing about 35 miles from the end of the Mississippi Delta, using live tuna bait.
Greer's catch needs to be verified by the Louisiana Outdoor Writers Association and would reportedly be the fifth-largest ever brought back to a Louisiana port.
The crew used an external freezer once they hauled the fish onto the deck and headed back to the Louisiana dock. Greer said the fish had more meat on it than he could ever pack onto the plane home. So he distributed some of the meat to boat hands and the boat's captain."
The population of Warsaw and Goliath groupers is on the rise, according to WTSP. The next lucky catch could be yours!
BEFORE YOU GO
PHOTO GALLERY
Awesome Gators & Crocs