The 2017 Memorial Day Weekend sales are in full force with discounts on everything from automobiles to ammunition. At the local block party, neighbors joke about President Trump's demeanor in Europe. Half the world away, our troops prepare for the end of a normal day managing the conflict in Iraq and Syria. Gold Star families back at home mourn those we have lost while protecting our freedom. I hope that Americans around the world will also remember.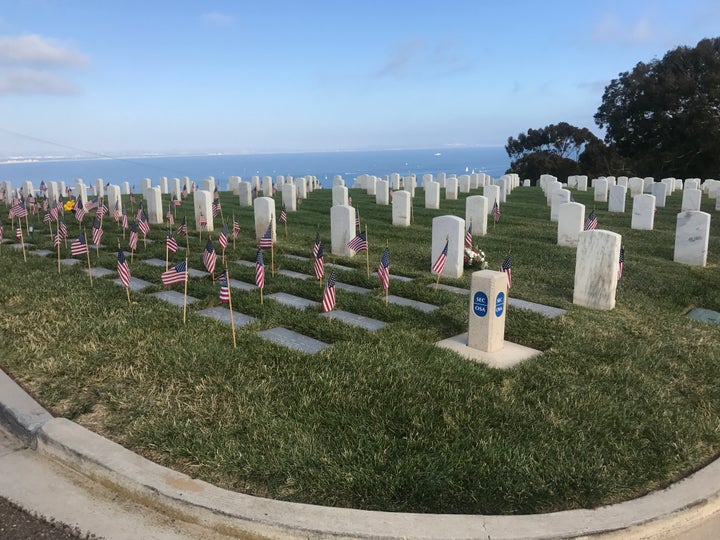 As a child, I remember a Memorial Day ceremony at a local cemetery in the small town of Verona, Missouri. On the days leading up to Memorial Day, my grandfather's sister, our Aunt Noveta, would walk with her friends and leave flowers on those stones marked with the veterans symbol. In 2014, I had the honor to remember our fallen service members on Memorial Day at the Los Angeles National Cemetery with friends of the American Legion, Hollywood Post 43. Thousands of rows marked with white stones and American flags placed by Los Angeles area Boy Scouts, Girl Scouts, and Sea Cadets, one flag for each of our more than 80,000 soldiers who are remembered here. Today, I joined more than 600 Southern California community leaders and members at Fort Rosecrans in San Diego for the Third Annual Memorial Day Sunrise Rose Ceremony organized by the San Diego Chapter of the Truman National Security Project and the Truman Center for National Policy. Three different Memorial Day ceremonies in three different communities that each remember our fallen men and women in the military.
According to the U.S. Department of Veteran's Affairs Office of Public and Intergovernmental Affairs, our modern Memorial Day started as a national Decoration Day on May 30, 1868, three years after the end of the Civil War. Local communities had been holding springtime tributes to the fallen soldiers of the Civil War, from Columbus, Mississippi and Boalsburg, Pennsylvania to Carbondale, Illinois and Waterloo, New York. These tributes took place between April and late May. The national Decoration Day of May 30 was chosen because, at this time of year, "flowers would be in bloom all over the country." This first national Decoration Day included speeches of Washington officials and a procession of children who had lost a parent in the conflict and union veterans who laid "flowers on both Union and Confederate graves, reciting prayers and singing hymns." Decoration Day officially became Memorial Day in 1966 by a U.S. Congress & President Lyndon B. Johnson declaration and, in 1971 was officially moved to the last Monday in May and declared a proper national holiday.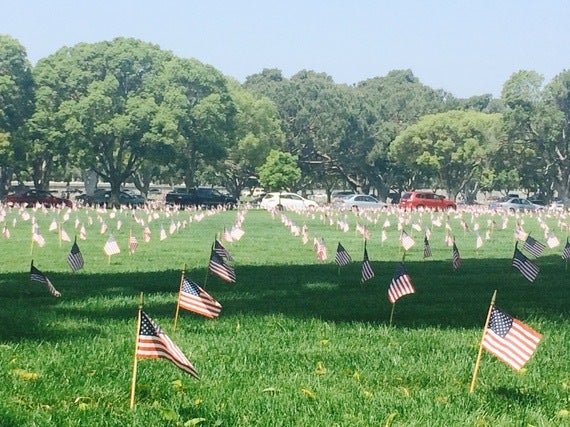 An estimated 1.25 million Americans have died while serving our country in times of war according to the Memorial Day Foundation. Almost 7,000 American service members have died since 2001 as part of Operation Iraqi Freedom, Operation Enduring Freedom, Operation New Dawn, Operation Freedom's Sentinel, and Operation Inherent Resolve. The overwhelming majority of these men and women who have died are younger than the grandparents who survived the wars of their own time. Our recent fallen soldiers, marines, sailors, and airmen were recent high school grads, many not even old enough to legally drink that same margarita that you might be enjoying today. Some were new parents who were away from home for longer periods of time than their child has been on this earth.
Last week, the Chief of Staff of the Army testified before the U.S. Senate Committee on Armed Services about the recent budget proposed by the President. While President Trump requested an increase in troop size, General Mark A. Milley appealed to the Senate for a focus on preparedness and readiness before expansion. This morning, as I laid my two dozen roses of the more than 30,000 donated, I thought about what it would mean to send more men and women off to war without the tools they need to be mission-ready. I read the names of headstones, the dates of birth, and the dates of death. I thought about those killed in action during World War II, the Vietnam War, and the current conflicts in the Middle East. I thought about the 19 year olds who never got to meet their children and the retired generals who are laid to rest next to their spouses. But mostly, I thought about our nation and the millions of individuals who have died while serving our nation and protecting our freedom. I thought about my obligation and duty to honor their sacrifice for our country.
So as you celebrate your day off, I ask you to take a moment to reflect on the reason behind this summer kick off. How will you remember those who have given the ultimate sacrifice?
Barbi Appelquist was Co-Director of the California Veterans and Military Families for Hillary and serves as the Communications Director of the Truman National Security Project Los Angeles Chapter. She is also an attorney in Los Angeles and a member of 4D which supports progressive national security policy. The views expressed herein are her own. You can follower her on Twitter at @appelgardner. A version of this article titled "A Day to Remember" originally appeared on May 22, 2015 and has been updated to reflect recent numbers of those who have died in conflict.
#MemorialDay #MemorialDay2017 #TruMemorial
REAL LIFE. REAL NEWS. REAL VOICES.
Help us tell more of the stories that matter from voices that too often remain unheard.