$546 million in public transportation funds are coming to Los Angeles via the Tiger II grant, a federal loan from the U.S. Department of Transportation that is "awarded on a competitive basis for projects that will have a significant impact on the Nation, a metropolitan area or a region."
Mayor Villaraigosa announced the big news via Twitter after the DC press conference, thanking Senator Barbara Boxer and President Barack Obama for their work on the loan. He later tweeted that the project will be breaking "ground in Spring 2011 and creating 5K jobs!"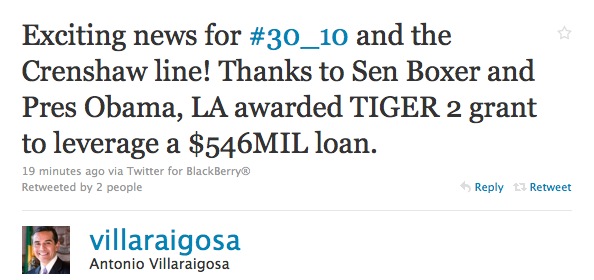 The $546 million loan is the first coup for Villaraigosa's 30/10 initiative, which aims to "use the long-term revenue from the Measure R sales tax as collateral for long-term bonds and a federal loan which will allow Metro to build 12 key mass transit projects in 10 years, rather than 30."
Measure R is a half-cent sales tax instituted in 2008 that aims to raise $40 billion over the next 30 years for public transportation in Los Angeles.
Senator Barbara Boxer released a similarly brief statement earlier today, clarifying that the funds would be used for the Crenshaw / LAX Transit corridor, a light-rail line that will connect Exposition and Crenshaw Boulevards to an existing metro stop near LAX.