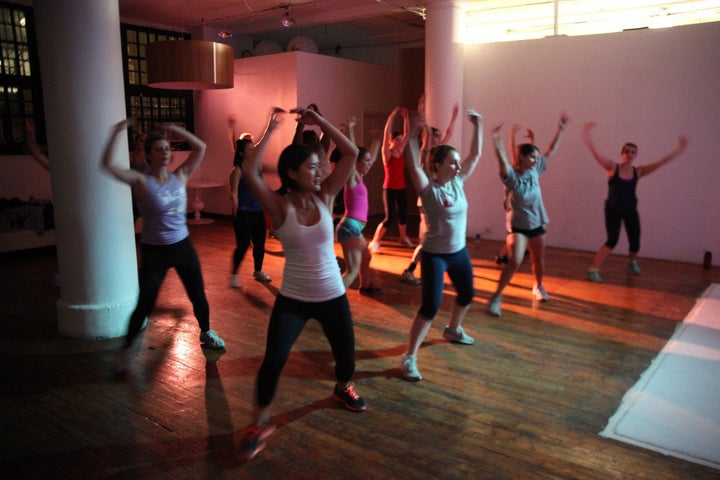 What We Did: Aerobic dance moves, revived. Sadie Kurzban, founder of 305 Fitness, led us through an hour of sweat-inducing, high-intensity, choreographed moves that seemed to be taken straight from the nightclub -- DJ included.
For How Long: About an hour
Sarah's Take: Like what I wish a night out dancing could feel like. Sadie started the class by telling us basically to let loose; there were no creeps watching our every move at this party. Instead, it was a safe space to swivel and shimmy and shake until we could shake no more. I struggle when it comes to serious choreography and haven't really taken to other dance-based workouts, but I love a good night out dancing with friends. With 305 Fitness, I felt more like I was at a party than in the gym, yet it was socially acceptable to drink water instead of beer and sweat through my clothes. And because the moves were so dynamic and the music was so high-energy, I really believed Sadie when she said it didn't matter if I got all the steps, as long as I kept moving. I left the studio with the biggest high, and I woke up the next morning sore all over (in the best way).
Kate's Take: A little ridiculous. The first words out of Sadie's mouth were, "Who needs a glow stick?" It was then I knew I was in for an atypical workout (and for someone who sticks to running, with a few hours of yoga sprinkled here and there, it was).
But, that's ridiculous in a good way: Sadie had the entire class (there were about 20 of us) sweating the moment the beat dropped (thanks, DJ Mr. Phantastik). Moves included: full body rolls, exaggerated gyrating and a little bit of Gangnam style. While the class did feel like a party, the workout aspect wasn't disguised. Jumping jacks, squats and lunges made their way into the choreography, and I found myself out of breath and drenched in sweat. I was so worn out, in fact, that before drifting off to sleep I noticed a gentle, neon glow in my bed: I had forgotten to take off my glow stick bracelet! I woke up the next day, definitely feeling the effects of the class -- particularly in my lower half.
What Fitness Level Is Required: No previous dance experience is necessary, just the desire to party and sweat! "I've had people in class with no dance experience whatsoever," Sadie assured us. "After a few classes, it gets easier. You just have to be open-minded."
What It Helps With: This class is cardio-heavy: "It's all about the calorie burn," says Sadie. You can expect to work and tone your quads, hamstrings, abs and back.
What It Costs: $24 per class ($19 for students)
Sarah's Take: Definitely. I already have friends in mind I have to bring.
Kate's Take: Eh, unlikely. It was a blast, but I'll probably stick to more traditional kinds of workouts.
Click here for a free download of DJ Mr. Phantastik's 25-Minute Fist Pump Mix.
For photos and a 305 Fitness playlist, check out the slideshow below: