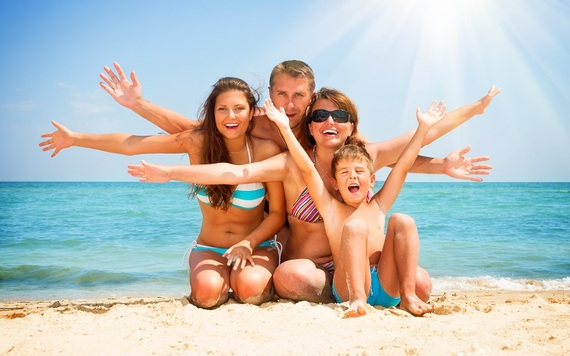 By Jeff Yeager, Contributor
Summertime, and the livin' is easy. And in the summertime, the fun can also be free.
Read on to see the 31 free and fun things you can do this summer if you're on a budget.
1. Go geocaching.
"Geocaching" is like a worldwide treasure hunt using a GPS or other mobile device to find secretly hidden containers called "geocaches." The geocaches usually contain a logbook to let you say, "I found it!" before you re-hide it in exactly the same spot for the next geocacher to find. Google "geocaching" to find out more.
2. Take a free factory tour.
From brewery tours to candy factories and candle makers to toy companies, hundreds of factories and other businesses across the country open their doors to visitors, often times for free or a nominal charge. Bonus: Some tours include free samples. Go to FactoryTourUSA.com for a nationwide listing. Just make sure you call the business first to make sure they are still offering the free tour.
3. Visit county fairs instead of amusement parks.
Many county fairs offer rides and other fun activities, usually at a fraction of the cost of amusement parks. For example, the cost of a one-day ticket at Disneyland is $99 for those 10 and older. The Los Angeles County Fair, on the other hand, charges only $12 to $20 for those 13 and up.
Some fairs also offer special discount days as well and will let you bring your own picnic or other refreshments. And, volunteering at the fair might get you a free pass.
4. Make homemade ice cream.
Homemade ice cream is easy and quick to make with a neat method using two different sized plastic bags, one placed inside the other along with ice and rock salt. Visit Food.com for the recipe.
5. Go fly a kite.
Kite flying can make you feel like a kid again, and building your own kite from inexpensive materials you might already have around the house is half the fun. See this website for DIY kite building designs and plans.
6. Stage a summer film festival.
Choose a theme -- like summer romance or vacation road trips -- and have everyone bring their favorite flick for a weekend of binge watching with friends. You can borrow DVDs from some public libraries for free. Also, if you or one of your friends have an online movie streaming service, such as Netflix or Hulu, you can save money by watching movies that way.
7. Upcycle a shipping pallet.
Wooden pallets used in the shipping business can be transformed into all sorts of fun summertime projects, including furniture, tree houses and portable gardens. Many business give away spare pallets for free. Look for designs ideas on Pinterest.
8. Have an epic water gun fight.
Rinse out plastic squeeze bottles from dish soap and shampoo to use instead of store-bought squirt guns for a good old-fashioned backyard water fight. Or, build your own super-soaker artillery with the instructions found here.
9. Gaze at clouds.
There's nothing more relaxing than laying on your back in the summertime on a lush, green lawn and gazing up at the clouds drifting overhead. Make a game of it by snapping pics of formations that remind you of something then playing 20 questions with your friends to see if they can guess what you're thinking of.
10. Take a hike.
TrailLink.com, powered by the nonprofit Rails-to-Trails Conservancy, allows you to search for trails in all 50 states and by different activities, including hiking, bicycling, running, horseback riding and even birding.
11. Camp for free.
Camping in the great outdoors is almost always inexpensive, and there are even plenty of places where you can camp for free -- including in National Forests outside of designated campgrounds. Some restrictions might apply, however. See FreeCampsites.net for a nationwide directory of free campsites.
12. Take advantage of free admission at National Parks.
America's 400-plus national parks are truly national treasures, and all but 127 of them never charge an entrance fee. On Aug. 25 -- the birthday of the National Park Service -- every national park will open its gates. Visit NPS.gov for details.
13. Learn how to swim.
Swimming is not only fun and good exercise, but knowing how to swim is an important safety skill. During the summer months, inexpensive or sometimes even free swimming lessons are offered at some public pools. Start by checking with your local parks and recreation department.
14. Blow backyard bubbles.
Mix 6 cups water, 1 cup corn syrup and 2 cups regular strength liquid dish soap for the biggest, longest-lasting bubbles ever. And a bent coat hanger makes a terrific bubble wand.
15. Take an online boating safety course.
Learn all about boating safety, specific boating laws and boating regulations for your state by taking a free online course offered by the BoatUS Foundation.
16. Go see a movie.
Many theaters offer special summer deals for kids and even adults, often for matinees. For example, Cinemaworld in West Melbourne, Fla., is sponsoring Summer KidFest 2015 with free films every day of the week at 10:00 a.m. for kids all summer long. Check with your local theaters for possible deals.
17. Explore your local library.
Libraries aren't just about books anymore; they're multimedia resources with computer access, e-books, audio books, DVDs and free programs for people of all ages. And why not use their air conditioning -- rather than your own -- to keep cool this summer?
18. Take an online college course.
Going to summer school might not sound like fun, but you can learn a lot for free by taking uncredited courses online. Visit sites like Coursera.org to find online courses from colleges and universities such as Princeton and Stanford. The site also offers fun courses about video games, music, film and more.
19. Learn a foreign language.
Whether you're traveling abroad this summer or just want to learn a new language, the website of the British Broadcast Corporation offers free online courses -- including audio and video teaching tools -- to help you master 40 foreign languages.
20. Make a gravestone rubbing.
Lots of tombstones -- particularly older ones -- feature some amazing designs and works of art. Transfer the etched designs on to butcher paper using either charcoal or a crayon to make unique wall hangings. Warning: Make sure rubbing is allowed at the cemetery first.
21. Enjoy a free wine tasting.
If you're a self-proclaimed wine connoisseur -- or if you just love to occasionally indulge in a glass or two -- see if there are any free wine tastings in your area. Some wineries in Sonoma County, Calif., for example, offer free tastings.
22. Host a watermelon seed spiting contest.
Watermelon is synonymous with summertime and, with practice, spitting the seeds can become an art form. Check out this video for tips on spitting techniques -- and some laughs.
23. Visit a pick-your-own farm.
Pick-your-own farms not only let you get the freshest of the summer harvest at bargain prices, but they can also provide for a fun outing on a nice sunny day. Go to PickYouOwn.org for a nationwide directory of pick-your-own fruit and veggie farms.
24. Learn how to DIY at free clinics.
Home improvement centers, including Home Depot, offer a wide range of free how-to clinics for folks looking to spruce up their abodes this summer. There are even special programs offered for kids at places like Lowes.
25. Take the kids bowling.
Register with the website KidsBowlFree.com so the kids can bowl two games daily for free this summer at participating lanes. Some restrictions might apply.
26. Dive into a swimming hole.
Swimming in a natural lake, river, stream or hot spring is literally cool fun. Swimmingholes.org lists 1,600 natural swimming holes nationwide, most of them free and open to the public.
27. Play in your yard's sprinklers.
Punch lots of small holes in a two liter plastic soda bottle, then attach it to the end of a garden hose with a male-to-male hose coupling. Hang the bottle over a tree branch, turn on the hose, and enjoy a refreshing outdoor sprinkler shower.
28. Play a round of disc golf.
Traditional golf is usually an expensive sport to pursue, but disc golf -- aka "Frisbee golf" -- costs very little and is great exercise. Many public parks have disc golf courses where you can play for free, and a professional quality disc usually costs less than $15. Find courses here.
29. Enroll the kids in a summer reading challenge.
Keeping up on your reading is not only an enjoyable and educational way to spend the summer, but many local libraries and bookstores offer plenty of summer reading programs that come with some pretty nice prizes and other perks. The Book It! Summer Reading Challenge, for example, is a chance for kids who read five books by Aug. 15 to win prizes.
30. Volunteer your time.
Volunteering is not only a great way to help others, but it can be a lot of fun and a chance to meet new friends. Visit VolunteerMatch.org for a nationwide listing of volunteer opportunities.
31. Couchsurf when travelling.
If you're traveling this summer, sleep for free by crashing on someone's couch via Couchsurfing.com. Or if you're staying home, travel vicariously by becoming a Couchsurfing host and making your couch available to fellow travelers with lots of interesting travel tales to share.
More from GOBankingRates:
Support HuffPost
A No-B.S. Guide To Life
Related
Popular in the Community