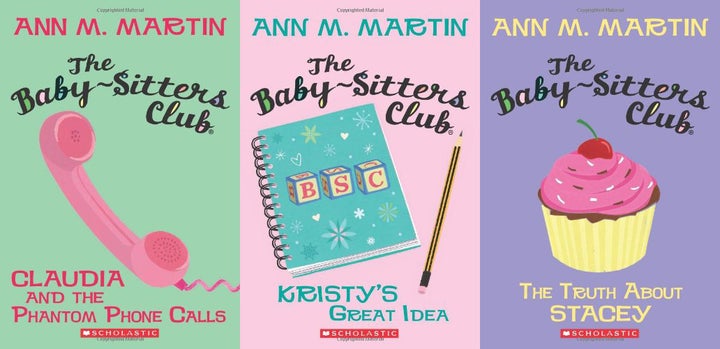 Hit Backspace for a regular dose of pop culture nostalgia.
Kristy, Claudia, Mary Anne, and Stacey. Dawn, Mallory, Jessica and Shannon. Abby. Logan!
If these 10 names don't immediately evoke images of sleeping bags, coiled telephone cords, side ponytails and so. much. denim, you are clearly not a literary child of the '90s. Because no young man, woman or child with a library card between 1986 and 2000 was unaware of the girl gang known as The Baby-Sitters Club.
Thanks to a Facebook post from the "BSC" creator herself, author Ann M. Martin, we were alerted to the fact that the very first "Baby-Sitter's Club" book, Kristy's Great Idea, just turned 30 years old.
That means the entire series, with even greater titles like Claudia and the Phantom Phone Calls and Mary Anne's Bad Luck Mystery and Dawn's Wicked Stepsister, is roughly the age of the millennial ladies who grew up with lettered-block cartoons dotting the margins of their super-secret diaries.
To avid fans, the "BSC" series was not just about a group of friends (between 11 and 13 years old) who decided to start a local baby-sitting service in the fictional suburb of Stoneybrook, Connecticut. Instead, the books served as textbooks for teenagedom, stuffed with first-hand experiences with friendship, school woes, sibling rivalry, first crushes, parental conflict, death, and so much more. Where would a now 20-something be without the mistakes and life lessons of Kristy, Mary Anne, Claudia, Stacey and co.?
In honor of this blessed day, here are 31 quotes ― because we couldn't quite stop poring over "BSC" gems ― to help true fans celebrate the beauty that is baby-sitting.

#1: "I'm like that. I think of something to say, and I say it. I think of something to do, and I do it. Mom calls it impulsive. Sometimes she calls it trouble. But she doesn't just mean trouble. She means trouble."
-Kristy, Kristy's Great Idea
#2: "Well, I'm sorry. I'm sorry I'm not up to trigonomulus, or whatever it is she does. We can't all be scholars."
-Claudia, Claudia and the Phantom Phone Calls
#3: "So, was I ever glad when Claudia told me Kristy wanted to start the club! Friends at last, I thought. And that's just what I found ... They're my friends and I belong with them."
-Stacey, The Truth About Stacey
#4: "Just once I'd like to go to school wearing skintight turquoise pants, Stacey's 'island' shirt with the flamingos and toucans all over it, and maybe bright red, high-top sneakers. I'd like to create a sensation. (Well, half of me would. The other half would be too shy to want to attract any attention.)"
-Mary Anne, Mary Anne Saves the Day
#5: "I loved the beach, I loved the sunshine, I loved the eighty-degree Christmases. Why, I wondered, would anyone want to interrupt all that warmth with three other seasons?"
-Dawn, Dawn and the Impossible Three
#6: "Things could get pretty messy." [Editor's Note: They do.]
-Kristy, Kristy's Big Day
#7 "I have many interests: reading mysteries, baby-sitting, painting, and drawing."
-Claudia, Claudia and Mean Janine
#8: "My parents have let me get away with a lot of things fashion-wise, but they draw the line at two earrings in each ear. They said I would look like a pirate, although I, personally, have never seen a pirate with more than exactly one earring."
-Stacey, Boy-Crazy Stacey
#9: "We're very official and responsible."
-Dawn, The Ghost at Dawn's House
#10: "I started talking to this nice-looking boy who was hanging around on the beach ... We really hit if off ... I don't know if we'll really write to each other (as we promised), but it's nice to know boys aren't aliens from Snorzak or something."
-Mary Anne, Logan Likes Mary Anne!
#11: "Anyway, to get back to the snobs ― I'm surrounded. They're everywhere..."
-Kristy, Kristy and the Snobs
#12: "I wondered whether the fly was a boy or a girl. I wondered whether flies have families. I wondered whether flies have family reunions, because family reunions are almost always picnics, and at a flies' picnic, how could you tell the guest flies from the regular, uninvited flies who just want to land on the food for a while?" [Editor's Note: This is, obviously, a metaphor for life.]
-Claudia, Claudia and the New Girl
#13: "It's kind of nice to be somebody's favorite person. (But it's scary, too.)"
-Stacey, Good-Bye Stacey, Good-Bye
#14: "Being eleven is a real trial."
#15: "I like hot weather, not cold, and health food, not junk. And I dress with style, but it's my own style. I'm very independent."
-Dawn, Little Miss Stoneybrook ... and Dawn
#16: "If you think about it, ballet is just another kind of language, except that you talk with your body instead of with your mouth."
-Jessi, Jessi's Secret Language
#17: "It's a little hard to explain him because I like him so much. Do you know what I mean? I mean that I think everything about him is incredible and handsome and wonderful, and that probably isn't entirely true. So I'll have to try hard to be realistic."
-Mary Anne, Mary Anne's Bad-Luck Mystery
#18: "It is not a nice life." [Editor's Note: "BSC" gets dark, too.]
-Stacey, Stacey's Mistake
#19: "My friends and I, by the way, are more than just friends."
-Claudia, Claudia and the Bad Joke
#20: "Once she's your friend, you've got a friend for life."
-Kristy, Kristy and the Walking Disaster
#21: "I swear, the mall is another world."
-Mallory, Mallory and the Trouble with Twins
#22: "It's funny that us six club members work so well together, because boy, are we different. We have different personalities, different tastes, different looks, and different kinds of families."
-Jessi, Jessi Ramsey, Pet-Sitter
#23: "In my head I understand all the reasons why things are the way they are."
#24: "Sometimes I think of my friends as family, too. Is that weird? I don't know. But my friends do feel like family."
-Kristy, Kristy and the Mother's Day Surprise
#25: "It's just so weird to see your own parents dating."
-Mary Anne, Mary Anne and the Search for Tigger
#26: "My room is only messy because I have to keep so many art materials stored in it."
-Claudia, Claudia and the Sad Good-Bye
#27: "Probably my best feature is my legs."
-Jessi, Jessi and the Superbrat
#28: "I adore Henry and Grace. There's just something wonderful about them ... They look out for each other, they stick up for their friends, and they try very hard never to hurt anybody's feelings."
-Stacey, Welcome Back, Stacey!
#29: "I only write when I feel an urgency, which is often."
-Mallory, Mallory and the Mystery Diary
#30: "Honestly, living with my mother is like living with a very tall child."
-Dawn, Mary Anne and the Great Romance
#31: "Why did we want to catch [the bride's bouquet] so badly? Because there's this belief that if an unmarried woman catches the bride's bouquet after the bride has tossed it, that woman will be the next to get married. Now Mary Anne and I are only thirteen, so we didn't have any plans to get married, but I still thought I should have caught [it.]"
-Dawn, Dawn's Wicked Stepsister
Related
Before You Go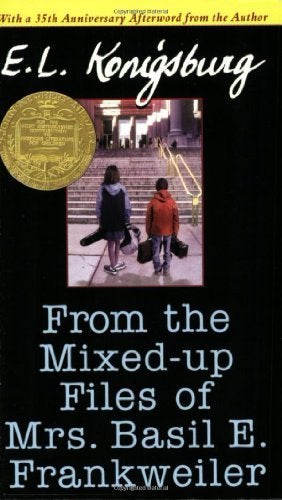 The 10 Best Books For Little Introverts
Popular in the Community