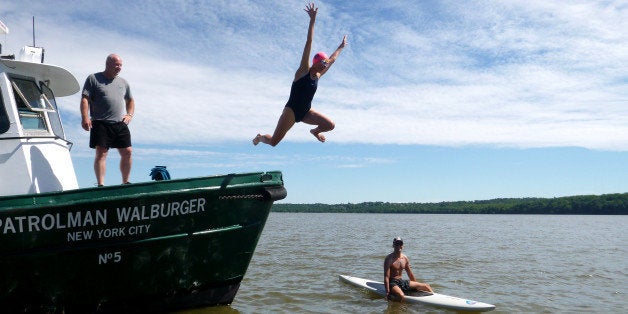 On June 18th, swimmers Andrew Malinak, Heather Camargo, Ed Riley and James Penrose jumped off a refurbished police boat piloted by Captain Greg Porteus, into the Hudson River in Catskill New York and swam 18.3 miles from the Rip Van Winkle to the Kingston Rhinecliff bridge. The first stage of a seven stage event, whose final destination was the Verrazano-Narrows Bridge bridge 120 miles south, the swimmers were participating in the fourth year of the 8 Bridges swim, the world's longest marathon swim.
As sporting events go, this is an elite one. The swimmers are all experienced starting with race dreamer-upper and director David Barra who in 2010 swam around the Island of Manhattan, from Catalina to Los Angeles and across the English Channel which is known as the Triple Crown of swimming and race director Rondi Davies who holds the woman's record for the swim around Manhattan which she set in 2011.
Most swimmers only swam one stage. Two swimmers swam all seven of them. London resident James Penrose (63) and Seattle resident Andrew Malinak (27). Andrew who is the first male to complete all the stages in one year spent 40 hours and 21 minutes in the water over seven days in this incredible feat. James completed five of the seven stages. Both swimmers demonstrated inspiring determination, perseverance, ambition, and grit.
The river is a tidal river and ebbs and floods twice a day. The swimmers swim with the ebb (the water moves south) once it starts to flood (the water moves north) swimming becomes a Sisyphean task. The swimmer literally begins to swim against an increasing strong current. James Penrose a slower swimmer than Andrew Malinak never let up, or seemed to get tired. It was the changing tide, coupled with some unfavorable wind conditions and not his ability that prevented him from completing two of the seven stages.
Each swimmer is accompanied by a kayaker who are supported by a small flotilla of boats ranging in size from a paddle board to Launch 5, an old NY police boat designed by naval architect Philip Rhodes, her lines are beautiful from every angle and she never looked better under power on the Hudson river with her decks loaded with colorful kayaks and swimmers.
We generally experience bridges from their roadways, not from the water underneath them looking up, which is unique view of these magnificent feats of engineering and construction. The expression, after all, is "let's cross that bridge when we get to it," not "let's swim that bridge when we get to it." Suspension, cantilever or trestle, the bridges although employing a different structural logic have a shared design language of efficiency, elegance and scale that ties them together which is apparent when you spend so much time focused on the bridge as both goal and an object for days on end.
There is a physicality to the swim, which requires a focused and persistent effort, and due to its elite nature, is not accessible to most people. But the swim is also an idea and it is in this capacity that is accessible to everyone and should be celebrated for connecting all of us to this mighty river that for generations we have been disconnected from. And as an idea this swim is a beautiful reflection of the human spirit that can dream up and then accomplish the seemingly impossible.
Surprisingly, there is a normalcy to the whole enterprise once in the water. The pace is slow not hectic. The bridge that you are swimming to eventually comes into view. The ebb slowly changes, the flood begins, there is rhythm that is distinctly different from the rhythms of our lives on land that both reminds us and connects us back to natures primal forces. Moving from fresh water to salt water, from the country to the city, there are other themes at play here as well.
And while the water is cleaner now than it has been in decades in part to the work of many individuals and environmental organizations that have toiled so hard to stop polluters over the years, the river still faces an uncertain future. While the coal power plants that line the river are mothballed and no longer polluting, swimmers did pass The Indian Point Nuclear Power Plant where the water temperature rose a noticeable 5 degrees due to the thermal transfer of heat from the billions of gallons of water needed to cool the two operating reactors that seem irresponsibly close to the millions of people that live nearby. Also threatening the river is misguided residential real estate development along its shores that from the water seems more like visual pollution than architecture.
We must acknowledge and celebrate all the swimmers:. Martin Turecky, Frank Levy, John Royer, Mark Watson, Ali Hall, Michele Walters, Heather Camargo, Edward Riley, Weichang Hong, Lori King, Kenn Lichtenwalter, Gen Watanabe, Yuta Tsuboi, Richard Shanley, Lynn Ascione, John Humenik, Susan Kirk, Lynn Ascione Susan Kirk, Janet Harris, Hannah Borgeson, Melissa Kretschmer, David Farrell, Jaimie Monahan, Mo Siegel, Jia Jung, Capri Djatiasmoro, Charles Bender, Laura Picardo, Michael Gemelli, Andrew Malinak, Janine Serell, James Penrose
And support kayakers: Alex Arevalo , Steve Blumling, Arik Thormahein, Teddy Gruber, Terry Lopotosky, Darian Rivera, Pat Kerrigan, Steven Welch, Richard Feiner, Richard Clifford, Donna Stein, Matthew Frey, Lee Reiser, Christina Lutters, Bonnie Frogma, Juan Pablo Camargo,Mary Egan,Thomas Raffel, Jeff Robins who were essential to the events success.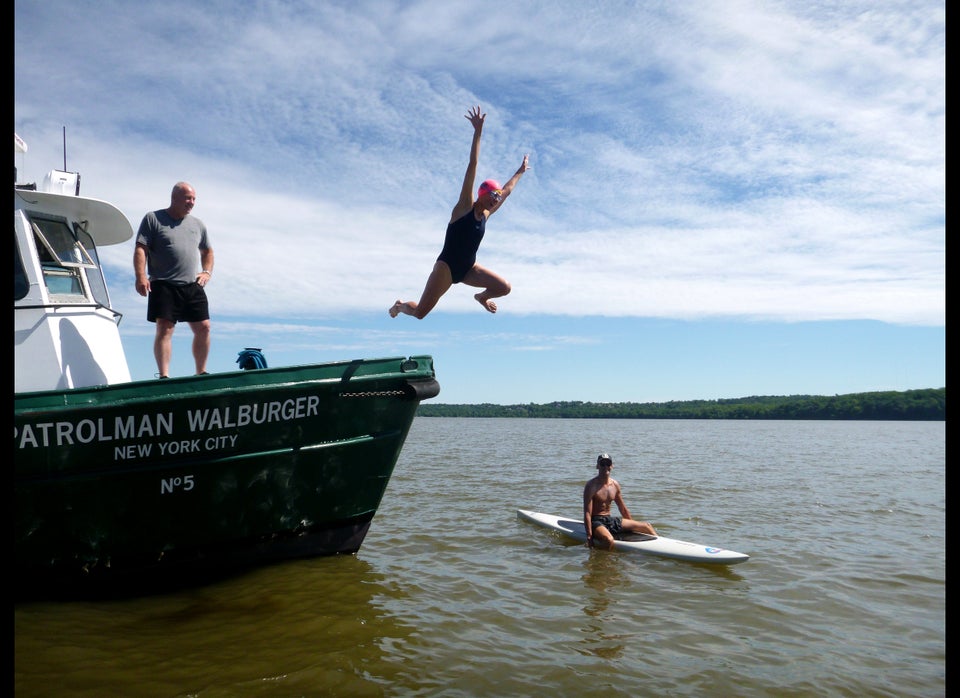 8 Bridges Swim, 2014
Related
Popular in the Community