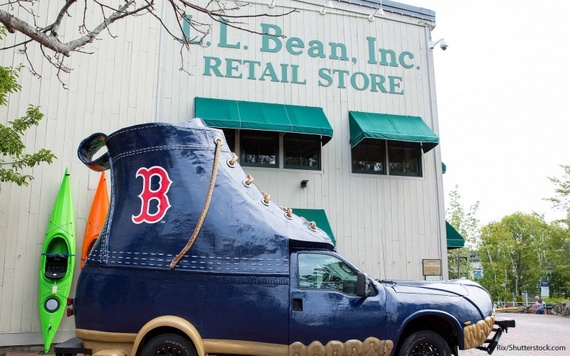 By Lisa Poisso, Contributor
There's nothing more frustrating then buying a brand new product only to discover days -- or years -- that it's defective. If you still value time-honored quality and excellent customer service, take a look at the following companies that offer some of the best lifetime and limited lifetime warranties available. Make sure you keep these popular retailers in mind the next time you make a big purchase.
1. Aldi
Low-price grocer Aldi impresses with its famous Double Guarantee. If you're not fully satisfied with any product, Aldi will not only replace the product but refund your money as well. Just make sure to return the product packaging and any unused product to your local store manager. And, note that you can't get the Double Guarantee for non-food "Specialty Buy" items, alcohol, national brands and non-quality related issues.
2. Big Green Egg
Outdoor chefs, here's a warranty that should light your fires. The distinctive Big Green Egg ceramic grill outdoor cooker carries a limited lifetime warranty on materials and workmanship for its ceramic components. The company offers limited warranties for other components and models as well.
3. Briggs & Riley
Luggage takes a real beating, but nobody wants to have to replace it again and again. Briggs & Riley will repair your broken or damaged B&R bag for free -- even if an airline caused the damage.
4. CamelBak
Hikers, rejoice. CamelBak's Got Your Bak Lifetime Guarantee protects against manufacturing defects in material and workmanship for the life of your reservoir, backpacks, bottles or accessories. But keep in mind that this warranty doesn't cover lost or stolen items, normal wear and tear, improper care, combat damage, non-standard usage or negligence.
5. Craftsman
This hand and power tools maker has hammered out a reputation for one of the most well-known lifetime limited warranties around. If you receive a defective Craftsman Evolv Hand Tool, Craftsman will replace it for free. But, you must show proof of sale and return the hand tool to the retailer you purchased it from. You can receive the same type of lifetime limited warranty on Craftsman Multi-Tools and other select products.
6. Cutco
Kitchen knives are another of those products you don't want to have to replace often -- so don't. When you buy Cutco knives, Cutco will repair or replace them for free at any time, courtesy of the Forever Guarantee.
7. Darn Tough Vermont
You'd have to be a little crazy to guarantee a pair of socks. Call Darn Tough what you will, but if you manage to wear out a pair of its ultra-durable socks, you can return them to the company to receive a brand new pair. And if you get a pair and they're not the most comfortable -- or durable -- pair of sock you've ever worn, Darn Tough will let you return the socks for your money back or another pair.
8. Davek
Your umbrella should last longer than the next stiff wind. Davek's umbrellas are made to stand up to years of use, but if yours ever stops working properly or you encounter a defect in materials or workmanship, return it for free repair or replacement. You'll just have to pay for shipping and handling. Also, don't forget to register your umbrella under the unconditional lifetime guarantee.
9. Dr. Martens
Docs don't come cheap, but you'll see devotees wearing them year after year. What's the secret? Dr. Martens offers a "For Life" guarantee that will repair or replace them continually for the rest of your life.
10. Duluth Trading
This rugged sports and workwear company offers a hassle-free "No Bull" guarantee on every product, promising 100 percent satisfaction for every purchase or your money back. If you're not satisfied with an item, return it for a full refund.
11. Esee
This knife-maker's "No Questions Asked" lifetime warranty is remarkable for being transferable, protecting its knives no matter how many times they change hands and regardless of proof of purchase. You can even get this coverage if you break a knife, but this warranty does not include damage due to rust or normal wear and tear.
12. Goruck
This rucksack and endurance gear maker's SCARS Lifetime Guarantee protects against manufacturing and materials defects as well as normal wear and tear. But, burns, gunshot holes, knife slashes, dog attacks, damage from washer and dryers, excessive abrasion on the zippers and unreasonable wear and tear are not covered. If you somehow manage to damage your bag another way, Goruck will stitch it right up "for a reasonable repair charge."
13. iCracked
When you choose the iCracked Advantage protection plan to repair your broken iPad, iPhone or Samsung device, you're covered against cracked screens, water damage, a faulty batter and more. And if iCracked can't fix it, the company will replace it.
14. JanSport
Looking for a backpack that can make it through more than one semester? JanSport will repair or replace your JanSport pack any time you need it. Or, you can get your money back.
15. Kingston
The computer and personal tech you rely on to keep your life and work in order is the last thing you afford to prove unreliable. That's why independent memory products maker Kingston offers a product lifetime warranty for memory modules, flash memory cards and flash adapters. If your device is defective, the company either repair or replace it. If it can't be repaired or repalce, Kingston will send you a refund or credit the current value or purchase price.
16. Koss
Music aficionados who trust Koss for quality electronics and accessories know it stands behind its quality with strong warranties. Products covered by its limited lifetime warranty are protected against defects. Koss will repair or replace the product -- or give you a refund.
17. Kryptonite
If you're serious about securing your bicycle, motorcycle or other small vehicle, you've probably looked at a Kryptonite lock. The company stands behind its products with a lifetime product warranty, which will cover manufacturer defects as well as normal wear and tear.
18. L.L. Bean
This New England-based clothing and outdoorsy goods retailer is known for having one of the best return policies. L.L. Bean guarantees 100 percent satisfaction on every product, no matter how long you've owned it. With a receipt, you can get reimbursed the purchase price. And even if you no longer have a receipt, the company will reimburse you in the form of a gift card.
19. Le Creuset
There's a reason you probably recognize this iconic cookware on sight -- because it lasts and lasts. But in the rare case that it doesn't, Le Creuset will replace cookware found to have defects in materials or workmanship. However, the company offers different types of warranties based one type of product.
20. Osprey
No matter how long you've owned your Osprey pack, Osprey will repair any damage or defects. Reservoirs are covered for one year, and the warranty excludes "damage caused by accident, animal attacks and zombie apocalypses," states the company's websites.
21. Pelican
A injection-molded protective case for your electronics from Pelican is guaranteed for life against breakage or defects in workmanship and guaranteed to be watertight to a depth of 1 meter for 30 minutes if properly closed and sealed. Pelican will repair or replace broken or defective parts or cases.
22. Red Oxx
Here's another company that offers a "No Bull" lifetime warranty. Red Oxx cover all travel bags and accessories against defects in materials and workmanship, as well as against unexpected damage.
23. RIDGID
Craftsman isn't the only tool company with a lifetime warranty. If your RIDGID tool malfunctions based on a defect in materials or workmanship, the company will repair or replace it free of charge.
24. Smith Optics
When you put your money into performance sunglasses, goggles or a helmet from Smith Optics, the company will repair or replace products with faulty materials or workmanship. Note that the lifetime warranty does not cover apparel and accessories like bags and hats.
25. Tervis
Insulated drinkware shouldn't be disposable quality just because it's plastic. Tervis will replace products, excluding accessories, found to have defects in material or workmanship.
26. The North Face
Outdoor adventures are rough on your gear, so choose gear that can take a beating. The North Face backs all but its footwear, eyewear, bicycles and outlet-sold products with a lifetime warranty to protect against defects in materials and workmanship. Footwear is covered for one year after purchase.
27. Tilley
There's something about a signature outdoor hat that evokes classic quality, isn't there? Here's one reason: Tilley's lifetime guarantee. The warranty covers materials and workmanship on most Tilley hats and caps. If you noticed a problem, contact the company for a free replacement.
28. Timbuk2
Your adventuresome bag from Timbuk2 is guaranteed with a lifetime warranty for quality and craftsmanship, not including normal wear and tear, abuse and cosmetic damage.
29. Tupperware Brands
This venerable plastic storage container company offers a lifetime warranty against chipping, cracking, warping or peeling for any of its products under normal, domestic use. However, it doesn't cover stains, melting, scratches and other types of damages.
30. Vermont Teddy Bear
Yes, even your teddy bear can be guaranteed for life -- if it's a Vermont Teddy Bear, that is. Your teddy will get free repairs to cover all of life's potential tragedies, from overly friendly puppies to vicious lawnmowers.
31. Vortex Optics
Keep your eye on this value. Maker of riflescopes, binoculars, spotting scopes and more, Vortex offers a VIP warranty that promises to repair or replace any damaged or defective Vortex product. Its unlimited, lifetime "VIP warranty" is fully transferable and requires no receipt.
32. Zippo
Holding up your lighter at a rock concert is a bit old-school now, but if you wanted to give it a whirl, you could always use your old-school Zippo -- because it's guaranteed to still produce a flame, no matter how old it is. Zippo offers free repairs and replacements on its windproof and butane lighters, hand warmers, knives and more. A few product types require proof of purchase.
More from GOBankingRates:
Related
Popular in the Community