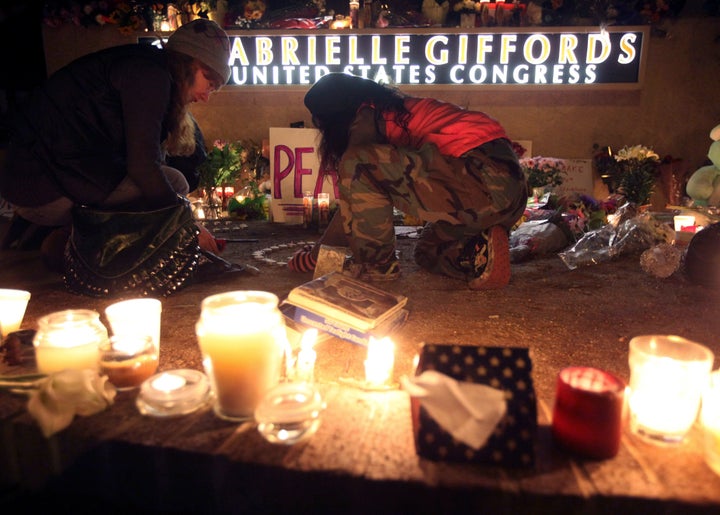 Today, Jan. 8, 2012, we will join with thousands of Americans to light a candle in remembrance and honor of the six killed and 13 who survived the mass shooting in Tucson, Ariz., exactly one year ago.
We will also stand in solidarity with, and light a candle for, the 32 Americans and their families who were killed the day after the Tucson shooting, the 32 who were killed the day after that, and the 32 who are killed every single day in our country on average.
Nearly five years ago, while sitting in his French class, Colin was shot four times and became one of the vast number of Americans whose lives have been changed by gunfire, including mothers, fathers, daughters and sons, toddlers and grandparents. They come from big cities, such as Chicago and New York, Los Angeles, and Washington, D.C. and they come from small towns, such as Cartersville, Georgia, Spring, Texas, and Blacksburg, Virginia.
Colin was fortunate to survive his wounds and walk again. But every day, too many others are not as fortunate. They are murdered, they are killed unintentionally, or they commit suicide. It is in their memory that we will light candles today.
So we ask you: Will you light a candle for someone you have lost to gunfire?
Will you light a candle for 1 of the 32 Americans killed by gunfire every day in our country?
Or perhaps you'll light a candle for one of these Americans who have already been shot in the New Year:
Today, Jan. 8, will be one day to remember all those who we have lost, and bring light to the darkness that covers our families and communities as a result of all the murder, suicide and accidental deaths that come from the twitch of a finger.
If you can't attend a Vigil, light a candle in your home, take a picture, and share it on Facebook and Twitter using #TooManyVictims and #StandWithTuscon.
REAL LIFE. REAL NEWS. REAL VOICES.
Help us tell more of the stories that matter from voices that too often remain unheard.