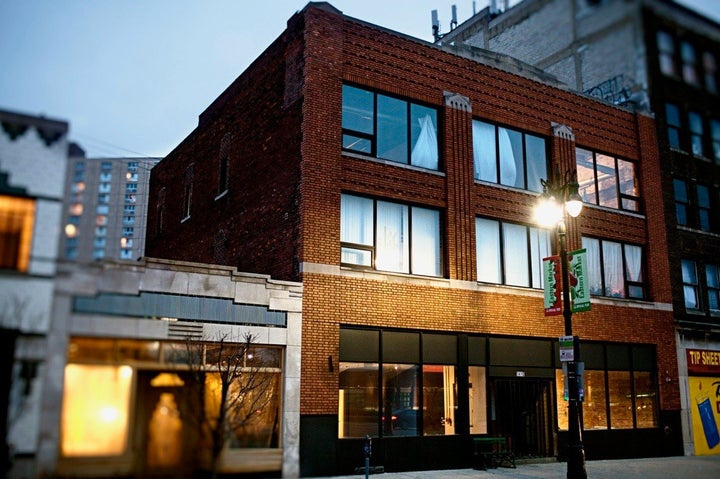 This weekend's "Mayan apocalypse" will mark a time of great transition for one popular art venue. In a nod to the end of the Mayan Calendar, 323East is staging a farewell show called "Apocalypto: An End of an Era" that will also signal the relocation of its gallery and headquarters to Detroit's Eastern Market district.
The Royal Oak gallery, known for exhibiting both local and international artists in a range of styles that includes low-brow, surrealism and street art, will be moving out of their suburban home of the last five years and into a three-story, 10,000-square-foot warehouse in the market. The neighborhood already hosts an array of different arts venues and studio spaces -- many of which were highlighted during the Detroit Design Festival's Eastern Market After Dark event in September.
Jesse Cory, who runs 323East with partner Dan Armand, is excited to have the opportunity to rebrand the gallery and build on what they've already established. He says the momentum for the metropolitan art scene is situated around downtown Detroit and he's eager to be a part of it.
"There's really something down there that's manifesting that's significant, and we felt for many years that we missed out on it," he told The Huffington Post. "We missed out on the energy. You have gallery week and we participated, but people are sort of driving out here, coming to our shows and driving back downtown."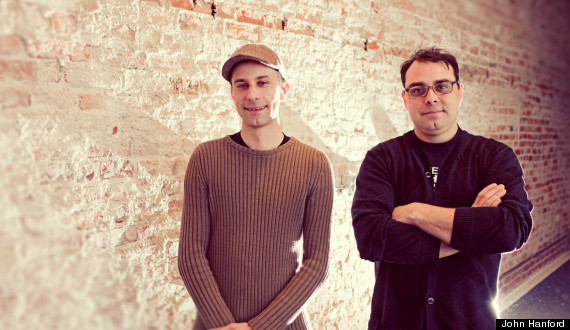 Dan Armand and Jesse Cory of gallery 323East.
323East's new space will be located at 1410 Gratiot. The name of the new location is still yet to be determined, but it's slated to open in early spring of 2013. It will feature an 1,800 square foot gallery, a loft and studio for visiting artists, offices and a digital printing facility. The design and renovation of the space will be handled by Tadd Heidgerken, whose past work has included Midtown takeout restaurant Slow's To Go, Astro Coffee and the Red Bull House of Art, a gallery that opened in Eastern Market this year.
Cory said 323East is moving because they've changed their business model and outgrown their current location. When the gallery first set up shop in Royal Oak, he and Armand were running a marketing agency that also featured a small boutique. Since that time the space has become primarily a fine arts gallery showcasing local artists like Glenn Barr, Mark Heggie and Audrey Pongracz alongside artists with more exposure outside of Detroit like Ron English, Tara McPherson and REVOK.
Lately business has really picked up. A major reason for this rests with their decision to create an online wing of their operations called 1xRUN, which sells time-released limited-edition prints and original art. Cory and Armand began the venture selling about one art print a week in 2010. A year later, it had grown so large they had to rebuild the website. Now they sell five editions of prints or collections of original artwork five days a week and ship out about 1,000 pieces a month. Cory said 1xRUN is attracting attention from art collectors around the world.

"Ron Zakrin whose show ran in May, his art went to Oslo, went to Perth, went to New Zealand," he said. "Once we established an international collector base by selling local Detroit artists and international artists at the same time we were able to expand beyond the brick-and-mortar and reach further out into the world."
The gallery's new location will not only give them much more space to handle their operations, but will also allow them to better connect with Detroit's art scene. Cory believes the gallery's new location will be closer to the area's artistic hub and easier to reach for people living downriver and west of the Detroit.
He's not concerned about losing foot traffic either, since the current location on East Fourth Street in Royal Oak doesn't attract many incidental walk-ins. Although 323East has a loyal following of arts enthusiasts, Cory said they typically come to Royal Oak for the show and might grab a beer or a bite to eat before going home. The new site, however, is situated right next a bustling weekly farmers market and a whole host of other attractions. Cory believes this can only enhance the gallery experience for visitors.
"Saturdays at the market are really going to be an amazing experience," he said. "Coming out there you can listen to music, sing karaoke at [jazz spot and soul food restaurant] Bert's, buy some amazing produce [and] engage with the age-old tradition of purchasing from farmers. People can kind of create the whole day around coming to the gallery. There's just more to do."
323East's farewell show "Apocalypto: An End Of An Era" takes place Friday, December 21 from 6-11 p.m. at their current space located at 323 E. 4th St. in Royal Oak. Visit 323East.com for details.
Before You Go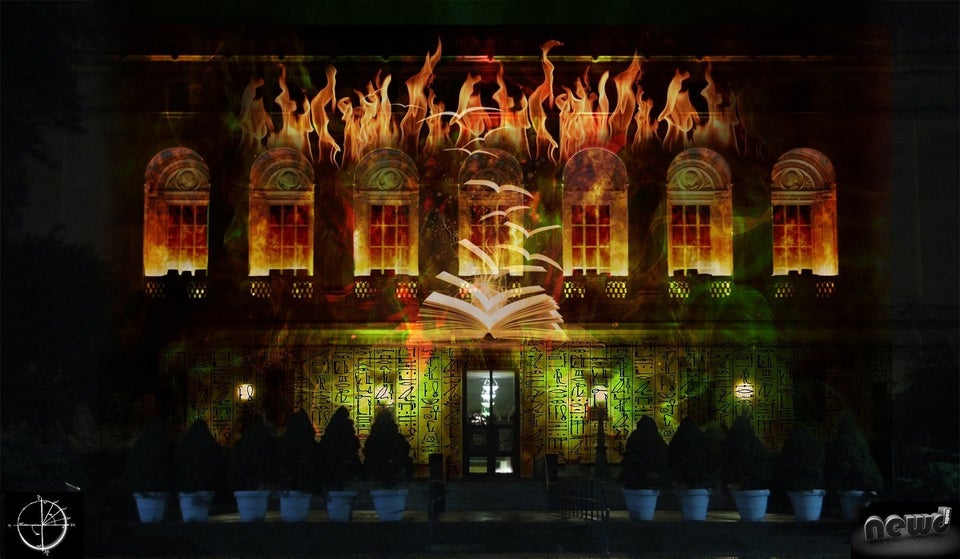 DLECTRICITY Light Art Festival In Detroit
Popular in the Community