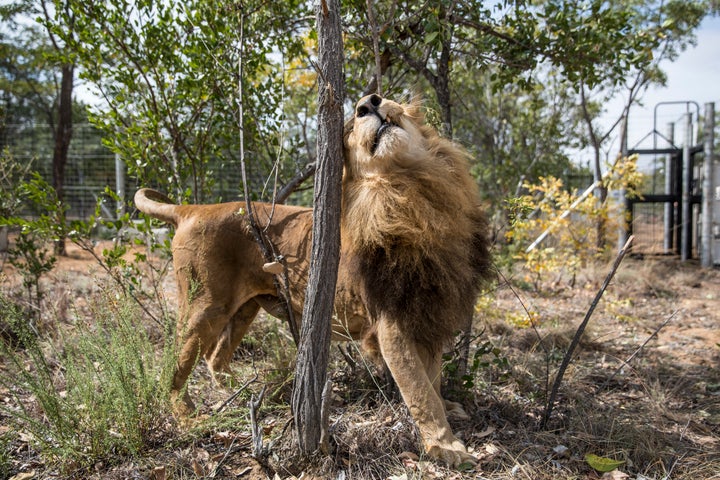 According to the group that rescued the cats and organized their transport, Animal Defenders International, the lions were rescued from illegal circuses in Peru and Colombia, and were either surrendered or obtained during surprise raids.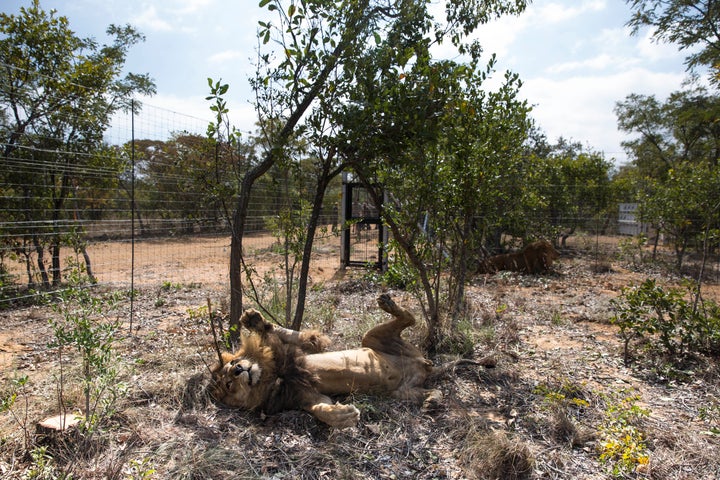 All the lions were found in horrible conditions. They were starved and many were declawed and had broken teeth.
"They have lived a life of absolute hell. They've been beaten and they've been starved," Jan Creamer, the president of ADI told France 24 and other outlets at Johannesburg's international airport after the lions had landed late Saturday afternoon.
"They've been deprived of everything that makes life worth living for a lion. I believe we have brought them back to paradise, where they belong."
The lions seem to be enjoying their new digs, as well. ADI even tweeted out a picture of Iron, the first lion to be released into the sanctuary, rubbing up against a tree in his new home:
Though the cats may enjoy the taste of freedom, it's going to take some time for all of them to truly adjust to their new lifestyle. According to The Associated Press, many of the lions have never had direct contact with one another and were typically separated by a fence or a cage. So for the first few weeks at the sanctuary, the 33 lions will be placed in quarantine and will be monitored by a vet.
They will then be introduced to one another in a 2.47-acre bonding enclosure before being able to roam in a larger enclosure with drinking pools, platforms and toys. Due to their poor physical states, the lions cannot hunt and will be supplied with food and water for the rest of their lives.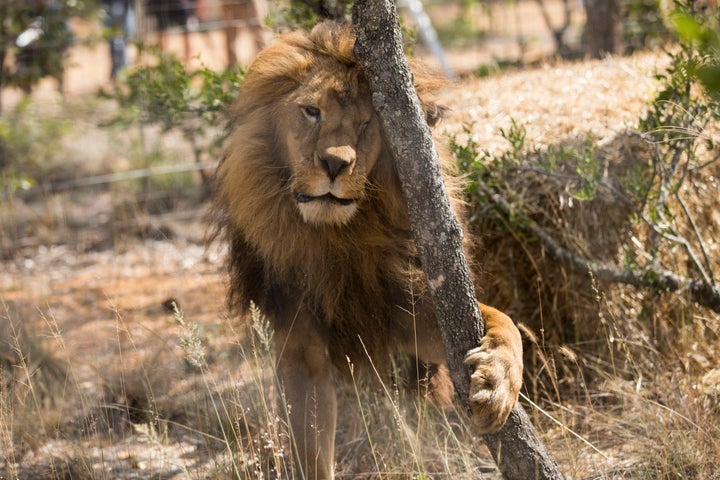 The cats will also be fixed. Males will get vasectomies and females will get contraceptive medications so they can stay with their mates.
"The animals have no conservation value whatsoever. Many of them have been inbred," Creamer said. "When we are sure that no breeding will take place, we allow males to interact with females. By then a pattern will have emerged ... and we will know which lions can be placed together."
But, for the time being, they seem like they're having a roaring good time.
REAL LIFE. REAL NEWS. REAL VOICES.
Help us tell more of the stories that matter from voices that too often remain unheard.
BEFORE YOU GO
PHOTO GALLERY
Regal Lions