Too many of us are not living our dreams because we are living our fears.
Life has no limitations, except the ones you make.
Other people's opinion of you does not have to become your reality.
Imagine being surrounded by hundreds of people who share a common characteristic as you do. Imagine feeling like your silence has been broken. Imagine feeling like your voice has been heard.
This past weekend, the NSA (National Stuttering Association)/ISA (International Stuttering Association) World Congress joint conference took place in Atlanta, Georgia at the Hyatt Regency Atlanta. With more than eight hundred people from all over the world, including people from countries such as Sweden, Israel, Japan, and Australia, the four day conference provided both people who stutter as well as people who do not stutter with informative workshops, inspirational speakers, and a safe space for people to connect and share personal experiences. The annual conference provided a space where people could unite and discuss what life is like for a person who stutters. Workshops were offered to a variety of people, including, but not limited to informational sessions for children, teens, parents and young adults that related to self-advocacy, current research on the condition of stuttering, self-empowerment and solidarity.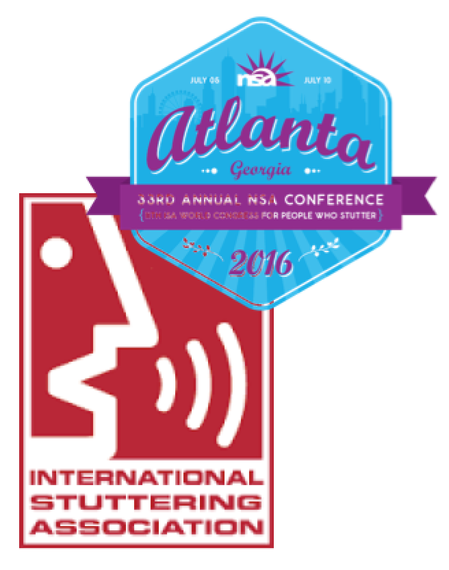 The hashtag #NSAInATL16 was used on social media in order for people to share meaningful experiences from the conference. At the end the conference, many people gained new experiences, formed new friendships, and several people were recharged with empowerment and encouragement. The conference allowed people to unapologetically stutter with pride and confidence, reminding people that it is okay to stutter.
For many people, stuttering can serve as a huge challenge, can be misunderstood by others, and can have a major impact over someone's life. As a result, one can feel alone and ashamed. Through these difficult times, it is important to understand that one is not alone when facing these obstacles. Support is out there, especially through several organizations such as the National Stuttering Association.
33rd Annual National Stuttering Association Conference Video
Are you a person who stutters or or would like to support a person who stutters? Next year's NSA conference will be held in Dallas, Texas. Stay tuned for updates for next year's conference!
Click here to receive more information on how you can be involved with the National Stuttering Association.
REAL LIFE. REAL NEWS. REAL VOICES.
Help us tell more of the stories that matter from voices that too often remain unheard.