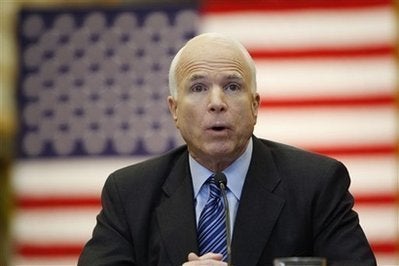 Jesse Lee is the Online Rapid Response Manager for the DNC, this is a daily update on the day's messaging.
This morning John McCain spoke at the Truman Library in Independence, Missouri, saying, "My administration will set a new standard for transparency and accountability."
Barack Obama, in turn, spoke in La Crosse, Wisconsin, saying "Make no mistake, we need to end an era in Washington where accountability's been absent, oversight has been overlooked, your tax dollars have been turned over to wealthy CEOs in well-connected corporations. You need leadership you can trust to work for you. Not for the special interests who have had their thumb on the scales. And together we will tell Washington and their lobbyists that their days of setting the agenda are over. They have not funded my campaign. You have. They will not run my White House. You'll help me run my white house. They will not drown out the voices of the American people when I'm president."
Ironically, McCain spokesman Tucker Bounds and the McCain campaign found accountability where there wasn't any today, releasing a typical screed in response to Obama's speech claiming that "As Americans teeter on the edge of economic crisis, Barack Obama continued attacking John McCain today." But as the Boston Globe noted, Obama barely mentioned McCain at all.
Obama-Biden spokesman Bill Burton responded:
"Given the fact that Barack Obama did not attack John McCain today, it is a telling admission that the McCain campaign saw Barack Obama's attack on eight years of greed and irresponsibility in Washington as a personal attack on John McCain. We'll leave it up to the McCain campaign to explain why they get so offended and defensive when George Bush's record is attacked."
But more generally, who's telling the truth on accountability? It could be an important question -- Joe Klein sat in on a Frank Luntz focus group around the time of the Democratic Convention...
Joe Klein: "What do they want? Given a list of 31 personal attributes the next President might have and asked to pick the eight most important, 'Accountability' finished highest with 13 votes, next was 'Someone I can trust' with 12, 'honest and ethical' was third with 11. 'Agrees with me on the issues' got one vote. ... What does 'accountability' mean? That, I think, is the key to this election. They know that the country is on the wrong track and big changes are necessary, but they don't trust politicians, or government, to bring those changes about."
After eight years of George Bush, it's not hard to see how this would be the top concern, as vague as it might be. You know it when you see it, and we haven't seen it from the Bush Administration.
And we also haven't seen it from John McCain. For all the acts of corruption, cronyism and incompetence under the Bush administration, McCain's calls for accountability have been virtually nowhere to be found. And of course that goes for McCain's own campaign as well. Even today we get his grating interview with the Des Moines Register editorial board so nicely summed up in this video:
Politico: "In another clip, when McCain is asked how he can restore trust in American government if some of his campaign charges are not completely true, he doesn't hide his displeasure with the question. 'Because I have always had 100 percent, absolute truth and that's been my life of putting my country first,' McCain replied. 'And I'll match that record against anyone's. And I'm proud of it. And an assertion that I've ever done otherwise, I take strong exception to.'"
It's funny he should say that, because our DNC Lie Counter is at 80 right now. And that doesn't count fact-checks like the one we put out today on his appearance, which incidentally notes a certain lack of accountabily for his record.
FACT CHECK: Declaring Independence from his Record

In Missouri today, John McCain tried to declare independence from both his record and his erratic response to the current financial crisis. McCain said he would neither assign blame nor take any credit on the crisis even though he and his campaign have spent the entire week blaming Barack Obama for the crisis and prematurely taking credit solving it. McCain promised to talk candidly about deficit spending, but refused to take responsibility for backing President Bush's radical agenda and failed to discuss the trillions of dollars in new debt his plans would create.

McCain even talked about "the sacred right" of American workers to organize despite a 26 year history of standing in the way of workers rights.

The following are the facts on the record John McCain wants you to ignore.

MCCAIN TODAY: Now is Not the Time for Blame or Credit. "There will be a time to fix the blame for all that has happened - especially in the case of Fannie Mae and Freddie Mac, and the abuses and political deal-making that corrupted those institutions... We're going to finally start getting things done for the people who are counting on us, and I won't care who gets the credit." [McCain Remarks (Independence, MO), 10/01/08]

FACT: John McCain & His Campaign Blamed Obama for Failed Bailout Deal...MCCAIN STATEMENT: "In Des Moines, Iowa, Sen. John McCain, R-Ariz., said the following: 'Senator Obama and his allies in Congress infused unnecessary partisanship into the process. Now is not the time to affix the blame. It's time to fix the problem.' Um...isn't that affixing blame?" [ABCNews.com, 9/29/08]

DOUG HOLTZ-EAKIN STATEMENT: "'From the minute John McCain suspended his campaign and arrived in Washington to address this crisis, he was attacked by the Democratic leadership: Senators Obama and Reid, Speaker Pelosi and others,' Holtz-Eakin said. 'Their partisan attacks were an effort to gain political advantage during a national economic crisis. By doing so, they put at risk the homes, livelihoods and savings of millions of American families.'" [ABCNews.com, 9/29/08]

...After Campaign Manager Prematurely Claimed Credit for it Passing.
Steve Schmidt: "What Senator McCain was able to do was to help bring all of the parties to the table, including the House Republicans, whose votes were needed to pass this" [Meet the Press, 9/28/08]

MCCAIN TODAY: Right To Organize, Secret Ballot "A Sacred Right of Every American." "And we'll protect the rights of workers to decide for themselves, by democratic vote, whether to unionize. That's a sacred right of every American." [McCain Remarks (Independence, MO), 10/01/08]

FACT: McCain Voted To Impose Undue Burdensome Reporting Requirement On Labor Unions. In 2002, McCain voted to require labor organizations with receipts equal to or greater than $200,000 to use reporting procedures required by publicly traded corporations. [2002 Senate Vote #168, 7/10/2002, McCain: N]

FACT: McCain Voted To Allow Businesses To Deny Employment To Union Organizers. McCain voted for the bill that "would amend the National Labor Relations Act to make clear that an employer is not required to hire a person who seeks a job primarily to promote interests, such as labor organizing." The president of the AFL-CIO, John Sweeney, said the legislation was a "blatant attempt to erode workers' rights to organize and bargain collectively for a better standard of living." McCain: Y, Biden: N [1998 Senate Vote #266, 9/14/1998; Associated Press, 9/14/1998]

FACT: McCain Voted To Undermine Workers' Rights to Choose Their Own Representatives. In 1996, McCain voted for a bill, known as the TEAM Act, that would allow businesses to establish, without the presence of a labor union, worker-management teams to address workplace issues such as workplace safety and health issues. McCain: Y, Biden: N [1996 Senate Vote #191, 7/10/1996]

FACT: McCain Voted To Undermine Collective Bargaining Rights. In 1996, McCain voted for an amendment which included a provision that would allow employers to establish and participate in worker-management teams outside of the unions. McCain: Y, Biden: N [1996 Senate Vote #111, 5/9/1996]

FACT: McCain Voted For Anti-Labor 'Right to Work' Bill. In 1996, McCain voted for cloture on the National Right to Work Act, which would "allow workers at unionized companies to refuse to belong to unions and pay dues." McCain: Y, Biden: N [1996 Senate Vote #188, 7/10/1996; BostonGlobe, 7/11/1996]

McCain Says Government Workers Are "Crippled" by Union Contracts. In his speech to the Oklahoma State Legislature in May 2007, McCain said, "We must streamline our workforce, demand high standards of behavior, promote excellence at every level based on merit and accountability, and not let good workers be crippled by the fine print of the latest union contract.... The civil service has strayed from its reformist roots and has mutated into a no-accountability zone, where employment is treated as an entitlement, good performance as an option, and accountability as someone else's problem." [Address to the OklahomaStateLegislature, 5/21/2007]

MCCAIN TODAY: Promised Candor on National Debt. "Leadership requires candor. And I will tell you bluntly that America is already ten trillion dollars in debt, and to make our economy strong again we must reduce the burden of federal spending." [McCain Remarks (Independence, MO), 10/01/08]

FACT: McCain Has Supported Four Out Of Five Bush Budgets. McCain voted for four of the five Bush budgets that the Senate voted on. [2001 Senate Vote #86, 4/6/2001; 2001 Senate Vote #98, 5/10/2001; 2004 Senate Vote #58, 3/12/2004; 2005 Senate Vote #81, 3/17/2005; 2005 Senate Vote #114, 4/28/2005; 2006 Senate Vote #74, 3/16/2006]

FACT: McCain Voted With President Bush 95 Percent Of The Time In 2007. According to Congressional Quarterly, He also has a record of heartily supporting Bush on some of his most controversial priorities, including the Iraq war and comprehensive immigration reform. In 2007, as he ramped up for his second White House run, McCain voted with Bush 95 percent of the time, according to Congressional Quarterly, which tallied votes McCain was present for on issues in which the administration took a position." [Arizona Republic, 4/6/08] McCain had the highest rate of support in the entire U.S. Senate. [Congressional Quarterly, 1/13/2008]

FACT: McCain's Tax Cuts for Wealthy and Corporations Cost More Than $650 Billion A Year, Up To $5.7 Trillion. "Altogether, [McCain] proposes more than $650 billion in tax cuts a year, much of it benefiting corporations and upper-income families." The Center on Budget and Policy Priorities estimated McCain's litany of tax cuts to total $5 trillion over a two-term presidency. The TaxPolicy Center, run jointly by the Brookings Institution and Urban Institute, said they would cost at least $5.7 trillion. [Wall Street Journal, 4/22/08; Bloomberg, 4/18/08]

FACT: McCain Will Add $1.8 Trillion To National Debt. "McCain's spending cuts, combined with increased revenue from economic growth, total $1.5 trillion over eight years, leaving a $1.8 trillion net increase to the national debt." [Bloomberg, 4/18/08, bloomberg.com]
Calling all HuffPost superfans!
Sign up for membership to become a founding member and help shape HuffPost's next chapter