Not all Moms are fans of breakfast in bed on the one day a year when a mother's preference ought to rule. For them, a wake-up meal rustled up by unschooled young chefs can leave one, well, hungry for more. Apparently, also on the not-well-loved gift list is attendance at a crowded brunch with the entire family in tow – even at restaurants where the chefs are well-schooled.
So… as Mother's Day rolls around for the 103rd time since President Woodrow Wilson first proclaimed it an official U.S. holiday, I offer this crowd-sourced list of 34 unconventional, meaningful and creative ideas that let these Moms know she's the best!
* # 34 is my favorite because I feel the exact same way!
1. A handwritten letter from Dad to the kids, naming all the things he loves about their Mom, acknowledging all the things she does for the family, details she presumed went completely unnoticed.
2. Homemade Mother's Day card.
3. Handwritten note expressing gratitude for me.
4. Coupon for a spring-cleaning crew.
5. A donation to my favorite charity.
6. Adult-kid-and-mom trip.
7. Any art made with handprints.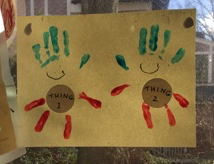 8. Handmade gift certificate for a walk in the woods or by the lake with my family.
10. A free day's labor in the yard.
11. A "Mom's Day Off" when I don't have to do ANYTHING!
12. Something made by an artist whose work I love.
13. A gift, like yarn or fabric or a book about sewing, that demonstrates my family notices the things and hobbies I love.
14. Not having to make dinner (for as many days as possible!).
15. A framed (by Dad) compilation of favorite mommy-and-me drawings.
16. The word "M-O-M" within a heart spelled out on the living room floor using my massive oversupply of plastic containers!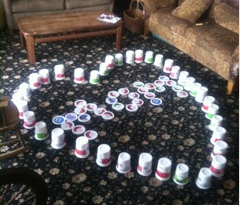 17. Little knickknacks from the dollar store.
18. Handmade paper frames with their pictures in them.
19. A bag filled with all of my favorite little things.
21. Edible arrangements and a home-cooked meal.
22. Sweet letters written to me from the kids.
23. A small pot of seedlings with a hand-drawn ladybug (and a squeeze ball for when clients drive me crazy!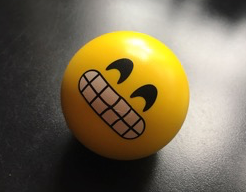 25. My son won a sledding contest and the prize was a choice between a bicycle and a microwave – and he chose the microwave for his Mamma!
26. A book of coupons with adorable offers like these:
"I'll eat whatever is for dinner without complaining."
"I'll perform one chore of your choice." (presumably also without complaining!)
"I promise to put away my clean clothes."
"You get to pick what TV show to watch tonight."
27. The word "Family" carved out of wood covered with all the family activities my kids loved.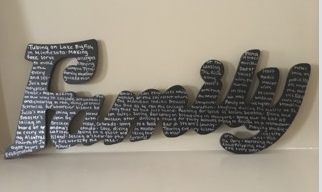 28. Spending the day with me, going out to a meal, a movie or a museum.
29. A phone call on Mother's Day if we can't be together.
30. My grown son gave me a ride on his motorcycle, which meant I could hug his grown body while he drove. How long it's been since he was a little guy I could hug whenever I wanted!
31. A swim with the dolphins at Shedd Aquarium in Chicago.
32. A little gift box my daughter filled with the top 25 reasons I'm a great Mom. (Priceless)
33. A baby pig with a red ribbon on his neck. (You can't make this stuff up!)

34. The gift of being a Mom was always gift enough for me. Truly.
So Happy Mother's Day to all of the mothers out there and to all of the other people who are functioning in myriad ways as 'mothers' to children in their lives.